March 07, 2011 -
Joe Fortenbaugh
The 10 best undrafted players of all time
It was the spring of 2005 and my focus should have been on a fast approaching gauntlet of final exams that would feature five tests in five days, but my mind was elsewhere.
I was interning for Jack Bechta at JB Sports in La Jolla, California and it was draft season, which meant for the time being, work took priority. Jack had signed a pretty solid class that spring headlined by second-round selection Jonathan Babineaux (DT, Iowa). Hearing Jonathan's name called as the 59th overall pick (Atlanta) meant we were off to a good start.
But as the conclusion of the draft approached on Sunday, one of Jack's clients began to grow restless. Heath Farwell, a linebacker out of San Diego State, was hoping to become the fourth Aztec player to fly off the board in 2005.
But time was running out.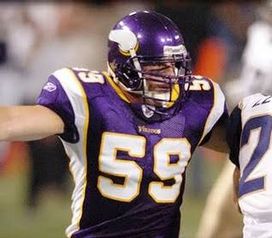 Farwell quickly became a standout player on special teams.
The Philadelphia Eagles had overpaid on one of Farwell's teammates (LB Matt McCoy, second round) the day before and the Raiders had selected Kirk Morrison in the third. San Diego State cornerback Marviel Underwood (another JB Sports client) was taken by the Packers at the start of Day 2 (fourth round), which meant Farwell was the only former Aztec still wondering where he would be playing football the following fall.
Heath knew his chances of getting selected were somewhat slim, but he had been out the night before celebrating with his already-drafted teammates. Since McCoy was drafted higher than most expected, Heath began to hope the same thing would happen to him.
Jack was on the phone with the Bears during the seventh round, but Chicago decided to go in a different direction. And after tight end Andy Stokes became the 255th and final selection of the 2005 draft, a visibly discouraged Farwell stormed out of Jack's house.
Just over five years later, McCoy was playing for his fourth NFL team and had registered just 12 starts in six professional seasons.
Heath, on the other hand, was still with the team that signed him after the draft (Minnesota) and was headed to his first Pro Bowl as a special teams standout.
The moral of the story is that at the conclusion of every NFL draft, a host of talented young players are forced to deal with the disappointment of not hearing their name called.
But the best and most determined use that as motivation to prove everybody wrong.
The 10 best undrafted players of all time
10. Nate Newton, G/T, Florida A&M
A six-time Pro Bowler who was a big reason why the Dallas Cowboys won three Super Bowls during the 1990s, Newton actually spent two years playing in the USFL for the Tampa Bay Bandits after going undrafted out of Florida A&M in 1984. He made 180 starts in 14 seasons, was named All-Pro twice (1994, 1995) and blocked for the NFL's current all time leading rusher in Emmitt Smith.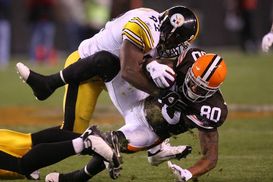 ICONAfter a stint in NFL Europe, Harrison became one of the best defenders in the league.
9. James Harrison, LB, Kent State
The 2008 Defensive Player of the Year went undrafted in 2002 and was cut three times before heading to Europe to play for the Rhein Fire. In 2004, Harrison caught on with the Steelers and appeared in all 16 games. Seven years later, the outside linebacker's resume includes four Pro Bowls, three All-Pro selections, two Vince Lombardi trophies and the longest play in Super Bowl history (100-yard interception return for TD vs. Arizona).
8. Priest Holmes, RB, Texas
Few people remember the Priest Holmes that lost the starting job in Baltimore to a rookie named Jamal Lewis in 2000. Everybody remembers the Priest Holmes who won the Offensive Player of the Year Award in 2002 after racking up 2,287 total yards and 24 touchdowns. In 11 professional seasons, the versatile running back was named All-Pro three times and became the fantasy world's most electrifying player when he notched a ridiculous 51 touchdowns from 2002-2003.
7. Rod Smith, WR, Missouri Southern
The first reception of Smith's stellar 13-year career was a last-minute, game-winning 43-yard touchdown catch from Hall of Fame quarterback John Elway in 1995. With three trips to the Pro Bowl and two Super Bowl wins under his belt, the two-time All-Pro racked up more receiving yards (11,389) in NFL history than any other undrafted wideout.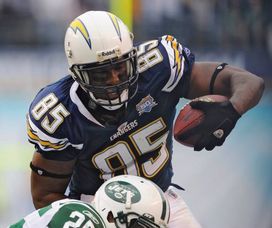 ICONGates is one of the most lethal red zone targets in the NFL.
6. Antonio Gates, TE, Kent State
Named to the NFL's All-Decade Team (2000s), Gates has already earned seven trips to the Pro Bowl in only eight professional seasons. In addition, only wide receivers Randy Moss (76) and Terrell Owens (72) have scored more receiving touchdowns since 2004 than Gates (67). A three time All-Pro selection, the San Diego superstar is currently tied with Vernon Davis for the most touchdown receptions in a season by a tight end (13) in NFL history.
5. Brian Waters, C/G, North Texas
One of the best interior linemen in NFL history, Waters came out of nowhere in 2000 to put together an 11-year career that includes five Pro Bowls, two All-Pro selections and recognition as the 2009 Walter Payton Man of the Year. As reliable as they come, Waters has only missed three starts over the last nine years.
4. Dick "Night Train" Lane, CB, Scottsbluff Junior College (Nebraska)
Owner of perhaps the coolest nickname on the planet, the Hall of Fame cornerback racked up a ridiculous 14 interceptions as a rookie with the Los Angeles Rams back in 1952. "Night Train's" 14-year career included seven trips to the Pro Bowl, six All-Pro nominations and a spot on the NFL's 75th Anniversary All-Time team.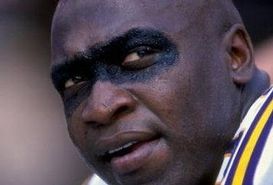 From undrafted to the Hall of Fame.
3. John Randle, DT, Texas A&I Kingsville
Feared by offensive linemen and quarterbacks alike, Randle was one of the greatest sack artists of the modern era. The 14-year veteran recorded double-digit sack totals every year from 1992 to 1999 and currently ranks sixth in NFL history with 137.5 sacks. A seven-time Pro Bowler, six-time All Pro selection and member of the NFL 1990s All-Decade Team, Randle earned his rightful place in the Hall of Fame in 2010.
2. Warren Moon, QB, Washington
Imagine what this guy's career stat line would look like if he hadn't spent the first six years of his professional football life in Canada after being overlooked by every NFL team on draft day? One of only two people to earn his way into the Canadian Hall of Fame and NFL Hall of Fame, Moon made nine trips to the Pro Bowl, was named All-Pro three times and won the 1990 Offensive Player of the Year Award. He ranks fourth all-time in passing yards (49,325) and sixth in touchdown passes (291) after putting together an electrifying 17-year career that included stops in Houston, Minnesota, Seattle and Kansas City. Sadly, Moon never made an appearance in the Super Bowl.
1. Kurt Warner, QB, Northern Iowa
While Moon's statistical achievements warrant serious consider ation for the top spot, Warner gets the nod mainly because his professional career personifies the legendary Jimmy V line, "Don't give up. Don't ever give up." The four-time Pro Bowler was actually stocking shelves at a Hy-Vee grocery store in Iowa in the late nineties before getting a call from the St. Louis Rams. After starting quarterback Trent Green tore his ACL in a 1999 preseason game, Warner stepped in and produced one of greatest statistical seasons for a quarterback in NFL history that ended with a Vince Lombardi Trophy and recognition as the league's MVP.
But the story doesn't end there.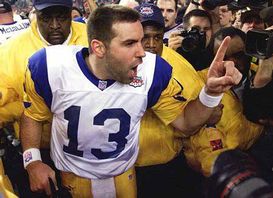 Cinderella Man.
Left for dead as an afterthought with the New York Giants in 2004, Warner got one final shot with the Arizona Cardinals 2005, where he later beat out highly touted rookie Matt Leinart for the starting job in 2008, a season that ended with a last-minute Super Bowl loss to the Pittsburgh Steelers.
In 12 NFL seasons, Warner played in three Super Bowls (winning one), won two MVP Awards, was named to the Pro Bowl four times and selected to the All-Pro team twice. In addition, he was named the Walter Payton Man of the Year in 2008 and holds the record for most career Super Bowl passing yards (1,156).
Honorable mention: Joe Jacoby, Jeff Saturday, Bart Scott, Pat Williams, Wes Welker, Tony Romo, Adam Vinatieri, London Fletcher
Hit me up on Twitter: @JoeFortenbaugh