August 11, 2010 -
Joe Fortenbaugh
The ADP Report: Top value picks
Before we launch into today's analysis I wanted to remind you guys that Thursday night at 9:00pm eastern is the draft for the second-annual National Football Post.com Fantasy Expert's League. Be sure to check back Friday for a rundown of what happened.
HERE.
Today we are going to continue our discussion on some of the top value picks to target on draft day. I've spent the last few days analyzing statistical data over at MockDraftCentral.com, which is an excellent website to check out for mock drafts and ADP (Average Draft Position) data.
One thing I've noticed is that too many players are getting drafted lower than they should due to not meeting expectations in 2009. That's never a good way to break down a player's value.
With that in mind, let's take a look at 20 players who can be had at a good price on draft day.
Want to get the information that 2009 NFP Expert's League Champion Joe Fortenbaugh is using on draft day? Then click HERE to purchase the 2010 NFP Fantasy Draft Guide!
RUNNING BACKS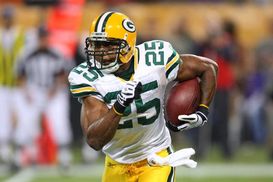 ICONGrant's a late second-round pick with first-round potential.
Ryan Grant, Green Bay Packers
ADP: 21.06
Earliest: 13
Latest: 30
Notes: What's not to like about a running back on a high-scoring offense that will give you 280+ carries and 1,200+ rushing yards in exchange for a third-round selection? Remember, Grant quietly cracked the top-8 in scoring among fantasy RBs last season.
LeSean McCoy, Philadelphia Eagles
ADP: 34.22
Earliest: 20
Latest: 47
Notes: The second-year back touched the ball 195 times for 945 total yards and four touchdowns despite starting just four games for the Eagles last season. Now that Brian Westbrook is no longer in Philadelphia, McCoy will become the featured dual-threat weapon on the Birds offense.
Joseph Addai, Indianapolis Colts
ADP: 48.12
Earliest: 30
Latest: 58
Notes: Addai's numbers from 2009 won't jump off the page at you, but keep in mind that this guy has cracked the top-ten in fantasy scoring among RBs in three of the last four years. He's a dual-threat back on one of the best offenses of the past decade and despite the fact that he will lose a portion of the workload to Donald Brown, Addai comes at a great value in the fifth round.
Ahmad Bradshaw, New York Giants
ADP: 82.13
Earliest: 52
Latest: 109
Notes: Bradshaw posted a top-30 fantasy finish last season despite playing a good portion of the year with broken bones in each of his feet. The big upside here is that the 24-year old has been working with the first team in training camp this summer, meaning he could have a legitimate shot at starting for the Giants come Week 1. Not bad for a ninth round pick.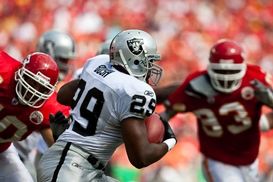 ICONBush has a big opportunity to win the starting job now that McFadden is nursing a hamstring injury.
Michael Bush, Oakland Raiders
ADP: 84.73
Earliest: 57
Latest: 102
Notes: The 26-year old is averaging 4.6 yards per carry over the last two years and is currently in a battle with Darren McFadden for the starting job in Oakland. Be sure to watch the Raiders' preseason game against the Dallas Cowboys on Thursday. McFadden is out with a hamstring injury (not a good sign) meaning a solid performance from Bush could give him a leg up in the competition.
WIDE RECEIVERS
Brandon Marshall, Miami Dolphins
ADP: 23.77
Earliest: 14
Latest: 30
Notes: The Pro Bowl wideout has topped 100 receptions in each of the past three seasons and if he could do it with Kyle Orton in Denver last year, he can do it with Chad Henne in Miami this season. Marshall's cracked the top-11 in fantasy scoring among wide receivers in each of the past three years, which is why it's somewhat puzzling to see his stock fall to the third round.
Lee Evans, Buffalo Bills
ADP: 108.47
Earliest: 83
Latest: 140
Notes: Yes, the Buffalo Bills will struggle to move the football this season due to inconsistency from the quarterback position and bad play from the offensive line. But Evans is the No. 1 wideout on a team that will likely be throwing the football late in games as they attempt to play catch-up. Any late-round wideout that can give you 115+ targets is well worth a draft pick.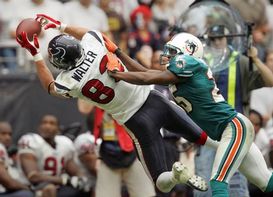 ICON850 yards and 5 touchdowns would be solid production from a late-round pick like Walter.
Kevin Walter, Houston Texans
ADP: 143.26
Earliest: 110
Latest: Undrafted
Notes: I know many of you are high on fourth-year wideout Jacoby Jones this season, but keep in mind that Houston just gave Walter a five-year, $21.5 million contract this past offseason, meaning he is still very much a part of the offensive game plan. Walter's caught 178 receptions over the past three years, which makes for some nice, productive depth on your roster.
Johnny Knox, Chicago Bears
ADP: 153.02
Earliest: 69
Latest: Undrafted
Notes: The second-year wide receiver out of Abilene Christian is one of the fastest and most explosive players in the NFL. Knox fits nicely in new offensive coordinator Mike Martz's vertical passing attack and could evolve into one of the game's most lethal deep threats in 2010.
Chaz Schilens, Oakland Raiders
ADP: 182.75
Earliest: 102
Latest: Undrafted
Notes: The same logic we used for Lee Evans applies here for Schilens. The 24-year old has a legitimate shot at becoming new quarterback Jason Campbell's No. 1 receiving option. Should that happen, you've got to love the value of landing a 100+ target receiver in the later rounds of your fantasy draft.
QUARTERBACKS
IconExpect Brady's numbers to get better now that he's two years removed from knee surgery.
Tom Brady, New England Patriots
ADP: 34.38
Earliest: 20
Latest: 44
Notes: In a year in which the top quarterbacks will fly off the board faster than ever before, be careful not to overlook Brady. The Pro Bowl signal-caller is now two years removed from a knee injury that knocked him out of the 2008 season. 4,400 yards and 30+ touchdowns are well worth the price of a fourth-round pick.
Kevin Kolb, Philadelphia Eagles
ADP: 78.77
Earliest: 49
Latest: 100
Notes: The first five rounds of your fantasy drafts will likely see the top-seven quarterbacks get selected. Should you choose to target the RB and WR positions instead, Kolb is an excellent option in the eighth round. The Philly signal-caller plays on a pass-happy offense that is loaded with firepower. Don't be surprised if Kolb posts a 4,000+ yard season in 2010.
Matt Ryan, Atlanta Falcons
ADP: 80.07
Earliest: 48
Latest: 102
Notes: Several analysts are predicting a playoff run for the Falcons in 2010, but for some reason Ryan isn't getting much love in the world of fantasy football. The two-year veteran posted a top-15 fantasy finish as a rookie in 2008 and has a rock-solid supporting cast in Pro Bowlers Roddy White, Tony Gonzalez and Michael Turner. Ryan is currently the tenth quarterback off the board, meaning any owner who makes a quick move to land the 25-year old as a QB2 could have some quality trade bait.
Carson Palmer, Cincinnati Bengals
ADP: 107.03
Earliest: 46
Latest: 126
Notes: Cincinnati's run-heavy offense and Palmer's numbers over the past two years are the main reasons why the veteran quarterback's draft stock has fallen. However, this guy is definitely worth a late-round draft pick now that he's got the 1-2 punch of Chad Ochocinco and Terrell Owens at his disposal, not to mention rookie tight end Jermaine Gresham.
Chad Henne, Miami Dolphins
ADP: 132.82
Earliest: 93
Latest: Undrafted
Notes: With Brandon Marshall as his No. 1 wideout and a beastly backfield that will force opposing defenses to respect the run, don't be surprised if Henne emerges as a viable starting option in 2010. Remember, the 25-year old threw for over 320 yards in three of his final five games last year.
TIGHT ENDS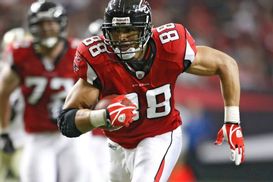 ICONGonzo makes for a great pick at the conclusion of the tight end run.
Tony Gonzalez, Atlanta Falcons
ADP: 69.42
Earliest: 55
Latest: 93
Notes: Gonzo led all tight ends in targets last season (135) despite playing without quarterback Matt Ryan for two games. In addition, the future Hall of Famer has cracked the top-five in fantasy scoring among tight ends in each of the last four years. No need to jump head first into the tight end run when this guy is currently the sixth TE off the board.
Brent Celek, Philadelphia Eagles
ADP: 70.51
Earliest: 47
Latest: 88
Notes: For a guy coming off a career year (76 receptions, 971 yards, 8 touchdowns) that ended with a fourth-place fantasy finish, Celek is getting drafted later than some would expect (seventh TE off the board), which makes him an excellent candidate for owners who opt to avoid the tight end run.
Zach Miller, Oakland Raiders
ADP: 108.33
Earliest: 75
Latest: 129
Notes: Miller's never had trouble posting respectable numbers in the receptions and receiving yards departments, but his low fantasy rankings can certainly be attributed to a lack of trips to the end zone (only 7 touchdowns in 47 career games). Expect that to change in 2010 now that JaMarcus Russell is out and Jason Campbell is in.
Kellen Winslow, Tampa Bay Buccaneers
ADP: 112.34
Earliest: 75
Latest: 134
Notes: Who else is going to catch the ball in Tampa this season? The Buccaneers could potentially start two wide receivers this year in Mike Williams and Arrelious Benn (although reports out of Tampa indicate Benn hasn't looked too impressive during camp), meaning it may take some time to get the passing game going. Winslow's the most experienced pass-catcher on the offense and he ranked fourth among tight ends in targets last season (127). Expect quarterback Josh Freeman to look his way often.
Chris Cooley, Washington Redskins
ADP: 113.46
Earliest: 77
Latest: 137
Notes: Backup Fred Davis will cut into some of Cooley's action, but the upside here is the addition of tight end loving quarterback Donovan McNabb. Prior to last year's injury-shortened season, Cooley had produced four-consecutive top-8 fantasy finishes. His upside makes him well worth the pick in the later rounds.
Hit me up on Twitter: @JoeFortenbaugh