December 30, 2010 -
Joe Fortenbaugh
The best of the rest
No matter what anyone else says, the NFP will always stand by the belief that fantasy championships are won and lost on draft day.
You're building a roster from scratch, which means that in order to compete for a title an owner must combine the concepts of roster balance, depth and knockout punch. A bad day in August will almost certainly spell disaster in December.
However, uncovering that rare diamond in the rough on the waiver wire could be the move that puts your team over the top for good. That's why we're spending our focus on this fine Thursday afternoon recognizing the top waiver wire acquisitions of the 2010 season.
CLICK HERE FOR A CHANCE TO KICK MY ASS IN THE WEEK 17 SALARY CAP CHALLENGE!
And before we get started, here is your motivational moment of the day…
10. LeGarrette Blount, RB, Tampa Bay Buccaneers
Current rank: 23rd in scoring among fantasy running backs
Elite performance: 22 carries, 120 rushing yards, 2 touchdowns in a Week 8 win over the Arizona Cardinals.
Blount's impressive path to fantasy stardom began last April when the rookie from Oregon went undrafted before signing a free agent contract with the Tennessee Titans. He was later cut by Jeff Fisher, only to claimed off waivers (pro teams do it too!) by the Buccaneers on Monday, September 6. It took a few weeks, but the 247-pound bruiser broke onto the scene in Week 8 at Arizona with a 120-yard, two-touchdown effort in a thrilling 38-35 win over the Cardinals.
Despite appearing in just 12 games so far this season, Blount currently ranks 16th in the NFL in rushing yards (941), 16th in rushing attempts per game (15.2) and boasts a rock-solid 5.2 yards per carry average. The best part about having added Blount to your roster: the guy delivered in the clutch (Weeks 15 and 16) with 274 rushing yards and a score on 33 carriers.
9. Oakland Raiders, D/ST
Current rank: 9th in scoring among fantasy D/STs
Elite performance: 2 touchdowns, 3 forced turnovers, 3 sacks and 1 safety in a Week 5 win over the San Diego Chargers.
After failing to eclipse the five-win mark in each of the past seven years, little was expected from the Oakland Raiders entering the 2010 season. After all, this was a team that concluded their 2009 campaign ranked 26th in the NFL in total defense (361.9 yds/gm) and 23rd in scoring defense (23.7). But as the legendary Bob Dylan once wrote, "The Times They Are a-Changin."
The Raiders spent a top-ten draft pick on Alabama linebacker Rolando McClain, a second-round pick on Texas defensive tackle Lamarr Houston and a fourth-round pick on a speedy little WR/KR from Clemson named Jacoby Ford, who it just so happens has already taken three kick returns to the house this season. The offseason improvements helped the Silver & Black Attack improve to 13th in the NFL in total defense this season (330.9 yds/gm). In addition, the Raiders currently rank third in the league in D/ST touchdowns (6), ninth in fumble recoveries (12) and seventh in sacks (40).
This is a unit on the rise.
8. Ryan Fitzpatrick, QB, Buffalo Bills
Current rank: 18th in scoring among fantasy quarterbacks
Elite performance: 382 passing yards, 4 touchdowns (67.4% completion percentage) in a Week 7 overtime loss against the Baltimore Ravens.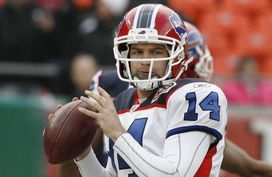 Fitzpatrick fizzled a bit down the stretch, but had a hell of a run in place of Trent Edwards.
If you lose a preseason quarterback battle to a guy like Trent Edwards, it's safe to say that you're going to go undrafted in most fantasy leagues across the country. But after some truly awful play from the aforementioned Edwards, new Buffalo head coach gave Fitzpatrick a shot at the starting gig. The former Harvard signal-caller responded by throwing 11 touchdown passes over his first four starts.
It's true that Fitzpatrick fizzled a bit down the stretch and left owners high and dry with a zero-touchdown outing in Week 16 vs. New England, but the 28-year-old averaged a reliable 230.8 passing yards and 1.8 touchdown passes over his 13 starts this season. Those types of numbers may not win you a fantasy championship, but they were certainly good enough to keep you afloat if you ended up with a guy like Donovan McNabb or Brett Favre as your starting quarterback back in August.
7. Mario Manningham, WR, New York Giants
Current rank: 19th in scoring among fantasy wide receivers
Elite performance: 8 receptions for 113 yards and 2 touchdowns on 12 targets in a Week 15 loss against the Philadelphia Eagles.
With Steve Smith coming off a career-high 107 receptions in 2009 and Hakeem Nicks getting preseason recognition as one of the league's top sleeper prospects for 2010, Manningham entered September with very little fantasy hype…and for good reason. How many owners are willing to use a roster spot on a No. 3 wideout?
But the door was opened for the former Michigan standout as both Smith and Nicks spent part of the season sidelined with injuries, allowing Manningham to assume a featured role in the New York offense. The 24-year-old responded by scoring eight touchdowns (t-15th in NFL among wideouts) and posting double-digit fantasy totals seven times in only seven starts. In addition, this dude came up big during the fantasy world's two crucial weeks (Weeks 15 & 16), as Manningham hauled in 12 passes for 245 yards and three touchdowns on 18 targets over his last two games.
6. Jacob Tamme, TE, Indianapolis Colts
Current rank: 15th in scoring among fantasy tight ends
Elite performance: 11 receptions for 108 yards and 1 touchdown on 17 targets in a Week 9 loss against the Philadelphia Eagles.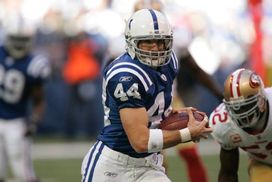 ICONDallas Clark's injury opened the door for Jacob Tamme.
Disaster struck for Dallas Clark owners in Week 6 when the Pro Bowl tight end was lost for the season after suffering a wrist injury in a 27-24 win at Washington. Shortly thereafter, owners began to wonder who this Jacob Tamme guy was and whether or not he'd be worth a pickup, seeing that All-World quarterback Peyton Manning would be throwing him the football.
The previously unknown tight end from Lexington, Kentucky became a fantasy sensation after catching a staggering 38 passes for 369 yards and three touchdowns on 56 targets over his first five NFL starts. Tamme wa s so damn effective that he cracked the top-four in scoring among fantasy tight ends three times over his first five games in place of the injured Clark. Unfortunately, Tamme fell back down to earth for a three-game stretch that began on December 5, but the 25-year-old came up big in Week 16 with a 13-point fantasy effort (7-78-1) against the Oakland Raiders.
5. Stevie Johnson, WR, Buffalo Bills
Current rank: 9th in scoring among fantasy wide receivers
Elite performance: 8 receptions for 137 yards and 3 touchdowns on 11 targets in a Week 11 win over the Cincinnati Bengals.
Be honest. How many of you had heard of Johnson prior to his 12-point, Week 3 breakout game against the New England Patriots? The third-year wideout from Kentucky went on a five-game touchdown streak (6 TDs total) this season that started against the Patriots and included a 158-yard, one-score effort at Baltimore against the Ravens in Week 7. Johnson then went scoreless for two weeks (but still racked up 17 fantasy points) before going ballistic and putting up 31 fantasy points against the Cincinnati Bengals in Week 11.
Through 15 games, Stevie J ranks 13th among NFL wide receivers in receptions (77), 14th in receiving yards (1,001) and fifth in touchdowns (10). While he's only found the end zone one time over his last five games, it's always a treat to land a top-ten fantasy receiver off the waiver wire during the first month of the season.
4. BenJarvus Green-Ellis, RB, New England Patriots
Current rank: 15th in scoring among fantasy running backs
Elite performance: 17 carries for 112 yards and 2 touchdowns in a Week 8 win over the Minnesota Vikings.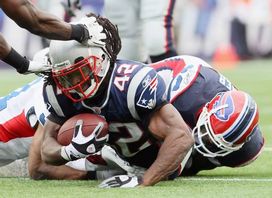 BJGE became very familiar with the end zone in 2010.
Give credit to Bill Belichick's "next man up" system because the New England Patriots always seem to produce at least one waiver wire hero. This year, the law firm of BenJarvus Green-Ellis takes home the prize as the 25-year-old from Ole Miss current ranks second in the NFL in rushing touchdowns among running backs. The amazing thing about BJGE is that nobody is even talking about what a beast he's been this year.
Green-Ellis has found the end zone in nine of 15 contests this season despite averaging just 13.9 rushing attempts per game. He's posted three multi-touchdown efforts in 2010 and has rushed for at least 70 yards in eight outings. In addition, the former Rebel is averaging a touchdown every 17.4 rushing attempts this season. This guy is a security blanket that could be inserted into the starting lineup every week without debate. There aren't many players who can offer that type of reliability.
3. Brandon Lloyd, WR, Denver Broncos
Current rank: 2nd in scoring among fantasy wide receivers
Elite performance: 5 receptions for 135 yards and 2 touchdowns on 14 targets in a Week 5 loss against the Baltimore Ravens.
Stat Line No. 1: 59 receptions, 860 yards, 2 touchdowns
Stat Line No. 2: 72 receptions, 1,375 yards, 10 touchdowns
Believe it or not, Stat Line No. 1 is what Lloyd produced over the course of four NFL seasons from 2006-2009. Stat Line No. 2 is what the Denver wide receiver has amassed in 15 games this year.
Back in August, the only Denver wideouts to surface during pre-draft fantasy discussions were Jabar Gaffney, Eddie Royal and rookie Demaryius Thomas. Lloyd was an afterthought…and that's putting it nicely. But after catching eight passes for 170 yards over the first two weeks of the season, Lloyd became quarterback Kyle Orton's go-to-guy, as the 29-year-old wide receiver was targeted a ridiculous 52 times over his next four games.
Lloyd has eclipsed 100 receiving yards in six games this season and has found the end zone seven times, which includes three multi-touchdown outings.
Top-30 draft picks Calvin Johnson, Greg Jennings, Roddy White, Andre Johnson, Reggie Wayne, Miles Austin and Marques Colston have all accounted for fewer fantasy points this season than Lloyd, who will without question go down as one of the best waiver wire pickups of the 2010 season.
2. Peyton Hillis, RB, Cleveland Browns
Current rank: 3rd in scoring among fantasy running backs
Elite performance: 26 carries for 131 yards and 3 touchdowns in a Week 12 win over the Carolina Panthers.
Do you remember back in August when the big debate regarding the running back position in Cleveland focused on Jerome Harrison and rookie Montario Hardesty? You're right, that does seem like it was ages ago. Since that time, Hardesty was lost for the season after blowing his knee out and Harrison was traded to the Philadelphia Eagles for former Saint Mike Bell.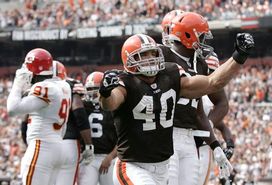 From waiver wire to RB1.
Meanwhile, former Denver Bronco Peyton Hillis stepped into the starting lineup and promptly ripped off 1,638 total yards and 13 touchdowns on 324 carries in only 13 starts to earn himself a spot inside the top-three in scoring among fantasy running backs. Though 15 games, Hillis has rushed for over 100 yards five times and has found the end zone in eight contests.
We understand the frustration over the fact that the 24-year-old only rushed for 104 yards in Weeks 15 and 16 combined (with no touchdowns), but how often is it that you can find yourself a workhorse running back on the waiver wire that is capable of averaging 14.8 fantasy points per week?
1. Michael Vick, QB, Philadelphia Eagles
Current rank: 1st in scoring among fantasy quarterbacks
Elite performance: 20/28 (71.4%), 333 yards, 4 passing touchdowns, 8 carries, 80 yards, 2 rushing touchdowns in a Week 10 blowout win at Washington.
The crown jewel of this year's waiver wire all-stars comes to us from the city of Philadelphia where a quarterback named Michael Vick took the fantasy world by storm after starting the 2010 season on the bench behind Kevin Kolb.
Vick has been sensational in every sense of the word this season. For starters, the guy has actually rushed for more yards (676) than running backs Ryan Mathews, Jahvid Best, Joseph Addai, Beanie Wells and DeAngelo Williams. Not only that, but Vick currently ranks ninth in the NFL in rushing touchdowns (9) despite A) not being a running back and B) only appearing in 12 games this season!
As for his aerial skill set, Vick has already posted career-highs in passing touchdowns (21), passing yards (3,018), YPA average (8.1) and QB rating (100.2, 4th in NFL).
We could go on and on about Vick's accomplishments this season as well as what he's done for fantasy owners around the world, but you get the idea.
I'd be willing to bet that over 70% of the owners that grabbed Vick off the waiver wire went on to make the playoffs.
HONORABLE MENTION: Josh Freeman (QB, Tampa Bay), Austin Collie (WR, Indianapolis), Ryan Torain (RB, Washington), Marcedes Lewis (TE, Jacksonville), Rob Gronkowski & Aaron Hernandez (TEs, New England), Atlanta Falcons (D/ST).
Hit me up on Twitter: @JoeFortenbaugh
Win cash today playing fantasy football with the NFP and FanDuel.