March 13, 2013 -
Joe Fortenbaugh
The best of the rest
The Miami Dolphins and Cleveland Browns came out swinging, while the New England Patriots and Green Bay Packers played it tight to the vest. And somehow, the Buffalo Bills managed to embarrass themselves with nothing more than a phone call.
The first day of the 2013 free agency period opened with a bang as big-name targets Mike Wallace, Paul Kruger and Andy Levitre cashed in their chips and watched their bank accounts skyrocket. But that doesn't mean the market is now devoid of quality talent. In actuality, the situation is anything but.
Heading into Day 2, here's a look at some of the best players still available as of Wednesday morning at 12:01am eastern. Expect to cross a few more of these names off the list by the end of the day.
1. Cliff Avril, DE/OLB: One of the more surprising names to see unsigned at the conclusion of Day 1, Avril's market dried up a bit when the Cleveland Browns opted to throw big-time deals at outside linebacker Paul Kruger and defensive lineman Desmond Bryant. The five-year veteran boasts a resume that includes 20.5 sacks over the last two seasons and the versatility to play either defensive end in a 4-3 system or outside linebacker in a 3-4. At the moment, the Indianapolis Colts appear to be the frontrunners.
Update: Signed a two-year, $15 million deal with the Seahawks on Wednesday.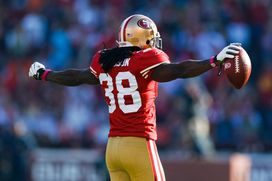 US PRESSWIREThe Buccaneers are reportedly putting the hard sell on Goldson.
2. Dashon Goldson, FS: Flush with enough salary cap space to make a sizeable splash into the free agent waters, the Tampa Bay Buccaneers sent a private plane to bring Goldson into town for the red carpet treatment. Having ranked dead last in the NFL in pass defense last season (297.4 yds/gm), the Buccaneers could use the upgrade to the backend of their defense. The only problem is that Goldson may not be "feeling the love" from the Bucs.
Update: Agreed to a five-year deal with the Tampa Bay Buccaneers on Wednesday.
3. Aqib Talib, CB: The Patriots are definitely interested in keeping Talib around for at least another season, but the Washington Redskins are rumored to hot for the cornerback's services. The 27-year-old recorded 19 tackles and one interception in six regular season games with New England in 2012, but allowed opposing quarterbacks to post a passer rating of 103.7 when throwing in his direction last year.
4. Brent Grimes, CB: Was rumored to have signed a one-year deal with the Falcons on Tuesday, but that turned out to be bogus information. The market for Grimes would be stronger if the 2010 Pro Bowler hadn't suffered a torn Achilles tendon last season that limited him to just one game.
5. Sean Smith, CB: A physical cornerback who stands at an imposing 6-3, Smith held opposing quarterbacks to a passer rating of just 85.1 when throwing in his direction last season. The problem for Smith—and all cornerbacks, for that matter—is that the market is saturated with defensive back talent. Kansas City was rumored to be interested, but that doesn't look like it's going to happen. NFL.com's Ian Rapoport reported Tuesday evening that Smith has a visit scheduled, but couldn't say where the free agent corner was headed.
6. Wes Welker, WR: One minute the Patriots want him back, the next minute the team is ready to move on. One minute Welker is interested in talking to New England, the next he's headed for anywhere else. Sad to see such a talented player receiving so little love, but age (31) and the fact that he played with Tom Brady have got to be concerns for the other 31 franchises. If Welker can't get close to what he's gunning for on the market, look for him to return to Belichick and the Pats.
Update: Signed a two-year, $12 million deal with the Denver Broncos on Wednesday.
7. Jake Long, OT: Scheduled to visit the St. Louis Rams on Wednesday, the former No. 1 overall draft pick is also reportedly being sought after by Philadelphia as well. In addition, the Miami Dolphins believe they have a shot at keeping Long in town for a few more years. Began his career with four straight trips to the Pro Bowl before experiencing a noticeable decline in production last season (career-high seven sacks allowed).
8. Greg Jennings, WR: Appeared in just 21 of a possible 32 regular season games over the last two seasons due to injuries. Devoid of any serious talent at the position, the Minnesota Vikings reportedly made Jennings an offer, but it looks like the 29-year-old is considering taking less money to return to Green Bay.
9. Andre Smith, OT: The Bengals opted to slap the franchise tag on defensive end Michael Johnson while rolling the dice by letting Smith test the free agent waters. So far there's been little to no interest, which means the Bengals may be in play to bring Smith back for another go round. Much more suited to play the right side instead of the left, Smith graded out as Pro Football Focus' fourth-best offensive tackle in 2012.
10. Sebastian Vollmer, OT: The four-year veteran has to be salivating at the $35.9 million the Chicago Bears gave to former Saint Jermon Bushrod. Unfortunately for Vollmer, the first day of free agency offered very little interest in terms of reports that surfaced on the internet. Look for New England to bring him back.
11. Michael Bennett, DE: Thought to be a lock to return to Tampa Bay after recording a career-high 9.0 sacks in 2012, Bennett put his chances of re-signing with the Buccaneers at 20-40 percent Tuesday evening. Tampa appears more interested in signing Dashon Goldson and/or trading for Darrelle Revis at the moment. Disappointingly quiet day for Bennett overall.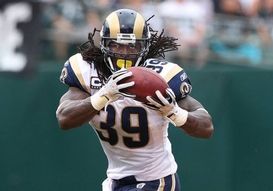 ICONJackson spent the first day of free agency negotiating with the Green Bay Packers.
12. Steven Jackson, RB: Spent most of Tuesday flirting with the Green Bay Packers, who aren't exactly known to shell out lucrative contracts on the first day of free agency. Jackson has repeatedly stated that he wants to be a featured running back and get paid like one, too. For all of the Atlanta rumors we listed to over the last couple of weeks, no reports ever surfaced of Atlanta attempting to get in the mix.
13. Danny Amendola, WR: Is scheduled to visit two teams in the immediate future, the identities of which are currently unknown. It's looking more and more likely that Amendola won't be back in St. Louis come next season. Injuries are a concern, but at 27-years-old, he's likely to be a solid contributor no matter where he signs.
Update: Signed a five-year, $31 million contract ($10 million guaranteed) with the New England Patriots on Wednesday.
14. Dominique Rodgers-Cromartie, CB: Spent two years in Philadelphia after coming over in the Kevin Kolb trade, only to watch the Eagles let him hit the open market without ever blinking. Made the Pro Bowl in 2009, but graded out as Pro Football Focus' 98th-ranked cornerback in the league in 2012. Has plenty of gas left in the tank at 26-years-old and is expected to visit the Denver Broncos this week.
Update: DRC agreed to a one-year deal with the Denver Broncos on Wednesday.
15. Osi Umenyiora, DE: Along with Dwight Freeney, Umenyiora is a prime candidate to sign during the second wave of free agency. Turns 32-years-old in November and saw his sack totals drop in each of the last two seasons. Very quiet first day of free agency, but expect the interest to pick up as the market begins to correct itself.
16. Ed Reed, FS: The reports of Reed signing with the 49ers appear to be nothing more than a smokescreen designed to increase interest within the market. But the New England Patriots are likely still in the hunt, as are the Ravens, who watched a mass exodus of talent head for greener pastures over the last 36 hours.
17. Keenan Lewis, CB: Came on strong during his first full season as a starter, notching 69 tackles and a forced fumble. But Lewis' name failed to register on the radar Tuesday, due likely in part to the plethora of cornerback talent that has flooded the market. Pittsburgh would love to have him back, but that seems unlikely at this point.
18. Jason Jones, DT: Recorded just three sacks in 12 appearances during his only season with the Seattle Seahawks, but is only 26-years-old and flashed some upside during his four years in Tennessee. Jones visited with the Detroit Lions on Tuesday, but it's unknown at the moment whether the parties are close to reaching an agreement.
Update: Reached an agreement on a three-year deal with the Detroit Lions on Wednesday.
19. Derek Cox, CB: Appeared in just 18 games over the last two seasons with the Jaguars due to a variety of injuries. Cox is scheduled to meet with the New Orleans Saints and is also reportedly drawing interest from the San Diego Chargers and Philadelphia Eagles.
Update: Reached an agreement on a four-year deal worth $20 million ($10.25 million guaranteed) with the San Diego Chargers.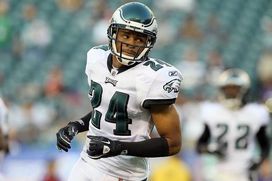 Released by the Eagles on Tuesday, Asomugha now joins a very crowded cornerback class.
20. Nnamdi Asomugha, CB: Was sent packing from Philadelphia after two unimpressive and ultra-expensive seasons. Now joins a crowded cornerback market that will likely see the younger talent ink deals before the older vets like Asomugha start drawing serious interest. Sure to have at least a few suitors who think he's still got something left in the tank.
21. Chris Houston, CB: Was closing in on a three-year deal to remain with the Detroit Lions, who need all the help they can get at the cornerback position. There's a good chance that Houston will be the first name we cross off this list come Wednesday morning. Recorded a career-high five interceptions with the Lions in 2011.
Update: Re-signed with the Detroit Lions (five-year deal).
22. Dwight Freeney, DE: Looking to play defensive end in a 4-3 system like he did before Chuck Pagano's arrival in Indianapolis. Peyton Manning and the Broncos are reportedly very interested, but Denver first needs to resolve the Elvis Dumervil situation.
23. Louis Delmas, SS: Has been limited to just 19 regular season games over the last two years due to injuries, but that wasn't enough to keep Jeff Fisher and the St. Louis Rams from bringing Delmas in for a visit on Tuesday night. Recorded 175 tackles during his first two years in the league, when the 25-year-old was able to avoid the injury bug.
24. Reggie Bush, RB: A situational back who is coming off the best two-year stretch of his entire career. Met with the Detroit Lions on Tuesday, but the parties were unable to reach an agreement and will resume talks on Wednesday. Arizona and Cincinnati are reportedly expressing interest as well.
Update: Agreed to a four-year deal with the Detroit Lions on Wednesday.
25. Cary Williams, CB: Another member of the stacked cornerback class that got deeper with the releases of Antoine Winfield and Nnamdi Asomugha, Williams didn't appear to get a whole lot of love on the first day of free agency. But at 28-years-old and coming off 32 consecutive starts for the Ravens, Williams is sure to start generating some serious interest in the very near future. Baltimore may be interested in bringing him back after losing defenders Paul Kruger and Dannell Ellerbe on Tuesday.
Other players of note: TE Fred Davis, TE Dustin Keller, OLB Connor Barwin, DE John Abraham, S Glover Quin, CB Antoine Winfield, LB Karlos Dansby, S Kenny Phillips, DT Alan Branch, DE Richard Seymour, S LaRon Landry, CB Antoine Cason, OLB Shaun Phillips, CB Mike Jenkins, RB Rashard Mendenhall, OLB Daryl Smith, LB Brian Urlacher, RB Ahmad Bradshaw, WR Josh Cribbs, CB Charles Woodson, DT Ricky Jean-Francois
Hit me up on Twitter: @JoeFortenbaugh