September 03, 2012 -
Joe Fortenbaugh
The big moves
Game week has arrived. After months of pouring through statistics and analyzing numbers, we can finally put some of our hard work to use this weekend.
We'll have plenty more analysis coming later this week for the opening slate of games, but today it's time to take a look at the big adjustments that haven taken place since the Week 1 point spreads hit the board a few months ago. For those interested, we'll be using the opening and current numbers from LVH.
The college football season got off to a solid start with a 6-2 ATS weekend, so let's see if we can keep this momentum rolling into the professional ranks.
PHILADELPHIA EAGLES AT CLEVELAND BROWNS
When: Sunday, 1:00pm ET
Open: PHI -6.5
Current: PHI -8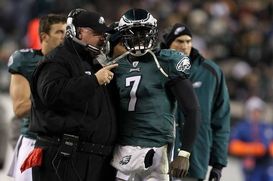 Unlike the Browns, the Eagles have been solid in Week 1 over the last few years.
Analysis: Trent Richardson's knee surgery coupled with the low expectations for Cleveland's 2012 campaign pushed this line through the key number of 7 to -8. Philadelphia is 3-1 in their last four Week 1 matchups, with an average margin of victory of 27.0 points per game, while the Browns have lost seven straight season openers by an average of 13.0 points per game.
Take note: The Browns are 2-6-1 ATS in their last nine September games.
BUFFALO BILLS AT NEW YORK JETS
When: Sunday, 1:00pm ET
Open: NYJ -6
Current: NYJ -3
Analysis: This is what happens when you score a grand total of 31 points over four preseason games while your starting quarterback throws more touchdown passes to his opponents (1) than he does to his own wide receivers (0). But hey, Mark Sanchez completed 68.6% of his passes this preseason! So what if he only averaged 5.8 yards per attempt.
Take note: The Bills are 5-1 ATS in their last six road games against the Jets.
MIAMI DOLPHINS AT HOUSTON TEXANS
When: Sunday, 1:00pm ET
Open: HOU -6
Current: HOU -11
Analysis: This matchup slowly moved from -6 to just north of -7 until the official announcement came down that rookie quarterback Ryan Tannehill would be under center for the Dolphins in Week 1. Since that time, a flurry of action has come in on the Texans, pushing the spread past the key number of 10. This is the only play we made when the Week 1 lines first hit the board and our reason for doing so still holds true: How exactly does Miami plan to generate any offense?
Take note: The road team is 4-0 ATS in the last four meetings between Miami and Houston.
SEATTLE SEAHAWKS AT ARIZONA CARDINALS
When: Sunday, 4:25pm ET
Open: AZ -2.5
Current: SEA -2.5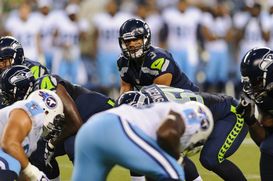 US PRESSWIREWill the Seahawks have more success on the road now that Russell Wilson is under center?
Analysis: Russell Wilson fever has swept the Pacific Northwest while the quarterback situation in Arizona leaves a lot to be desired. After a dreadful preseason that showcased serious problems along the offensive line, the books aren't exactly being inundated with Cardinals money. Just be sure to keep in mind that the Seahawks are 1-5 ATS in their last six trips to Arizona.
Take note: The home team is 4-1 ATS in the last five meetings between the Seahawks and Cardinals.
WASHINGTON REDSKINS AT NEW ORLEANS SAINTS
When: Sunday, 1:00pm ET
Open: NO -11
Current: NO -9
Analysis: It would appear that bettors are placing more of an emphasis on the Saints' offseason woes than on the fact that, including the postseason, New Orleans went 9-0 ATS at home last season. After all, approximately 58% of the tickets coming in at the moment are backing Robert Griffin III and the Redskins. Washington may be on the rise, but this is arguably the toughest road game in the league.
Take note: The Saints are 8-3 ATS in their last 11 games played in the month of September.
NEW ENGLAND PATRIOTS AT TENNESSEE TITANS
When: Sunday, 1:00pm ET
Open: NEP -6.5
Current: NEP -6
Analysis: While we're not necessarily buying in at the moment, this game has red flags galore you need to be aware of. For starters, close to 90% of the action is coming in on New England, yet the line is moving against the Patriots. Maybe that has something to do with the fact that over the last ten years, the defending Super Bowl loser has gone 2-8 straight-up and 0-10 ATS in Week 1. Those are some very intimidating numbers for Patriots backers.
Take note: The Titans are 4-1 ATS in their last five Week 1 matchups.
ALL OTHER GAMES
Dallas Cowboys at New York Giants: Open NYG -3, Current NYG -4
Indianapolis Colts at Chicago Bears: Open CHI -9.5, Current CHI -9.5
Jacksonville Jaguars at Minnesota Vikings: Open MIN -3.5, Current MIN -4
St. Louis Rams at Detroit Lions: Open DET -9.5, Current DET -8
Atlanta Falcons at Kansas City Chiefs: Open: Pick, Current: ATL -2.5
San Francisco 49ers at Green Bay Packers: Open: GB -6.5, Current: GB -5.5
Carolina Panthers at Tampa Bay Buccaneers: Open CAR -2.5, Current CAR -2.5
Pittsburgh Steelers at Denver Broncos: Open DEN -2, Current DEN -1
Cincinnati Bengals at Baltimore Ravens: Open BAL -7, Current BAL -6
San Diego Chargers at Oakland Raiders: Open Pick, Current SD -1
Hit me up on Twitter: @JoeFortenbaugh