May 16, 2013 -
Joe Fortenbaugh
The comeback kids
The natural reaction to a successful season from a professional athlete is to assume that said athlete will continue to perform at a high level. He did it once, so why can't he do it again? The same can be said about poor performances and our perception of those athletes the following season.
But the reality is that some players encounter a season in which they catch all the breaks, and some experience a campaign where nothing goes their way. The trick is to read between the lines to determine which guys played at their true level and which ones either benefitted or were harmed by their specific situations.
This is one of the integral elements to consider during your draft day preparations. Some of the best value picks happen to be the guys who performed below their capabilities the previous season because the other owners in your league assume that the same thing will happen again in the coming season. This drives the player's price down and makes him all the more valuable to your championship quest.
Today we're going to take a look at ten players the National Football Post expects to perform at a higher level in 2013 than they did in 2012.
Note: All fantasy totals are based on the standard scoring system.
THE COMEBACK KIDS
1. Dwayne Bowe, WR, Kansas City Chiefs
2012 fantasy total: 90 points (13 games)
2011 fantasy total: 138 points (16 games)
Why: The 28-year-old wideout went from averaging 4.8 receptions for 72.5 yards per game with a score every 1.6 outings from 2010-2011 under offensive-minded head coach Todd Haley, to 4.54 receptions for 61.6 yards per game and a touchdown every 4.3 outings under defensive-minded head coach Romeo Crennel in 2012. With an offensive-minded head coach once again calling the plays in Andy Reid and some newfound stability at the quarterback position thanks to the trade for Alex Smith, we expect Bowe to experience a big uptick in production this season.
2. Eli Manning, QB, New York Giants
2012 fantasy total: 279 points (16 games)
2011 fantasy total: 341 points (16 games)
Why: Getting just 13 games out of wide receiver Hakeem Nicks was certainly a contributing factor to Manning's lackluster 2012 campaign, but take a look at the Big Blue signal-caller's stat lines in the first and second years coming off a Super Bowl win:
2007 (SB Win): 3,336 yards, 23 touchdowns
2008: 3,238 yards, 21 touchdowns
2009: 4,021 yards, 27 touchdowns
2011 (SB Win): 4,933 yards, 29 touchdowns
2012: 3,948 yards, 26 touchdowns
2013: ??
Both seasons in which Manning guided the Giants to the Vince Lombardi Trophy were followed by setbacks in the statistics department the next year. But Manning came back huge in 2009 (two years removed from SB win) and we're inclined to believe the same thing will happen this time around in 2013.
3. Steven Jackson, RB, Atlanta Falcons
2012 fantasy total: 148 points (16 games)
2011 fantasy total: 167 points (15 games)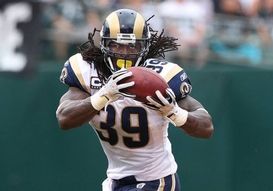 ICONWith a talented offense around him, S-Jax should reach double-digit touchdown totals.
Why: The nine-year veteran has muscled out 11.46 fantasy points per game over the last five seasons despite playing on a team that ranked 23rd or worse in the league in total offense each year. Yeah, he turns 30-years-old in July and that's why plenty of people will knock Jackson entering the 2013 campaign. But just think about what this guy is capable of achieving playing with Matt Ryan, Julio Jones, Roddy White and Tony Gonzalez. Opposing defenses no longer have the luxury of keying exclusively on Jackson.
4. LeSean McCoy, RB, Philadelphia Eagles
2012 fantasy total: 133 points (12 games)
2011 fantasy total: 265 points (15 games)
Why: The predicted regression from his 20-touchdown campaign in 2011, the concussion which sidelined him for four games and the all-around poor play from the Philadelphia Eagles came together to produce a wildly disappointing season from McCoy in 2012. The emergence of Bryce Brown will no doubt cut into McCoy's fantasy totals this coming season, but we're still expecting an explosive bounce back for the four-year veteran in new head coach Chip Kelly's first season with the Birds. Look for McCoy to get off to a hot start as opposing defenses work to figure out Philly's new-look offense.
5. Jay Cutler, QB, Chicago Bears
2012 fantasy total: 217 points (15 games)
2011 fantasy total: 159 points (10 games)
Why: 2012 addition Brandon Marshall hauled in 118 passes for 1,508 yards in his first season since reuniting with Cutler, so we know the Chicago quarterback has a reliable No. 1 target. Add to the mix the continued development of second-year wide receiver Alshon Jeffery (10 games in 2012), the signing of free agent tight end Martellus Bennett, the 1-2 backfield punch of Matt Forte and Michael Bush, an upgraded offensive line (Bushrod, Slauson and Long) and the hiring of offensive guru Marc Trestman as the team's new head coach and you have the perfect storm brewing for Cutler. And don't forget that the 30-year-old is entering the final year of his contract.
6. Victor Cruz, WR, New York Giants
2012 fantasy total: 161 points (16 games)
2011 fantasy total: 199 points (16 games)
Why: Cruz actually exceeded his 2011 reception and touchdown totals last year, but came up 444 receiving yards short, which is why the third-year wideout's fantasy numbers took a slight hit. With Hakeem Nicks back in the lineup to help ease the pressure and Eli Manning poised for a comeback season as well, look for Cruz's 2013 stats to come closer to his 2011 breakout season rather than his 2012 follow-up campaign.
7. Reggie Bush, RB, Detroit Lions
2012 fantasy total: 158 points (16 games)
2011 fantasy total: 161 points (16 games)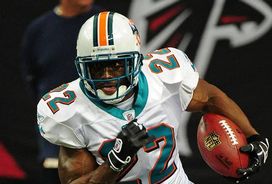 Bush will play an integral role in the Detroit passing attack this season.
Why: While it wouldn't necessarily be considered a comeback season if Bush were to surpass his 2012 totals, the former Miami Dolphin made this list because we expect 2013 to be his best season to date. There's a reason why the Lions put the full-court press on Bush and signed him to a four-year, $16 million contract this offseason: Detroit plans to make Bush their No. 1 tailback while leaning heavily upon the dual-threat playmaker in the passing game. PPR owners should highlight this guy's name weeks before draft day, as we don't think it would be a stretch for Bush to eclipse the 75-reception mark this season.
8. Jordy Nelson, WR, Green Bay Packers
2012 fantasy total: 120 points (12 games)
2011 fantasy total: 207 points (16 games)
Why: There was absolutely no way that Nelson was going to match his 2011 breakout numbers in 2012, but that didn't stop a plethora of fantasy owners from spending a high draft pick on the Green Bay wide receiver. The results were disappointing, as Nelson appeared in just 12 games and finished the season ranked 30th in fantasy scoring at the wideout position. The upside here is that Nelson's stock has come back down to earth while Greg Jennings has moved on to Minnesota. Expect an increase in production at a much better value.
9. Maurice Jones-Drew, RB, Jacksonville Jaguars
2012 fantasy total: 49 points (6 games)
2011 fantasy total: 248 points (16 games)
Why: It doesn't take a genius to figure out that MJD will produce more favorable numbers this season than last if he can stay healthy. That's as obvious as thunder following a lightning strike. But we added the Jacksonville running back to this list for one simple reason: We don't want you forgetting about this guy on draft day. Jones-Drew is running for a new contract and has produced outstanding statistics on a bad offense several times in his career. The only difference this year is that you'll be able to snag him at a better price.
10. New Orleans Saints, D/ST
2012 fantasy total: 112 points (16 games)
2011 fantasy total: 121 points (16 games)
Why: There is nowhere to go but up following last season's historically dreadful campaign. Head coach Sean Payton is back in charge of the Saints following a one-year suspension and Rob Ryan has been tapped as the team's new defensive coordinator. From a personnel standpoint, linebacker Jonathan Vilma will be ready to go for a full 16-game season following last year's suspension, free agent cornerback Keenan Lewis was signed away from Pittsburgh and Texas safety Kenny Vaccaro was selected in the first round to improve New Orleans' pass defense. This unit may not be great in 2013, but they're going to be a hell of a lot better.
Hit me up on Twitter: @JoeFortenbaugh