April 23, 2013 -
Joe Fortenbaugh
The countdown has begun
The NFL draft process reminds me of those arduous three-and-a-half hour drives my family used to take to Ocean City, Maryland for summer vacations when I was a nothing more than a snot-nosed little punk. Those trips started off well enough, with the anticipation and excitement of six days at the beach greasing wide smiles across everybody's faces.
But 210 minutes can seem like an eternity for five people to be trapped in a car together, just like the four-month NFL smokescreen process can seem like a lifetime for everybody interested in April's selection show. The excitement fades to boredom, which then morphs to restlessness. The old man's off-key Beach Boys renditions were met, in kind, with a three-man backseat Royal Rumble between my brothers and myself. The anticipation is now gone. The war of attrition has begun.
But then it happens. Just when you're ready to throw in the towel and turn the car around, you see the seagulls flying overhead as that sticky seawater scent wafts through the rolled-down windows. You're made it to the beach in one piece. The vacation can begin.
We're just over 48 hours from the big reveal. The news is going to keep coming at you like Arturo Gatti did in his three epic battles with Micky Ward. As of the current moment, this is what you need to know:
Closing strong…
Justin Hunter, WR, Tennessee Volunteers (6-4, 200 lbs): A vertical threat (4.44 40-yard-dash) who has spent most of draft season residing in the shadow of teammate Cordarrelle Patterson, Hunter bounced back from a 2011 ACL tear to record a collegiate-high 73 receptions for 1,083 yards and nine touchdowns for the Volunteers last year. NFL.com's Daniel Jeremiah wrote on Monday that numerous organizations have told him that Hunter is now a lock to go in the first round. Possible destinations include St. Louis, Minnesota, Houston and New England.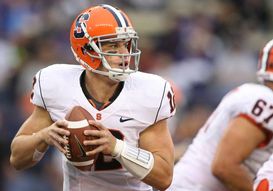 ICONHow many people thought Ryan Nassib would be selected before Geno Smith last month? How about now?
D.J. Hayden, CB, Houston Cougars (5-11, 191 lbs): Suffered a freak injury last November when a hit sustained during practice caused the senior to tear the inferior vena cava (vein which carries blood from the lower part of the body back to heart), ending his collegiate career. Hayden is now 100% recovered and ranks as Mike Mayock's top cornerback in the 2013 draft class. Whether or not he hears his name called before Alabama's Dee Milliner remains to be seen, but take note that Rex Ryan was the only head coach who personally attended Hayden's Monday workout. Yeah, that's the same Rex Ryan who owns two first-round draft picks and just lost Pro Bowl cornerback Darrelle Revis to Tampa Bay.
Ryan Nassib, QB, Syracuse Orange (6-2, 227 lbs): This certainly won't come as a surprise to our own Russ Lande, who has had the Syracuse signal-caller ranked at the top of his board for months. But put those eyes and ears of yours to good use this week and pay attention to what is being said about Nassib. At one time considered nothing more than a second-rounder, the speculation is starting to build that the Buffalo Bills and head coach Doug Marrone (who coached Nassib at Syracuse) could be willing to pull the trigger on Nassib at No. 8. Maybe it happens, maybe it doesn't. But we're willing to bet that this guy is off the board come Friday morning.
Kyle Long, OT, Oregon Ducks (6-6, 313 lbs): Thursday's first round will be chock full of offensive line selections and according to Sports Illustrated's Peter King, the NFL may need to make room for one more. The son of Hall of Fame defensive end Howie and brother of current St. Louis Rams defensive end Chris, Kyle Long may have elevated his stock just enough over the last few months to slip into the backend of the first round. Both Howie and Chris claim that Kyle is the best athlete in the family. That's scary.
How far will he fall?
Take a moment and ponder the stock trajectory of West Virginia quarterback Geno Smith, from the time his journey began last September until the current moment. After torching the competition over the first five weeks of the 2012 season, Smith emerged as both the Heisman Trophy front-runner and the popular choice to be selected first overall in the 2013 draft. But a five-game losing streak took Smith out of contention for the Heisman and an offseason trade that saw Alex Smith join the Kansas City Chiefs eliminated the signal-caller's chances of being the first man off the board.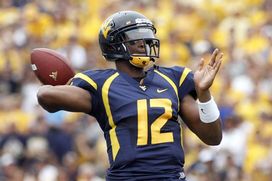 Could Geno Smith slide out of the first round?
Now rejoin me in the present and listen to what everybody is saying. Just over 48 hours from the start of the first round, the predictions continue to surface that Smith could be in line for a draft day skid the likes of which we haven't seen since the great Aaron Rodgers plummet of 2005.
I still maintain that Smith will find a home within the first 32 picks, but who pulls the trigger is anybody's guess at this point.
An interesting note from a gambling perspective: Sportsbook.ag opened up a prop on Geno Smith last week with an over/under draft position of 6.5.
That prop has since been taken off the board.
Throwing darts…
Two predictions (with many more to follow in the coming days) for the 2013 NFL draft:
1. A report surfaced last week that the Atlanta Falcons—who currently own the 30th overall selection—are interested in trading up in the first round. My initial thought was that the Falcons were interested in acquiring one of the draft's top pass rushers, since the organization ranked 28th in the league in sacks last season. But after some careful consideration, I'm changing my stance. Asante Samuel turned 32-years-old this past January and the Falcons waved goodbye to Dunta Robinson and Brent Grimes during the offseason. I believe the target of a draft day trade is the cornerback position and I think the player the Falcons are after is Washington's Desmond Trufant.
2. It's no secret the New England Patriots are in the market for an outside wide receiver who can stretch the field vertically on Sundays. Many candidates have already been nominated as potential fits, so in the spirit of making things interesting, let me throw another one at you: Oregon State wide receiver Markus Wheaton, who happens to be one of the quickest pass-catchers in this year's draft class.
Wherever he lands, I'm a fan…
…of Georgia outside linebacker Jarvis Jones. It was approximately three years ago that USC team doctors told the pass-rushing specialist he might never play football again. Jones responded by transferring from Los Angeles to Athens, Georgia, where he went on to record 28 sacks from 2011-2012 with the Bulldogs, earning consensus All-American honors in both seasons.
There are questions about the spine and there are concerns about the Pro Day performance. That was to be expected. But there is definitely something that makes me want to cheer for a guy who was told "no," only to come back and shove it in everybody's face.
Hit me up on Twitter: @JoeFortenbaugh