July 13, 2012 -
Joe Fortenbaugh
The curse of the 10-win comeback season
After a disastrous 3-13 campaign in 2009, there weren't a whole lot of people who were expecting big things from the Tampa Bay Buccaneers in 2010. It was a very young football team that had to contend in a division with the defending Super Bowl champion New Orleans Saints and always-dangerous Atlanta Falcons.
But somehow, against all odds, the Buccaneers went out and won ten games in 2010. It was a pleasant surprise that caught many off guard and in effect, raised expectations for a quickly maturing Tampa team entering the 2011 season.
The sky was the limit.
And then the team crashed back down to earth faster than a bootleg North Korean rocket with a 12-loss season that resulted in head coach Raheem Morris' dismissal.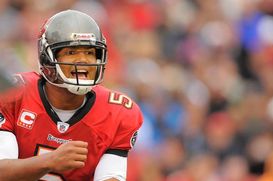 Josh Freeman and the Buccaneers crashed and burned in 2011.
The interesting thing to take away from Tampa's three-year roller coaster ride is that we should have seen it coming. What happened to the Buccaneers wasn't an anomaly. It's actually a common trend that has taken place around the league more than you might expect.
Over the last ten years there have been 29 instances in which an NFL team went 7-9 or worse and then came back the following year to win at least ten games.
And in 26 of those instances, teams followed up that impressive 10-win campaign with a record of 9-7 or worse. What does that tell us? Since 2002, there's an 89.6% chance that a team who bounces back from a losing season to post ten or more wins the following fall is headed for a step in the wrong direction come year three.
What's even more shocking is that the drop-off that takes place in year three is more significant than you might expect. In those aforementioned instances, the 26 teams that qualified for this study lost an average of 3.9 more games the year after they broke through with ten or more wins the previous season.
These statistics warrant serious consideration from those of you who plan on betting the Detroit Lions, San Francisco 49ers and/or the Houston Texans this season, because all three of those organizations are in the same spot the Buccaneers were in entering 2011.
The Lions, Niners and Texans all posted 6-10 records in 2010 before breaking through in 2011 to win at least ten games and qualify for the postseason. Each organization is facing lofty expectations entering a year in which the majority of teams who have found themselves in the same F-16 crashed and burned.
Need further proof of the potential pitfall these three teams could be walking into? Cantor Gaming here in Las Vegas is juicing the under for San Francisco (10) and Detroit's (9.5) season win totals. The under for the 49ers is currently listed at -120, while the under for the Lions is posted at -145. Houston (10) is currently -150 on the over, but that's likely due in large part to the Texans' six winnable divisional games, as well as matchups with the Dolphins, Vikings and Bills.
These statistics don't guarantee that the Lions, 49ers and Texans will all take a step back in 2012. But bettors need to keep this information in mind, if only for the fact that history has demonstrated that posting back-to-back 10-win seasons after a losing year isn't nearly as easy as we may have once thought.
THE PITFALL
Atlanta Falcons: 5-11 (2003), 11-5 (2004), 8-8 (2005)…4-12 (2007), 11-5 (2008), 9-7 (2009)
Baltimore Ravens: 7-9 (2002), 10-6 (2003), 9-7 (2004)…6-10 (2005), 13-3 (2006), 5-11 (2007)…5-11 (2007), 11-5 (2008), 9-7 (2009)
Carolina Panthers: 7-9 (2002), 11-5 (2003), 7-9 (2004)…7-9 (2004), 11-5 (2005), 8-8 (2006)…7-9 (2007), 12-4 (2008), 8-8 (2009)
Chicago Bears: 7-9 (2009), 11-5 (2010), 8-8 (2011)
Cincinnati Bengals: 4-11-1 (2008), 10-6 (2009), 4-12 (2010)
Cleveland Browns: 4-12 (2006), 10-6 (2007), 4-12 (2008)
Dallas Cowboys: 5-11 (2002), 10-6 (2003), 6-10 (2004)
Kansas City Chiefs: 7-9 (2004), 10-6 (2005), 9-7 (2006)…4-12 (2009), 10-6 (2010), 7-9 (2011)
Miami Dolphins: 1-15 (2007), 11-5 (2008), 7-9 (2009)
New Orleans Saints: 3-13 (2005), 10-6 (2006), 7-9 (2007)
New York Giants: 6-10 (2004), 11-5 (2005), 8-8 (2006)
New York Jets: 6-10 (2003), 10-6 (2004), 4-12 (2007)…4-12 (2005), 10-6 (2006), 4-12 (2007)
Philadelphia Eagles: 6-10 (2005), 10-6 (2006), 8-8 (2007)
San Diego Chargers: 4-12 (2003), 12-4 (2004), 9-7 (2005)
Seattle Seahawks: 7-9 (2002), 10-6 (2003), 9-7 (2004)
St. Louis Rams: 7-9 (2002), 12-4 (2003), 8-8 (2004)
Tampa Bay Buccaneers: 5-11 (2004), 11-5 (2005), 4-12 (2006)…3-13 (2009), 10-6 (2010), 4-12 (2011)
Washington Redskins: 6-10 (2004), 10-6 (2005), 5-11 (2006)
BUCKING THE TREND
Chicago Bears: 5-11 (2004), 11-5 (2005), 13-3 (2006)
Green Bay Packers: 6-10 (2008), 11-5 (2009), 10-6 (2010)
Pittsburgh Steelers: 6-10 (2003), 15-1 (2004), 11-5 (2005)
Hit me up on Twitter: @JoeFortenbaugh