August 02, 2012 -
Joe Fortenbaugh
The fantasy eight
Veteran readers of this column know how important a role mock drafting plays in fantasy research. That's what makes you savvy. For the newcomers in the house, let me reiterate: There is no better way to prepare yourself for a fantasy football draft then to spend a few hours this summer taking part in mock drafts.
Our friends over at Fantasy Football Calculator.com have you covered in this department, so don't be shy about stopping by and checking out all of the great data that is available for free.
I spent a few hours this morning pouring over the mock draft data and average draft positions (ADP) of the 2012 fantasy football draft class. Here's what stood out:
1. Quarterbacks in high demand: With several question marks surrounding the running back position after the Arian Foster-LeSean McCoy-Ray Rice trio flies off the board, mock drafters are opting instead to target high-scoring quarterbacks with their first-round selections. Aaron Rodgers is currently going second overall, while Tom Brady (fifth) and Drew Brees (ninth) are also hearing their names called during the first round. Keeper league owners now have their answer: If you landed Brady or Brees outside of the first round last season, it would be a smart play to bring your Pro Bowl signal-caller back for another year.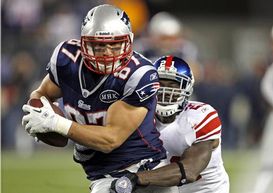 Owning Rob Gronkowski is going to cost a pretty penny this summer.
2. The Gronk: There's no denying that Patriots tight end Rob Gronkowski was an absolute beast in 2011. After all, the guy racked up more fantasy points than every receiver but Calvin Johnson en route to a 17-TD campaign that helped New England get back to the Super Bowl. But with a current ADP of 20.1, are you really comfortable spending a second-round selection on a tight end that will likely lose some targets this year due to the addition of wideout Brandon Lloyd? Gronkowski will still be Brady's top choice when the Pats get inside the 20, but this is a hefty price to pay, especially when quality options like Aaron Hernandez (fifth round) and Vernon Davis (sixth round) come at a much cheaper cost.
3. Where to target Jordy Nelson: Despite multiple fantasy outlets ranking Nelson as a top-five wide receiver entering the 2012 season, the 27-year-old is currently the 12th wideout off the board with an ADP of 38.0. Owners are likely skeptical about Nelson being able to maintain his ridiculous numbers from last season (68-1,263-15), but there isn't much evidence to make us believe the Green Bay offense will suddenly be unable to move up and down the field this year like they did last. Just keep in mind that the emergence of second-year wide receiver Randall Cobb (25-375-1 in 2011) could limit Nelson's targets. Another 15-TD season in 2012 is highly unlikely, in my opinion.
4. Running backs falling: Marshawn Lynch's most recent run-in with law enforcement officials has him out of the first round at the moment, with the Seattle running back currently rocking an ADP of 23.9. Meanwhile, Maurice Jones-Drew's holdout in Jacksonville has the Pro Bowl ball-carrier at 12.0 and former first-round pick Frank Gore is posted at 40.2. MJD has produced in adverse conditions for years, so there's some value in getting him at the end of the first/beginning of the second round. As for Lynch, his lawyer plans on taking the Pro Bowler's case to trial, meaning Commissioner Roger Goodell may not be able to drop the hammer until after the 2012 season. It's risky, but going after Lynch at his current price could very well wind up being a sound investment.
5. D/ST watch: The 49ers are currently the first D/ST off the board in mock drafts, with an ADP of 93.3. However, anybody who has ever played in a fantasy league knows that there is always at least one dude who goes after the top-ranked D/ST well before the ninth or tenth round. Houston (109.2) and Baltimore (113.4) are the next two units being targeted, but we advise you to keep a close eye on Philadelphia (115.6) this summer. The defense came together late in the year and made several upgrades during the offseason. Side note: Between Terrell Suggs' injury and the fact that Ray Lewis and Ed Reed aren't getting any younger, there is no way the Ravens should be the third D/ST off the board.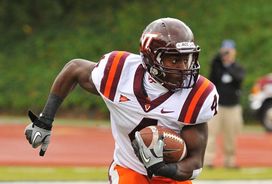 Former Hokie stud David Wilson could be a diamond in the rough that pays dividends for keeper league owners.
6. The rookies: Former Alabama standout Trent Richardson is hovering right around the end of the first round (ADP: 13.8), but take note that former Boise State Bronco and current Tampa Bay Buccaneer Doug Martin is flying up draft boards. A popular selection for many preseason "sleeper" lists, Martin currently boasts an ADP of 32.5, which we expect to shrink as Week 1 approaches. Another NFP favorite from the 2012 rookie class is New York Giants running back David Wilson (Virginia Tech), who could see some seriously playing time when you take into account Ahmad Bradshaw's injury history. Wilson's current ADP is 102.0.
7. Peyton's Broncos: Let me get this straight: The Denver Broncos are 10/1 to win the Super Bowl and are also the +160 favorites to win the AFC West because of the addition of future Hall of Famer Peyton Manning. But his top two weapons (Demaryius Thomas, Eric Decker), boast ADP's of 47.8 and 59.2? Does that make any sense to you? Either the Broncos flop and both players are listed where they should be, or Denver thrives under Manning and both receivers come at a tremendous value. I've definitely got Decker's name circled on my big board.
8. Undervalued: Patriots wideout Brandon Lloyd at 47.3, Eagles wide receivers Jeremy Maclin (52.6) and DeSean Jackson (56.0), Panthers running back Jonathan Stewart at 85.2, Bears quarterback Jay Cutler at 92.9, Falcons tight end Tony Gonzalez at 107.2 and Chargers wideout Vincent Brown (134.9).
Hit me up on Twitter: @JoeFortenbaugh