August 20, 2010 -
Joe Fortenbaugh
The fantasy stock watch report
Now that the NFL preseason is in full swing it's time to break down and analyze the fantasy football market to see which players are on the rise and which guys are starting to fall.
Studying the market is a useful took in any owner's preparation, as it will help you zero-in on the moment you should pull the trigger on some of the top prospects entering the 2010 season. Let's face it, nobody wants to get caught overpaying for a RB3 or missing the boat on a hot, young receiver.
Analyzing the market will also help in determining what specific trends are taking place across the country. Quarterbacks are being selected higher than ever this season, but when is the right time to buy?
Today's ADP (average draft position) data comes to us from the good folks at MockDraftCentral.com.
Time is running out! Click HERE to purchase the 2010 National Football Post Fantasy Draft Guide to get a leg up on the competition before draft day!
Here come the Patriots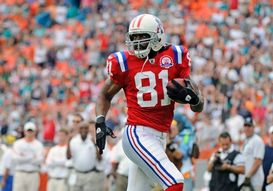 ICONAs the wideout position gets more attention, Moss' stock continues to rise.
New England wide receivers Randy Moss and Wes Welker have both been on the rise in mock drafts over the past two weeks. Moss' climb can be attributed to the fact that more and more owners are looking to the wideout position at the end of the first round. It's your basic supply and demand economics. And with some of the uncertainty surrounding several running backs with late-first, early-second round grades, opting for a guy like Moss (who has scored 47 touchdowns over the past three years) isn't a bad decision.
Randy Moss
Current ADP: 13.32
2 weeks ago: 14.23
Change: +6.8%
Since we're talking about Moss and since it also happens to be Friday, I thought this would be the perfect time to bring back one of our favorite "highlights" from Moss' career. (Green Bay fans may want to skip to the next section).
As positive news continues to roll out in regards to Welker and his recovery from a blown out knee, fantasy owners continue to take the bait. The 29-year old has been one of the fastest risers over the past two weeks, climbing nearly seven total spots in Mock Draft Central's ADP report. In addition, Welker's stat line (3 targets, 2 receptions, 20 yards) from Thursday night's preseason game against Atlanta is sure to keep his stock on the move.
However, owners should keep in mind that there will be at least one guy in your fantasy draft that selects Welker before the end of the fourth round. No matter how many mocks I participate in, it always happens.
Wes Welker
Current ADP: 75.86
2 weeks ago: 82.50
Change: +8.8%
Quietly, quarterback Tom Brady has been putting together a rock-solid preseason. In two games this summer (limited action in both), Brady has completed 15 of 20 passes for 152 yards with one touchdown and no interceptions. He's two years removed from knee surgery, is demonstrating better footwork in the pocket and in our opinion is one of the best QB value picks on the market.
Tom Brady
Current ADP: 32.55
2 weeks ago: 34.58
Change: +6.2%
The secret is out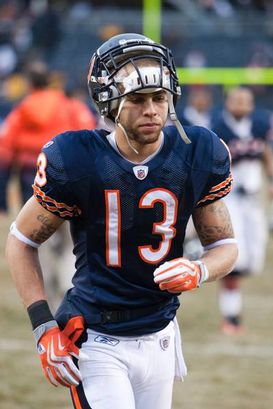 ICONFantasy owners are beginning to target Knox earlier in mock drafts.
One of the hot debates we've been closely following this summer is the wide receiver battle that is taking place in Chicago between Devin Aromashodu and Johnny Knox. For those of you who purchased the 2010 NFP Fantasy Guide, you know we're high on Knox this season (NFP No. 2 Sleeper).
According to the results over at Mock Draft Central, the word is apparently out on Knox, as the 23-year old from Abilene Christian is rocketing up draft boards around the country.
Johnny Knox
Current ADP: 132.64
2 weeks ago: 157.69
Change: +18.9%
Devin Aromashodu
Current ADP: 88.58
2 weeks ago: 86.20
Change: -2.7%
Knox makes for a solid WR3 that has the upside and talent to become an every-week starter. While his current ADP suggests he can be acquired towards the end of the draft, owners should look to pull the trigger sometime after round 6. Trust us, there will be more than one guy in your league looking to land Knox.
The Houston Texans
Rookie running back Ben Tate's season-ending ankle injury has sent Arian Foster's draft stock through the roof. While he'll still needs to win the starting job and will no doubt lose some snaps to second-year back Steve Slaton this season, Foster has been one of the biggest risers in the fantasy world as of late. Owners should now consider him a mid-round pick that will continue to climb the boards as we get closer to Week 1.
Arian Foster
Current ADP: 192.80
2 weeks ago: 261.71
Change: +35.7%
Steve Slaton
Current ADP: 95.96
2 weeks ago: 94.99
Change: -1.0%
In addition to the running back position in Houston, there's been an interesting development at wideout. Potential sleeper Jacoby Jones is making a move up draft boards while the newly minted Kevin Walter is plummeting.
Jacoby Jones
Current ADP: 260.73
2 weeks ago: 287.07
Change: +10.1%
Kevin Walter
Current ADP: 162.16
2 weeks ago: 132.95
Change: -18%
While Jones is certainly a hot item as a potential late-round sleeper, keep in mind that he's only caught 45 total passes in three NFL seasons. Not only that, but he'll have a tough time producing reliable fantasy totals if he's the No. 3 wide receiver in Houston this season. Remember, the Texans just gave Walter a five-year, $21.5 million contract. It doesn't look good to leave that kind of cash on the sidelines.
The Buffalo backfield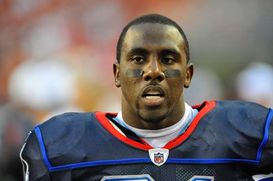 ICONSpiller could climb as high as the third round on draft day.
The injuries to running backs Fred Jackson and Marshawn Lynch coupled with rookie C.J. Spiller's solid play in Thursday night's preseason game (10 carries, 54 yards, one touchdown) will continue to affect the draft stock of the three Buffalo ball carries.
As of the current moment, Spiller is a 6th-7th round selection. However, don't be surprised if he's off the board by the end of the 3rd round on draft day.
C.J. Spiller
Current ADP: 61.15
2 weeks ago: 60.57
Change: -0.9%
Fred Jackson
Current ADP: 78.74
2 weeks ago: 76.26
Change: -3.1%
Marshawn Lynch
Current ADP: 188.37
2 weeks ago: 159.66
Change: -15.2%
Expect a big fall from Percy Harvin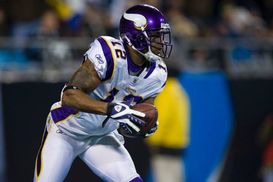 ICONIf Harvin can get his migraine issues under control, he could come at a steal this summer.
The second-year wideout collapsed on the practice field Thursday and was taken to the hospital after once again suffering from a migraine. Harvin put together an outstanding rookie campaign in 2009 and was well on his way to becoming a serious threat in the fantasy football world. However, owners need to be very cautious about Harvin's potential for 2010, as the 22-year old has been battling migraines for years. I'm no doctor, but it can't be good for a guy who suffers from migraines to take up a profession that involves smashing heads together every day.
Percy Harvin, Minnesota Vikings
Current ADP: 58.67
2 weeks ago: 57.01
Change: -2.8%
Expect Harvin's ADP to continue to fall. I've been getting a ton of emails about what to do with the former Florida Gator this season. Clearly, there are some serious concerns in the marketplace at the moment.
It's risky, but this is very similar to the Knowshon Moreno situation in Denver. Both players are going to drop because of injury concerns, making them risky draft picks. However, if Harvin and/or Moreno can figure out how to get healthy and make it through the season, they could wind up being big-time steals.
The top quarterbacks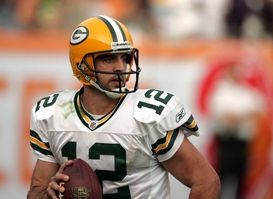 ICONRodgers and the other elite quarterbacks continue to climb up the boards.
Should I draft Aaron Rodgers in the first round?
I've seen that question more times than I care to count this summer. I'm not a fan of drafting a quarterback that early because I feel there is better value to be had in the later rounds. However, I may be in the minority on this one because the top-ranked quarterbacks entering 2010 continue to climb the boards. While the changes may be relatively small, the first six quarterbacks continue to rise:
Aaron Rodgers, Green Bay Packers
Current ADP: 9.19
2 weeks ago: 9.52
Change: +3.6%
Drew Brees, New Orleans Saints
Current ADP: 11.83
2 weeks ago: 11.87
Change: +0.3%
Peyton Manning, Indianapolis Colts
Current ADP: 21.16
2 weeks ago: 21.92
Change: +3.6%
Tom Brady, New England Patriots
Current ADP: 32.55
2 weeks ago: 34.58
Change: +6.2%
Tony Romo, Dallas Cowboys
Current ADP: 40.05
2 weeks ago: 40.88
Change: +2.1%
Philip Rivers, San Diego Chargers
Current ADP: 40.61
2 weeks ago: 41.52
Change: +2.2%
The running backs are slipping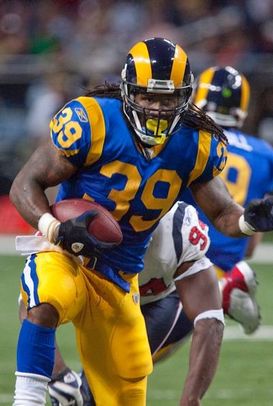 ICONS-Jax may struggle to find the end zone, but he's likely going to get you 1,400+ total yards.
Outside of the top-tier backs like Chris Johnson, Adrian Peterson and Maurice Jones-Drew, the rest of the top-20 rushers are all beginning to slip. This is obviously tied to the rise of both the QB and WR positions, but it's interesting to note because some of these guys can be had at a great value.
Shonn Greene, New York Jets
Current ADP: 15.25
2 weeks ago: 14.54
Change: -4.7%
Jamaal Charles, Kansas City Chiefs
Current ADP: 25.34
2 weeks ago: 24.00
Change: -5.3%
Steven Jackson, St. Louis Rams
Current ADP: 8.85
2 weeks ago: 8.38
Change: -5.3%
Rashard Mendenhall, Pittsburgh Steelers
Current ADP: 11.10
2 weeks ago: 10.59
Change: -4.6%
Cedric Benson, Cincinnati Bengals
Current ADP: 19.34
2 weeks ago: 18.77
Change: -2.9%
Beanie Wells, Arizona Cardinals
Current ADP: 25.19
2 weeks ago: 23.89
Change: -5.2%
Three great value picks
You may be getting tired of hearing about the following three players, but I'm going to continue writing about them anyway because their current value is just too damn enticing.
Ahmad Bradshaw, New York Giants
Current ADP: 79.61
2 weeks ago: 83.40
Change: +4.8%
Malcom Floyd, San Diego Chargers
Current ADP: 100.68
2 weeks ago: 102.07
Change: +1.4%
Chris Cooley, Washington Redskins
Current ADP: 111.72
2 weeks ago: 112.81
Change: +1.0
Lets talk football
Starting Friday, yours truly will be co-hosting a one-hour radio show on Fox 1470 in Allentown, Pennsylvania. I'll be joining my man Eric Chase to talk about a wide variety of topics including the NFL, NCAA, fantasy and gambling.
Even in you don't live in the Lehigh Valley, you can check us out every Friday at 4:00pm eastern by going to Fox1470.com.
Have a great weekend and be sure to throw back a couple cold ones (if you're of age).
Hit me up on Twitter: @JoeFortenbaugh