October 28, 2014 -
Joe Fortenbaugh
The fantasy waiver wire report
With eight weeks of the season under our belts, it's important for owners to note that "points scored" is a better indicator than "overall record" when it comes to how good your fantasy football team truly is. Look through your various leagues and you're sure to discover a team with a 6-2 or 7-1 mark that ranks in the bottom three in scoring, as well as teams with 4-4 or 3-5 records that rank in the top two in scoring. Seasoned owners have been through this drill before. You've got a top-flight roster that produces points on a consistent basis, but you're 3-5 because every single week you face an opponent with a roster that goes nuclear. The same can be said about the other end of the spectrum where owners with a 6-2 mark consistently face opposition that falls flat at virtually every spot on the roster.
For preciously this reason, records sometimes serve as a false indicator when it comes to the overall quality of your fantasy football team. And if you currently happen to own a team with a solid record but low scoring total, don't relax. Hit the waiver wire and/or look to swing a last second, high-profile trade before the deadline passes.
Because at some point in the future, your luck is going to run out.
Bye week: Atlanta Falcons, Buffalo Bills, Chicago Bears, Detroit Lions, Green Bay Packers, Tennessee Titans
<strong>QUARTERBACKS
Carson Palmer, Arizona Cardinals (at Dallas, owned in 50% of Yahoo! leagues): In three starts since returning from an early season shoulder injury, Palmer has averaged 277.3 passing yards per game with six touchdowns and only one interception. The ceiling here is somewhat low as Palmer will never be the quarterback who throws for 400 yards and four scores like Drew Brees, but the Arizona signal-caller makes for a solid and reliable QB2 with QB1 upside during bye weeks.
Kyle Orton, Buffalo Bills (Bye, owned in 8% of Yahoo! leagues): We're still not exactly sure as to why more owners aren't willing to take a chance on Orton, as the veteran journeyman has completed 67.4 percent of his passes for 1,128 yards and nine touchdowns in four starts since stealing the starting gig from E.J. Manuel. The Buffalo offense can be difficult to stomach at times, but there's no denying the fact that Orton has been consistently producing favorable results since taking over the huddle. A dependable QB2 with QB1 upside.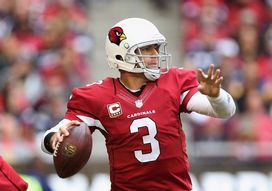 Palmer has been rock solid since returning from a Week 1 shoulder injury.
Michael Vick, New York Jets (at Kansas City, owned in 2% of Yahoo! leagues): Apparently the Jets have finally suffered enough embarrassment from riding with former second-round draft pick Geno Smith through the first eight weeks of the season, so the team has opted to turn the keys to the car over to 34-year-old Michael Vick and his career QB rating of 80.3. Vick made this list simply because he was recently named the starter for Sunday's game in Kansas City, but don't expect a whole lot here. The Jets are a mess and it's going to take a hell of a lot more than an aging, turnover-prone quarterback to turn things around.
Zach Mettenberger, Tennessee Titans (Bye, owned in 2% of Yahoo! leagues): Speaking strictly from a fantasy football point of view, Mettenberger's NFL debut was half bad as the rookie from LSU completed 65.9 percent of his passes for 299 yards and two scores with one interception against a respectable Houston Texans defense. The upside here is that Mettenberger now gets two weeks learn from his first start and prepare for his next opponent. There will certainly be plenty of growing pains here, but owners in very deep or two QB leagues should pay attention.
RUNNING BACKS
Note: The following running backs are worth owning if for some reason they are still available in your league: Ronnie Hillman (74% owned), Ryan Mathews (64%), Jerick McKinnon (73%), Darren McFadden (61%), Mark Ingram (69%).
Denard Robinson, Jacksonville Jaguars (at Cincinnati, owned in 57% of Yahoo! leagues): Since making the transition from wide receiver to running back, Robinson's last two games have featured an impressive 40 carries for 235 rushing yards and one score with a rock solid 4.8 yards per carry average. The problem here is that the Jaguars have a tendency to put themselves in big holes in football games, which leads to an abandonment of the rushing attack during the second half, so owners need to be aware that there is plenty of risk involved with Robinson. But it's hard not to like what this guy has produced during his limited stint as Jacksonville's workhorse running back.
DeAngelo Williams, Carolina Panthers (vs. New Orleans, owned in 14% of Yahoo! leagues): After missing the last four games with an ankle injury, Williams is expected to return to the lineup Thursday night when Carolina plays host to division-rival New Orleans. The most likely scenario in Week 9 is that the Panthers employ a running back-by-committee approach that includes a healthy dose of Williams, but at the same time devalues any ball-carrier who is involved. That's a shame for fantasy owners because the Saints are currently surrendering an average of 20.7 fantasy points per game to opposing running backs this season (11th-most in NFL).
Jonas Gray, New England Patriots (vs. Denver, owned in 6% of Yahoo! leagues): Recently promoted from the practice squad in the wake of the season-ending injury suffered by starting running back Stevan Ridley, Gray took command of the backfield responsibilities in Week 8 against the Chicago Bears by rushing for 86 yards on 17 carries (5.1 YPA). Owners will no doubt be falling all over themselves to acquire the 24-year-old out of Notre Dame, but take note that head coach Bill Belichick has a history of trolling fantasy owners when it comes to the running back position. Gray will continue to see carries, but week-to-week reliability is definitely an issue.
Bobby Rainey, Tampa Bay Buccaneers (at Cleveland, owned in 24% of Yahoo! leagues): Rainey will be a popular name this week following another disastrous performance from starting running back Doug Martin (10-27-0), who happened to suffer a minor ankle injury in Sunday's home loss to Minnesota. But the problem here is that the Tampa Bay Buccaneers are a horrendous football team that currently ranks dead last in the league in total offense (295.1 yds/gm) and 27th in scoring (19.0 pts/gm). So is it really worth blowing a top waiver priority to acquire a player with a low ceiling due to such a bad situation?
Charles Sims, Tampa Bay Buccaneers (at Cleveland, owned in 7% of Yahoo! leagues): If you're looking to roll the dice on a Buccaneers running back, this is the guy, as word out of Tampa is that Doug Martin has fallen out of favor with the team's coaching staff and Sims—a third-round pick out of West Virginia—is headed for a heavy workload once he's activated this week from the I.R./recall list. A 6-0, 213-pound dual-threat option, Sims ran for 3,465 yards and 40 touchdowns during his 48 collegiate games with the Mountaineers while adding another 203 receptions for 2,108 yards and 11 scores through the air. Just remember, this is the Buccaneers we're talking about here.
Boobie Dixon, Buffalo Bills (Bye, owned in 30% of Yahoo! leagues): Don't be discouraged by Dixon's lackluster 22-44-0 stat line Sunday against the Jets in his first true test as a starting running back, as New York is one of the better run stopping units in the National Fo otball League. The 6-1, 233-pounder out of Mississippi State is a powerful inside runner who should handle the bulk of the Buffalo goal line and short yardage carries until Fred Jackson returns from a groin injury (approximately four more weeks). Dixon is worthy of a roster spot and will make for a decent Week 10 start when the Bills play host to the Kansas City Chiefs.
Bryce Brown, Buffalo Bills (Bye, owned in 40% of Yahoo! leagues): Touched the ball just seven times for 15 yards Sunday against the New York Jets, but there's a good chance Brown gets more involved in the offense now that the Bills have two weeks to figure out the best way to utilize his abilities. Remember, this is the same guy who amassed 1,018 total yards and six scores on 211 touches from 2012-2013. Brown has potential, but a limited share of the workload certainly devalues his overall worth.
WIDE RECEIVERS
Note: Doug Baldwin (57% owned in Yahoo! leagues) and Odell Beckham (56%) are both worth owning if still available in your leagues.
Note 2: Josh Gordon (62%) is scheduled to return from his suspension in Week 12.
Allen Robinson, Jacksonville Jaguars (at Cincinnati, owned in 23% of Yahoo! leagues): Since stepping into a starting role in Week 3, the rookie from Penn State is averaging a healthy 9.0 targets per game. Additionally, the Robinson-Blake Bortles connection has begun to pick up steam over the last few weeks, with the Jacksonville wideout finding the end zone in each of his last two outings. As always when it comes to the Jaguars, garbage time statistics are a big plus here.
Justin Hunter, Tennessee Titans (Bye, owned in 50% of Yahoo! leagues): Heading into Week 8, Hunter told the Tennessee media that he had been building a nice rapport with rookie signal-caller Zach Mettenberger, who made his first start of the season Sunday against the Houston Texans. The result? Hunter was targeted a team-high ten times, which resulted in four receptions for 31 yards and a score. Consistency will be an issue here due to the presence of a rookie signal-caller under center, but these two may have something cooking.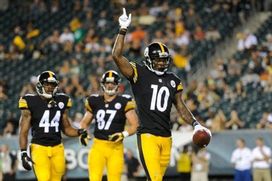 Bryant has found the end zone three times over his last two outings.
Martavis Bryant, Pittsburgh Steelers (vs. Baltimore, owned in 7% of Yahoo! leagues): Through just two appearances this season, the rookie from Clemson has took the fantasy world by storm, notching seven receptions for 123 yards and three touchdowns on 12 targets. Don't be surprised if Bryant steals the No. 2 job away from the underwhelming Markus Wheaton (29-333-1 on season) in the very near future. The upside here is the fact that playing opposite Antonio Bryant is going to create some very favorable coverage matchups. The downside is consistency and dependability.
Brandon LaFell, New England Patriots (vs. Denver, owned in 36% of Yahoo! leagues): The former Carolina Panther has found the end zone four times over his last five outings and appears to have quietly installed himself as quarterback Tom Brady's No. 2 option behind tight end Rob Gronkowski. LaFell is coming off his best performance of the season (11-124-1) and currently serves as the only true homerun threat on the Patriots roster.
John Brown, Arizona Cardinals (at Dallas, owned in 10% of Yahoo! leagues): The rookie from Pittsburg State isn't what you would call a "high volume receiver," but he's a big-play nightmare for opposing defenses, as evidenced by the 5-119-1 stat line Brown recorded Sunday against the Philadelphia Eagles. Makes for an interesting bye week replacement due to his high ceiling, but remember, it's still the Michael Floyd-Larry Fitzgerald show in Arizona. Dynasty and keeper league owners should be paying close attention to this guy.
Andre Holmes, Oakland Raiders (at Seattle, owned in 42% of Yahoo! leagues): Holmes is averaging a healthy 16.2 yards per reception this season and has found the end zone four times over his last four contests. The Oakland Raiders are an unreliable and inconsistent offense, so you can't bank on solid week-to-week production from Holmes. But the Hillsdale product is worth rostering as a WR3/4 due to garbage time numbers, big-play ability and the rapport he is building with rookie signal-caller Derek Carr.
Donte Moncrief, Indianapolis Colts (at NY Giants, owned in 3% of Yahoo! leagues): With Reggie Wayne on the sidelines in Week 8 due to an elbow injury, Moncrief seized advantage of the opportunity to play more snaps by catching seven passes for 113 yards and a touchdown at Pittsburgh. Note that when Wayne returns to the field, Moncrief's value will take a severe hit. But until that time happens, any starting receiver working with quarterback Andrew Luck deserves your attention.
TIGHT ENDS
Note: Colts TE Dwayne Allen is still available in 26% of Yahoo! leagues despite finding the end zone in six of eight games this season.
Tim Wright, New England Patriots (vs. Denver, owned in 14% of Yahoo! leagues): While his target totals are relatively limited, it's worth noting that Wright has found the end zone in three of his last four games since bursting onto the scene with a 5-85-1 effort against the Cincinnati Bengals back in Week 5. Don't expect Wright to hold down the TE position on your fantasy squad for the rest of the season, but the former Tampa Bay Buc makes for a high-upside situational play if you are jammed up due to injuries or bye weeks.
DEFENSE/SPECIAL TEAMS
Note: Streamers should look to see if the Bengals are available on waivers (currently owned in 68% of Yahoo! leagues), as Cincinnati plays host to the Jacksonville Jaguars this weekend.
Kansas City Chiefs (vs. NY Jets, owned in 59% of Yahoo! leagues): Held the St. Louis Rams to just seven points and only 200 total yards of offense while registering seven sacks in Sunday's 34-7 blowout victory. Those owners quick enough to snag this squad last week should stand pat, as Week 9 offers up a tasty matchup with turnover-prone Michael Vick and a New York Jets offense that currently ranks 28th in the league in both total offense (319.4 yds/gm) and scoring (18.0 pts/gm).
Hit me up on Twitter: @JoeFortenbaugh