September 30, 2014 -
Joe Fortenbaugh
The fantasy waiver wire report
We've reached the quarter pole of the 2014 NFL regular season, which means the lectures on the importance of patience have come to an end. Some players we drafted back in August (Justin Hunter, Maurice Jones-Drew, Hakeem Nicks) are no longer worth rostering, while others (Larry Donnell, Ahmad Bradshaw, Steve Smith) have emerged from the depths of preseason obscurity to fill the void. Nevertheless, the importance of the waiver wire is at an all-time high for those looking to either maintain their divisional leads or reverse course on a season that has gotten off on the wrong foot.
QUARTERBACKS
Eli Manning, QB, New York Giants (vs. Atlanta, owned in 47% of Yahoo! leagues): It appears as if the two-time Super Bowl winner is getting the hang of new offensive coordinator Ben McAdoo's offense, as Manning has thrown for 534 yards and six touchdowns while completing an astounding 73.1 percent of his passes over the last two weeks. As an added bonus, Manning and the Giants play host to an Atlanta Falcons defense in Week 5 that just gave up 317 passing yards to rookie Teddy Bridgewater in a 41-28 loss on Sunday.
Mike Glennon, QB, Tampa Bay Buccaneers (at New Orleans, owned in 4% of Yahoo! leagues): While he completed just 50 percent of his passes in Sunday's comeback win at Pittsburgh, Glennon's first start of the year resulted in 302 passing yards, two touchdowns and, most importantly, a win. We recommend owners consider Glennon a QB2 situational play who could step into the starting lineup given the right matchup.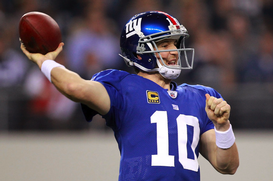 It took a couple of weeks, but Eli and the Giants have found that illusive spark on offense.
Michael Vick, QB, New York Jets (at San Diego, owned in 2% of Yahoo! leagues): He's 34-years-old, turnover-prone and has trouble staying healthy, but it's only a matter of time before Rex Ryan tosses in the towel on dumpster fire Geno Smith (QB rating of 75.1) in favor of his veteran backup. Vick could catch lightning in a bottle during his first few outings, but consistency will certainly be an issue here. Tread lightly.
Teddy Bridgewater, QB, Minnesota Vikings (at Green Bay, owned in 13% of Yahoo! leagues): Dynamite debut for the rookie from Louisville, who completed 19 of 30 passes for 317 yards with no turnovers and picked up another 27 yards and a score on the ground in Sunday's 41-28 upset win over Atlanta. The upside here is very appealing, as Teddy Ballgame is worthy of a roster spot as a QB2 in virtually every format out there. However, note that the signal-caller suffered a mild high ankle sprain on Sunday and may not be able to play Thursday night against the Packers.
Blake Bortles, QB, Jacksonville Jaguars (vs. Pittsburgh, owned in 18% of Yahoo! leagues): Not a bad day for the rookie from Central Florida, who completed a staggering 78.4 percent of his passes for 253 yards and a touchdown in Sunday's loss at San Diego. Take note that Bortles tossed two interceptions for the second week in a row, but he also rolled up 24 rushing yards and should benefit from plenty of garbage time opportunities moving forward. Not a bad QB2 option for owners in leagues with ten or more teams.
Kyle Orton, QB, Buffalo Bills (at Detroit, owned in 0% of Yahoo! leagues): The news broke Monday that 2013 first-round pick and serial dink-and-dunker E.J. Manuel was headed to the bench in favor of nine-year veteran journeyman Kyle Orton. While we don't see a whole lot of upside regarding Orton as a fantasy quarterback, we do see this move boosting the value of wide receivers Sammy Watkins and Robert Woods. Manuel was terrified to throw the ball down the field, while Orton will take his fair share of deep shots in an effort to keep opposing defenses honest. No need to grab Orton, but be sure to hold onto Watkins and/or Woods.
RUNNING BACKS
Jerick McKinnon, RB, Minnesota Vikings (at Green Bay, owned in 16% of Yahoo! leagues): The Vikings finally gave their third-round rookie a chance to make some plays in Week 4 and he responded by ripping off 152 total yards on 19 touches. Owners will likely see that stat line and commence falling all over one another to grab McKinnon off waivers, but note that bruiser and current starter Matt Asiata racked up three rushing touchdowns on Sunday and should continue to handle the goal line work. Nevertheless, with all of the injuries and substandard performances plaguing the running back position through four weeks, McKinnon no doubt deserves a place on a roster.
Bishop Sankey, RB, Tennessee Titans (vs. Cleveland, owned in 56% of Yahoo! leagues): The Tennessee offense is downright dreadful at the moment (15 pts/gm, 30th in NFL), but Sankey has gotten more work over the last two weeks (19 touches, 175 yards, 1 TD) and appears to be on his way to finally claiming the starting job. We don't like the rookie's prospects against a rested Cleveland defense in Week 5, but for those of you capable of exercising some patience, you'll be rewarded in the near future. Remember, starting running backs are hard to acquire at this point in the season, so it's obviously better to be early rather than late when it comes to the waiver wire.
The latest injury to DeAngelo Williams has opened the door for Darrin Reaves.
Darrin Reaves, RB, Carolina Panthers (vs. Chicago, owned in 1% of Yahoo! leagues): It's "next man up" for the Panthers now that DeAngelo Williams (ankle), Jonathan Stewart (knee) and Mike Tolbert (leg) all look to be sidelined for Week 5 due to a variety of ailments. Reaves is a 5-10, 220-pound running back out of UAB who rushed for 25 touchdowns over his final 24 collegiate games and picked up 26 yards on 12 carries in Sunday's loss at Baltimore. The overall upside here may be minimal, but note that Chicago is currently surrendering an average of 16.8 fantasy points per game to opposing running backs this season.
Antone Smith, RB, Atlanta Falcons (at NY Giants, owned in 3% of Yahoo! leagues): All this time we were thinking it would be rookie Devonta Freeman who took starter Steven Jackson's job, but it's been the five-year veteran Smith who has impressed the most when given the chance to shine. Over his last two outings, Smith has turned a paltry eight carries into 112 yards and two touchdowns. Granted, you'll need extra roster space and some patience to make this move, but there's a chance that Jackson—who is 31-years-old with over 2,600 rushing attempts under his belt—will either wear down or get hurt handling the bulk of Atlanta's backfield responsibilities.
WIDE RECEIVERS
Eddie Royal, WR, San Diego Chargers (vs. NY Jets, owned in 23% of Yahoo! leagues): While consistency will be an issue here, Royal has been performing at a level too high to ignore. The 28-year-old from Virginia Tech is averaging a healthy 7.25 targets per game and has rolled up nine receptions for 147 yards and four touchdowns over his last eight quarters of action. Consider Royal a decent WR3 option, especially when the bye week blues decimate your rosters. In addition, Week 5 offers a very favorable matchup against a Jets defense that is currently surrendering an average of 29.5 fantasy points per game to opposing wide receivers (second-most in NFL).
James Jones, WR, Oakland Raiders (Bye, owned in 47% of Yahoo! leagues): Two words: Garbage Time. While the Raiders are currently the proud owners of the worst offense in football, Jones has been able to find a niche in recording some respectable numbers when Oakland's games have gotten out of hand. After four weeks, the former Green Bay Packer is averaging 7.0 targets per game with 21 receptions for 272 yards and two touchdowns. That may not be the most impressive stat line in the world, but it's still worth more fantasy points than what Victor Cruz, Michael Crabtree, Alshon Jeffery, Cordarrelle Patterson and Eric Decker have produced this season (standard scoring formats).
Jarius Wright, WR, Minnesota Vikings (at Green Bay, owned in 1% of Yahoo! leagues): The three-year veteran from Arkansas needed 27 career appearances before posting his first 100-yard effort, which came Sunday against the Atlanta Falcons (8-132-0 on 10 targets). Granted, Atlanta boasts a highly suspect secondary, but it's absolutely worth noting that the first time Wright crossed the 100-yard barrier came in rookie quarterback Teddy Bridgewater's first start. Perhaps it was a flash-in-the-pan performance, or perhaps it's a sign of things to come.
Brandon LaFell, WR, New England Patriots (vs. Cincinnati, owned in 3% of Yahoo! leagues): The upside here is minimal considering both the protection issues and multitude of targets on the New England roster, but LaFell was one of the lone bright spots for the Patriots offense on Monday night, catching six passes for 119 yards and a touchdown on a team-high ten targets. Perhaps while second-year receivers Aaron Dobson and Kenbrell Thompkins continue to disappoint and veteran Danny Amendola remains M.I.A. from the box score, LaFell can slip in and establish himself as a viable and consistent weapon.
Devin Hester, WR, Atlanta Falcons (at NY Giants, owned in 20% of Yahoo! leagues): It truly is amazing that former Bears head coach Lovie Smith never found a way to utilize Devin Hester's skill set on offense the way Mike Smith has in Atlanta. Through four games in 2014, the future Hall of Famer has notched 12 receptions on 15 targets for 196 yards and a score. In addition, Hester has also recorded 20 yards and a touchdown via the ground on just one carry. Consistency is a serious issue here, so Hester is only recommended as a WR3/4 for owners in leagues with 12 or more teams.
TIGHT ENDS
Larry Donnell, TE, New York Giants (vs. Atlanta, owned in 55% of Yahoo! leagues): With all of the injuries that have beset the tight end position so far this season, expect Donnell to be one of the hottest names on the market this week. The 25-year-old from Grambling State now has 25 receptions for 236 yards and four touchdowns on 31 targets under his belt this season after a monstrous Week 4 performance against the Washington Redskins last Thursday night (7-54-3 on eight targets). Owners should consider Donnell a TE1 under further notice.
Eric Ebron, TE, Detroit Lions (vs. Buffalo, owned in 8% of Yahoo! leagues): Lions head coach Jim Caldwell said the rookie from North Carolina was going to see more action entering Week 4 and Ebron responded by catching three passes for 34 yards and his first career touchdown. Note that he's only been targeted a grand total of 12 times on the season, but those numbers are sure to increase in the coming weeks. Recommended for owners in leagues with 12 or more teams.
Jordan Reed, TE, Washington Redskins (vs. Seattle, owned in 44% of Yahoo! leagues): Reed suffered a bad hamstring injury in Week 1, hasn't played since and may not be ready to go in Week 5 when the Redskins host the Seahawks on Monday night. But the second-year tight end will be returning to the starting lineup in the near future and is worthy of waiver wire consideration for those struggling to find production at the position. Remember, this guy caught 45 passes for 499 yards and three touchdowns in only nine games as a rookie last year, so the upside is there.
DEFENSE/SPECIAL TEAMS
Cleveland Browns, D/ST (at Tennessee, owned in 8% of Yahoo! leagues): They're well-rested thanks to a Week 4 bye and return to action this Sunday to face a struggling Tennessee Titans team that currently ranks 25th in the NFL in total offense (326.5 yds/gm) and 30th in scoring (15.0 pts/gm). In addition, note that Tennessee has already turned the ball over seven times this season (tenth-most in NFL). You won't be able to bank on this unit on a regular basis, but the Browns make for a nice streamer play in Week 5 thanks to a favorable matchup.
Hit me up on Twitter: @JoeFortenbaugh