October 07, 2014 -
Joe Fortenbaugh
The fantasy waiver wire report
Matt Asiata, Chris Ivory, Antone Smith and an injured Mark Ingram are just a few of the running backs currently outscoring Philadelphia Eagles Pro Bowler LeSean McCoy through the first five weeks of the season.
To McCoy owners, this comes as devastating news in light of the price that was paid to acquire the services of someone who is being outperformed by late round, waiver wire or widely available running backs who have never sniffed the rarified air that McCoy has tasted. But any veteran fantasy player will tell you that these things happen. The key, however, is how you handle the adversity/opportunity.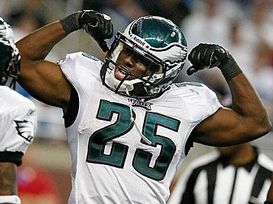 McCoy's drought has created an excellent buy-low opportunity for savvy owners.
What I mean by opportunity is that McCoy owners are growing awfully tired of watching guys like DeMarco Murray tear the NFL to shreds while their own first-round selection has been held scoreless in three straight games while averaging a paltry 2.9 yards per carry on the season.
However, it's worth mentioning that nobody ever got rich buying high and selling low, which is why now is the perfect time to acquire a preseason top-5 running back at a bargain basement price. Remember, right tackle Lane Johnson just returned from his four-game suspension to start the season and McCoy has a very tasty matchup this Sunday night at Lincoln Financial Field against a New York Giants defense that is currently surrendering an average of 22.6 fantasy points per game to opposing running backs this season (eighth-most in NFL).
An offer consisting of a productive running back (Frank Gore) coupled with a WR2/3 (ex: Marques Colston) should be enough to kick-start the negotiations.
QUARTERBACKS
Note: Giants quarterback Eli Manning is worth a roster spot if he's still available in your league (owned in 67% of Yahoo! leagues).
Austin Davis, QB, St. Louis Rams (vs. San Francisco, owned in 5% of Yahoo! leagues): Garbage time statistics personified, Davis has posted over 300 passing yards and three touchdowns in each of his last two starts and is completing an ultra impressive 67.8 percent of his passes on the season (8th in NFL). The rookie from Southern Mississippi should be viewed as a QB2 with QB1 upside when faced with a favorable matchup.
Mike Glennon, QB, Tampa Bay Buccaneers (vs. Baltimore, owned in 6% of Yahoo! leagues): Two starts on the season have resulted in 551 passing yards and four touchdowns for the second-year signal-caller out of North Carolina State. Between a victory at Pittsburgh in Week 4 and a near upset of the Saints on Sunday, Glennon looks to have stolen the starting gig away from free agent acquisition Josh McCown. Like Austin Davis, consider Glennon a QB2 with situational QB1 value.
Kyle Orton, QB, Buffalo Bills (vs. New England, owned in 3% of Yahoo! leagues): One start, one win, one 300-yard effort against a good defense and a completion rate of 69.8 percent has journeyman Kyle Orton back on the fantasy football radar. The most important aspect of Orton's rise up the Buffalo depth chart is the fact that his presence elevates the stock of wide receivers Sammy Watkins and Robert Woods, who were toiling away in mediocrity with E.J. Manuel under center. At the moment, we'd consider Orton a decent QB2, especially for owners in leagues with 12 or more teams.
RUNNING BACKS
Note: Ravens running back Justin Forsett is worth a roster spot if he's still available in your league (owned in 66% of Yahoo! leagues).
Branden Oliver, RB, San Diego Chargers (at Oakland, owned in 15% of Yahoo! leagues): Despite their shortcomings in nearly every other facet of the game, the word on the street was that the New York Jets weren't all that bad defending the run. That rumor was smashed to pieces Sunday in San Diego, when fourth-string running back Branden Oliver went nuclear to the tune of 182 total yards and two scores on 23 touches. It's safe to say that said performance has vaulted Oliver above Donald Brown on the depth chart and with Danny Woodhead done for the season due to a leg injury, that leaves only the injured Ryan Mathews between Oliver and a heavy workload on a weekly basis. Either way, this guy is definitely worth owning for the depth.
Andre Williams, RB, New York Giants (at Philadelphia, owned in 27% of Yahoo! leagues): The pride of Parkland High School (where this writer happened to spend many an hour serving detention), the 2013 Heisman finalist and rookie from Boston College is set for a big increase in touches due to the sprained MCL suffered by starter Rashad Jennings Sunday against the Atlanta Falcons. At 5-11, 230 pounds, Williams is a bruiser who has racked up 131 rushing yards and two scores over his last eight quarters of football. And with the way the Philadelphia Eagles have been playing defense this season, Sunday night at Lincoln Financial Field could prove to be Williams' coming out party.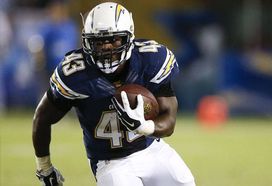 Oliver's breakout performance against the Jets will have owners scrambling to acquire his services.
Ronnie Hillman, RB, Denver Broncos (at NY Jets, owned in 9% of Yahoo! leagues): With starter Montee Ball expected to miss the next two weeks due to a groin injury sustained in Sunday's win over Arizona, Hillman will get first crack at the starting gig following his 15-64-0 stat line in relief duty in Week 5. But we'd advise owners with a high waiver priority to target Andre Williams or Branden Oliver instead, mainly because of this next guy.
Juwan Thompson, RB, Denver Broncos (at NY Jets, owned in 0% of Yahoo! leagues): The 225-pound undrafted rookie from Duke notched 15 yards and a score on three rushing attempts in Sunday's blowout win over Arizona and brings a physical, between-the-tackles presence to the Denver offense that Hillman has been lacking since entering the league back in 2012. Note that with Montee Ball scheduled to return in two weeks coupled with Thompson's severe lack of experience, owners need to consider this recommendation a long shot when it comes to consistency and long-term viability. Still, Thompson is worth a look for owners in deeper leagues looking for a Hail Mary Week 6 play.
Antone Smith, RB, Atlanta Falcons (vs. Chicago, owned in 9% of Yahoo! leagues): Qualified for this list last week and produced another solid stat line on Sunday, rolling up 85 total yards and a touchdown on just four touches in Atlanta's 30-20 loss at New York against the Giants. Two key stats worth noting here include the fact that Smith now leads the Falcons in touchdowns through five weeks in addition to the realization that he's turned a measly 17 touches into a ridiculous 277 yards and four scores on the season. What's even more amazing is that Atlanta head coach Mike Smith apparently has failed to notice Smith's production en route to coaching the Falcons to a 2-3 record through five weeks.
Khiry Robinson, RB, New Orleans Saints (BYE, owned in 50% of Yahoo! leagues): Between the National Football Post, twitter and our television show on the Fantasy Sports Network, how many times do I need to mention Robinson's name before owners wise up and add this guy to the roster? In three starts since Mark Ingram went down with a hand injury, Robinson has produced 271 total yards and a touchdown on 50 touches (5.42 yards per touch). The bad news is that Ingram is expected to return to the lineup following the Saints' Week 6 bye, but Robinson has likely played his way into a bigger role with the offense, thus, justifying a spot on your rosters for depth.
WIDE RECEIVERS
Note: Giants wide receiver Rueben Randle is worth a roster spot if he's still available in your league (owned in 68% of Yahoo! leagues).
Brian Quick, WR, St. Louis Rams (vs. San Francisco, owned in 54% of Yahoo! leagues): The team leader in targets (31), receptions (21), receiving yards (322) and touchdowns (3), Quick has found the end zone in each of his last two starts and has topped 70 receiving yards in a game in three of four outings this season. Garbage time statistics are in full effect here, so Quick is definitely worthy of a roster spot as a WR3/4 who can fill the bye week blues void nicely over the coming months.
Mohamed Sanu, WR, Cincinnati Bengals (vs. Carolina, owned in 28% of Yahoo! leagues): Has found the end zone in two of his last three outings and is coming off a solid 5-70-1 (nine targets) stat line against the New England Patriots. It's still a possibility that Sanu loses snaps once wideout Marvin Jones gets healthy and rejoins the 46-man roster, but for the moment, the three-year veteran is worth a roster spot as a WR4 in leagues with 12 or more teams.
Allen Hurns & Allen Robinson, WRs, Jacksonville Jaguars (at Tennessee, owned in 39% and 13% of Yahoo! leagues, respectively): Two players who find themselves in garbage time situations every single week, Hurns and Robinson are respectable daily fantasy options (FanDuel, Draftkings) because they come at such ridiculously cheap prices. Robinson has been targeted a healthy 28 times over the last three weeks while Hurns has scored three touchdowns in only five professional appearances. Note that because the Jaguars are such a terrible franchise, there's never a guarantee when it comes to either of these guys. But in terms of value, you're getting one (or two) guys with relatively high ceilings here for really cheap prices.
Odell Beckham, WR, New York Giants (at Philadelphia, owned in 11% of Yahoo! leagues): In his first professional appearance since leaving LSU following the 2013 collegiate season, Beckham stepped up and nabbed four receptions on five targets for 44 yards and a touchdown. That's a relatively big statement for a first-year wideout with no experience whatsoever. The upside here is that Beckham is working with a suddenly surging quarterback in Eli Manning in addition to the fact that he gets a crack at a lousy Philadelphia defense on Sunday night. The downside is that targets may be limited due to the presence of Victor Cruz, Rueben Randle and Larry Donnell.
Louis Murphy, WR, Tampa Bay Buccaneers (vs. Baltimore, owned in 2% of Yahoo leagues): Since Mike Glennon took over at quarterback in Tampa, Murphy has posted stat lines of 6-99-0 (11 targets) at Pittsburgh and 3-35-1 (7 targets) at New Orleans. Note that his value will take a hit when rookie wideout Mike Evans returns from a groin injury sustained in Week 4, but until that time comes, consider the six-year veteran a respectable WR4 with upside when Tampa finds itself in a matchup with a high-powered offense.
TIGHT ENDS
Note: Chiefs tight end Travis Kelce is definitely worth a roster spot if he's available in your league (owned in 78% of Yahoo! leagues).
Tim Wright, TE, New England Patriots (at Buffalo, owned in 9% of Yahoo! leagues): It took a few weeks, but once Wright began grasping a good portion of the New England playbook, the former Buccaneer jumped right into the mix with quarterback Tom Brady and made a significant splash into the fantasy waters. Against a Cincinnati Bengals defense on Sunday night that was supposed to be one of the better units in the league, Wright hauled in five passes for 85 yards and a touchdown on five targets. Maybe it was a flash-in-the-pan performance, but can we really afford to think that way when we've seen Brady's track record with tight ends in the recent past? Wright could be on the verge of a breakout season, which is why he'll be one of the top waiver wire acquisitions this week.
Dwayne Allen, TE, Indianapolis Colts (at Houston, owned in 46% of Yahoo! leagues): I've written about this guy every single week, so I'll leave you with the stat that Allen has now found the end zone in four of five starts this season. It's this guy, not Coby Fleener, that should be sitting on your roster.
Owen Daniels, TE, Baltimore Ravens (at Tampa Bay, owned in 43% of Yahoo! leagues): Wright and Allen would be our top choices for a TE replacement, but Daniels is a close third following a five-catch, 70-yard effort at Indianapolis on Sunday. The upside here is relatively limited, but owners could certainly do worse depending upon the matchup.
DEFENSE/SPECIAL TEAMS
Note: Denver and San Diego are excellent Week 6 options if they are available in your league (owned in 75% and 63% of Yahoo! leagues, respectively).
Minnesota Vikings (vs. Detroit, owned in 8% of Yahoo! leagues): They enter Week 6 on extra rest following a humiliating 42-10 drubbing at the hands of the Green Bay Packers last Thursday night, so you know the bounce-back motivation is there (think New England in Week 5 coming off the Kansas City loss). In addition, Lions star wide receiver Calvin Johnson is dealing with an ankle injury that could force the Pro Bowler to miss the next two weeks. Note that even with a banged-up Johnson in the lineup, the Lions have only mustered an average of 19.0 points per game with two turnovers and ten sacks allowed over the last two weeks. This is a drastically different offense when Megatron isn't at his best.
Hit me up on Twitter: @JoeFortenbaugh