September 23, 2014 -
Joe Fortenbaugh
The fantasy waiver wire report
The rash of injuries that have plagued the National Football League—and more specifically, the fantasy football world—through the first three weeks of the season have once again demonstrated the importance of actively working the waiver wire. Running backs and tight ends are dropping like flies while backup quarterbacks such Kirk Cousins are tearing apart the opposition.
Where some see futility in the damage these injuries have done to their rosters, others recognize the opportunity to capitalize on upgrades to both the starting lineup and back-end of their own respective rosters.
With that in mind, stay active, feel free to hit me up on twitter (@JoeFortenbaugh) and check out these 24 names that we feel are worth considering.
Worth owning if still available: Ahmad Bradshaw (RB, Colts), Lamar Miller (RB, Dolphins), Kelvin Benjamin (WR, Panthers), DeAndre Hopkins (WR, Texans), Delanie Walker (TE, Titans).
QUARTERBACKS
Kirk Cousins, QB, Washington Redskins (vs. NY Giants, owned in 48% of Yahoo! leagues): One of our top waiver wire recommendations from a week ago, Cousins went ballistic against a suspect Philadelphia defense on Sunday to the tune of 427 yards and three touchdowns. Has an impressive arsenal at his disposal in the form of WRs Pierre Garcon and DeSean Jackson as well as RB Alfred Morris and gets a crack at a Giants defense in Week 4 that is surrendering an average of 21.5 fantasy points per game to opposing quarterbacks this season (sixth-most in NFL). Our prediction is that Cousins will play well enough to keep the starting job in Washington even if Robert Griffin III is capable of returning to action this season.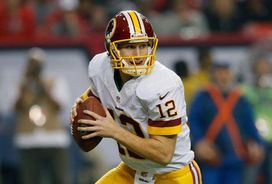 Even in a losing effort, Cousins rolled up some big numbers at Philly on Sunday.
Blake Bortles, QB, Jacksonville Jaguars (at San Diego, owned in 5% of Yahoo! leagues): Posted a respectable stat line against the Indianapolis Colts in relief of Chad Henne on Sunday (223 yards, 2 TDs, 2 INTs, 30 rushing yards), but that came in garbage time as the Jags were trailing Indy 30-0 at the half. Has potential, but is working with a young and inexperienced group of wide receivers (Hurns, Lee, Robinson) while playing on one of the worst football teams in the NFL. Highly unlikely to reach QB1 status in 2014.
Teddy Bridgewater, QB, Minnesota Vikings (vs. Atlanta, owned in 4% of Yahoo! leagues): Demonstrated remarkable composure after being unexpectedly thrust into action on the road at New Orleans following Matt Cassel's foot injury by completing 12 of 20 passes for 150 yards, 27 rushing yards and zero turnovers. Limited supporting cast headlined by the deactivation of Pro Bowl running back Adrian Peterson, but a favorable opportunity awaits in Week 4 against a shaky Atlanta secondary that plays much better at home than on the road. Most likely a QB2 for the remainder of the 2014 season.
Mike Glennon, QB, Tampa Bay Buccaneers (at Pittsburgh, owned in 1% of Yahoo! leagues): Tampa head coach Lovie Smith has emphatically stated that Josh McCown is his starting quarterback, but the former Chicago Bear is battling a sprained thumb on his throwing hand that knocked him out of Week 2 action. Additionally, McCown didn't practice on Monday and some are currently speculating that Glennon will be under center at Pittsburgh come this weekend. Has starting experience (13 games) and a sizeable WR tandem in Vincent Jackson and Mike Evans, but the long-term prospects here look rather bleak. Remember, Smith stood by Rex Grossman for what felt like a decade and no first-year head coach wants to pull the plug on a $10 million free agent quarterback just three weeks into the season. That looks really bad for business, but then again, so does getting blown out 56-14 by the Falcons.
Drew Stanton, QB, Arizona Cardinals (BYE, owned in 1% of Yahoo! leagues): Has completed 32 of 62 passes for 411 yards and two touchdowns with zero interceptions in relief of Carson Palmer, but more importantly, Stanton is 2-0 as the starting quarterback in Arizona. The Cardinals are on the bye this week and there's no telling just yet if Palmer will be ready to go in Week 5 at Denver, but this situation is certainly worth monitoring. Remember, Palmer will be 35-years-old in December and has just one year left on his contract, so the Cardinals at some point need to start thinking about their future.
RUNNING BACKS
Donald Brown, RB, San Diego Chargers (vs. Jacksonville, owned in 50% of Yahoo! leagues): No team in the league is giving up more fantasy points to opposing running backs this season than Jacksonville (30.4 pts/gm), so Brown is a must-start for Week 4. In addition, starting RB Ryan Mathews is scheduled to miss a month with a sprained MCL and it was announced Monday that Danny Woodhead is out for the season with a fractured fibula and ankle. For the foreseeable future, Brown will function as San Diego's workhorse back, as evidenced by the 31 carries he amassed Sunday at Buffalo.
Khiry Robinson, RB, New Orleans Saints (at Dallas, owned in 42% of Yahoo! leagues): Has carried the rock more times (26) than any other New Orleans running back following the broken hand that will sideline Mark Ingram for a month. The upside here is the volume of touches Robinson will record playing on a high-powered offense. The downside is that Pierre Thomas is still around to pilfer carries and vulture scores in the red zone. Definitely worth owning, but will be a situational start depending upon the matchup.
Alfred Blue, RB, Houston Texans (vs. Buffalo, owned in 24% of Yahoo! leagues): The rookie sixth-round pick out of LSU was called into action Sunday against the Giants after starter Arian Foster was a late scratch due to a hamstring injury. Blue responded by rolling up 88 yards on 14 touches (6.0 YPC), but saw limited carries due to the fact that Houston trailed the Giants from start to finish. Respectable upside here assuming the opportunities keep coming. Note that Arian Foster is 28-years-old, amassed a staggering 55 carries through the first two games of the season and could battle this hammy issue for a while.
Bobby Rainey, RB, Tampa Bay Buccaneers (at Pittsburgh, owned in 55% of Yahoo! leagues): Following a bust-out Week 2 performance (22 touches for 174 yards) against the St. Louis Rams, Rainey was on the verge of stealing Doug Martin's (knee) job…right up until the Western Kentucky product lost two fumbles in last Thursday night's laughingstock defeat at Atlanta. Martin practiced on Monday and should be good to go for Sunday's showdown at Pittsburgh, but the Bucs have to get Rainey involved due to the team's overall pathetic excuse for an offense. Definitely worth owning due to the fact that he could claim the starting gig in Tampa, but will be a situational play from week to week.
Bishop Sankey, RB, Tennessee Titans (at Indianapolis, owned in 55% of Yahoo! leagues): Widely available due to the fact that many draft day owners jumped ship following a grand total of just eight carries through the first two games of the season. But the rookie from Washing ton racked up 70 total yards on 11 touches Sunday at Cincinnati while starter Shonn Green managed just 33 rushing yards on 10 carries. The immediate upside here is limited as Tennessee has looked horrific on offense, but there's a light at the end of the tunnel assuming Sankey improves in pass protection.
Lorenzo Taliaferro, RB, Baltimore Ravens (vs. Carolina, owned in 7% of Yahoo! leagues): Touched the ball for the first time this season on Sunday, recording 18 carries for 91 rushing yards (5.1 YPC) and a touchdown at Cleveland, which should open the door for plenty of more opportunities in the immediate future. Just be sure to note that Baltimore will likely continue to employ a running back-by-committee approach that also includes Justin Forsett and Bernard Pierce, so Taliaferro won't exactly be the most consistent fantasy producer in the game. A situational flex option with upside at the moment.
Isaiah Crowell, RB, Cleveland Browns (BYE, owned in 18% of Yahoo! leagues): The rookie from Alabama State has seen his stock rise following a combined 22 carries for 109 rushing yards over the last two weeks. Crowell has already found the end zone three times this season and looked much better than fellow rookie Terrance West Sunday against the Ravens. The problem, however, is twofold: First, Cleveland heads to the bye this Sunday, meaning Crowell would do nothing more than take up an extra spot on your roster for Week 4. Second, free agent acquisition Ben Tate (knee) is scheduled to return to action in Week 5, meaning Crowell will now be splitting the workload with two other backs. Should continue to see a good portion of red zone carries, but the upside here is somewhat limited due to Tate's return to action.
Darrin Reaves, RB, Carolina Panthers (at Baltimore, owned in 0% of Yahoo! leagues): We're guessing that this may be the first you're hearing of Reaves, which is no surprise considering the fact that the rookie from UAB has yet to record an NFL rushing attempt. However, Jonathan Stewart suffered a sprained knee in Sunday night's loss to Pittsburgh and is expected to miss a month, Mike Tolbert sustained a hairline fracture in his left leg during the same game and should miss more than a month and DeAngelo Williams is battling a thigh injury that has forced the veteran to miss each of the last two games. That leaves Reaves as Carolina's only healthy running back. If Williams is ruled out for Week 4, this kid is worth a start at the flex position. If Williams is back in the lineup, take a pass.
WIDE RECEIVERS
Andrew Hawkins, WR, Cleveland Browns (BYE, owned in 41% of Yahoo! leagues): The No. 1 receiver in Cleveland has yet to find the end zone, but is worthy of a roster spot thanks to a high volume of targets (total of 32, 10 or more in each game) that has been transformed into 21 receptions for 244 yards. Think of it like this: Hawkins is currently on pace to finish the season with 112 receptions for 1,301 yards. While that final stat line is unlikely, especially once Josh Gordon returns from suspension in Week 12, even 60 percent of that pace makes for a quality season.
Allen Hurns, WR, Jacksonville Jaguars (at San Diego, owned in 31% of Yahoo! leagues): The rookie from Miami continues to impress, having now recorded seven receptions for 186 yards and three touchdowns on a healthy 18 targets through the first three games of the season. The upside here centers around Hurns' quick understanding of the Jacksonville playbook along with the fact that the Jaguars will have plenty of opportunities for garbage time numbers in 2014. The downside has to do with competition (Shorts, Lee, Robinson) and the arrival of rookie signal-caller Blake Bortles to the starting lineup. Worth a spot on the roster for depth, but will be a situational play depending upon the matchup.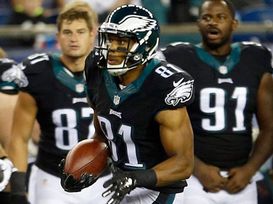 Matthews made several big plays in the red zone for the Eagles on Sunday.
Jordan Matthews, WR, Philadelphia Eagles (at San Francisco, owned in 18% of Yahoo! leagues): After struggling with a slight case of the drops to open the season, the rookie second-round pick from Vanderbilt busted loose on Sunday against Washington by hauling in a career-high eight passes for 59 yards and two scores on nine targets. What's really intriguing here is how often quarterback Nick Foles was looking Matthews' (6-3, 212 pounds) way when the Eagles were in the red zone, which is a big plus. However, owners need to exercise caution here for two reasons. First, it's always possible this was a fluke performance. Second, Philly has a deep and extremely talented arsenal of weapons for Foles to choose from, so Matthews' targets could be limited. Worth owning, but we still need to see more.
Allen Robinson, WR, Jacksonville Jaguars (at San Diego, owned in 2% of Yahoo! leagues): The second-rounder from Penn State has quietly put together steady performances in back-to-back outings, catching 11 passes for 154 yards on 16 targets. Granted, Sunday's stat line (7-79-0, 10 targets) was aided by a pass-happy second half thanks to a 30-0 hole the Jaguars dug for themselves, but that should be the case in quite a few Jacksonville games this season. Recommended for roster depth for owners in leagues with more than 12 teams.
John Brown, WR, Arizona Cardinals (BYE, owned in 8% of Yahoo! leagues): Will likely produce inconsistent stat lines due to the fact that he's the No. 3 receiver in Arizona, but take note that Brown has already found the end zone three times through three games on just nine receptions (15 targets). Dynasty and keeper league owners in particular should be paying close attention, as Pro Bowler Larry Fitzgerald may be playing football in another city next season.
TIGHT ENDS
Note: The tight end position caught the injury bug in Week 3. Here are our top replacement suggestions:
Niles Paul, TE, Washington Redskins (at NY Giants, owned in 43% of Yahoo! leagues): Based on standard scoring rules, Paul has recorded 6.8 or more fantasy points in each of his first three games this season. The fourth-year TE out of Nebraska is averaging a healthy 8.0 targets per game with a total of 253 receiving yards through three contests. Your best bet to fill the TE position based on what's available.
Dwayne Allen, TE, Indianapolis Colts (vs. Tennessee, owned in 23% of fantasy leagues): Has found the end zone in two of three games this season and plays on an offense that is currently averaging 31.7 points per game (third in NFL). Loses targets thanks to the presence of fellow tight end Coby Fleener, but is much more reliable and productive in the red zone.
Travis Kelce, TE, Kansas City Chiefs (vs. New England, owned in 48% of Yahoo! leagues): Just 15 targets through three games while playing on an inconsistent and sluggish offense, but found the end zone in Week 3 at Miami and fits what head coach Andy Reid looks for at the position. Consistent weekly production will be an issue here.
Owen Daniels, TE, Baltimore Ravens (vs. Carolina, owned in 27% of Yahoo! leagues): In the twilight of his career at the age of 31, Daniels will step into the starting role vacated by Dennis Pitta, who suffered a season-ending hip injury in Sunday's win at Cleveland. Has notched two touchdowns on just 11 targets this season, but is familiar with offensive coor dinator Gary Kubiak, whom he worked with in Houston.
Jared Cook, TE, St. Louis Rams (BYE, owned in 17% of Yahoo! leagues): Dropped a touchdown pass on Sunday and then had the audacity to shove his quarterback while on the sidelines for some strange reason, but has been targeted 21 times through three games. Risky and inconsistent due to an anemic St. Louis offense, but could make some noise in the right matchup.
DEFENSE/SPECIAL TEAMS
San Diego Chargers, D/ST (vs. Jacksonville, owned in 9% of Yahoo! leagues): Surrendering an average of just 16.3 points per game to opponents through three weeks with seven sacks and three turnovers. But the best part here is the team's Week 4 opponent, who just so happens to be a pathetic Jacksonville Jaguars offense helmed by a rookie quarterback in Blake Bortles who will be making his first career start. If the Bolts don't overlook this one, the fantasy points should come rolling in.
Hit me up on Twitter: @JoeFortenbaugh