September 09, 2014 -
Joe Fortenbaugh
The fantasy waiver wire report
The first piece of advice to keep in mind when it comes to Week 1 in the NFL is to not overreact to anything you watched over this past weekend. Yes, there were some highly disappointing performances from some very big stars and some equally surprising breakout efforts from a relatively unknown cast of characters. But the bottom line is that it was just one game. Some of these guys will continue to produce/struggle, others will reverse course in a hurry. We've seen it in previous years and we'll see it in future seasons.
With that being said, here are 13 names to consider when retooling your rosters in preparation for Week 2.
Terrance West, RB, Cleveland Browns (vs. New Orleans, currently owned in 39% of Yahoo! leagues): Cleveland's third-round selection in the 2014 draft stepped up admirably when starter Ben Tate exited Sunday's game at Pittsburgh with a knee injury. West carried the ball 16 times for 100 yards (6.3 YPC) and sent a message to Mike Pettine and the rest of the Browns coaching staff that he is more than capable of handling a starter's workload. While we have yet to find out the extent of Tate's injury, West is absolutely worth owning no matter what the format.
Steve Smith, WR, Baltimore Ravens (vs. Pittsburgh, currently owned in 42% of Yahoo! leagues): Was severely undervalued during draft season and demonstrated preciously that fact Sunday against the Bengals by hauling in seven receptions for 118 yards and a score on a team-high 15 targets. Consistency will be an issue here, as the Baltimore offense looked very shaky in Week 1. But Smith makes for a solid WR3 with WR2 upside.
Justin Forsett, RB, Baltimore Ravens (vs. Pittsburgh, currently owned in 12% of Yahoo! leagues): Ray Rice is gone and Bernard Pierce picked up just 14 yards on six carries and lost a fumble Sunday against Cincinnati. Forsett, on the other hand, turned in a solid effort by amassing 84 total yards and a score on 16 touches in Week 1. Be advised that Baltimore will likely employ an RB-by-committee approach moving forward, so there are concerns when it comes to reliability.
Ahmad Bradshaw, RB, Indianapolis Colts (vs. Philadelphia, currently owned in 27% of Yahoo! leagues): The Colts desperately need to get their running game going, but if Sunday night at Denver was any indication, former first-round draft pick Trent Richardson still isn't capable of being "The Guy." The Alabama product rushed for just 20 yards on six carries (3.3 YPC), while backup Bradshaw produced 85 total yards on only eight touches. Injuries, durability and age are all issues here, but we aren't far from the moment when the Indy coaching staff throws in the towel on T-Rich and rides with Bradshaw.
Allen Hurns, WR, Jacksonville Jaguars (at Washington, currently owned in 13% of Yahoo! leagues): Be very, very careful about blowing a high waiver priority on the undrafted rookie out of Miami. Hurns broke out in Sunday's loss at Philadelphia with four receptions for 110 yards and two scores on just six targets, but all of that came during the first half when Philadelphia was busy puking all over itself. Once the Eagles settled down and stopped awarding Jacksonville with such terrific field position, Hurns and the Jaguars offense was never heard from again. If you're looking to target one of the Jacksonvill wide receivers, might we recommend…
Marqise Lee, WR, Jacksonville Jaguars (at Washington, currently owned in 14% of Yahoo! leagues): Caught six passes for 62 yards on a team-high 10 targets Sunday at Philly and will see more snaps and targets over the remainder of the season than Hurns, especially once veteran Cecil Shorts returns to the lineup. Remember, Lee was a second-round pick in May's draft while Hurns was signed after the seventh round had ended. The Jaguars coaching staff and front office will definitely give the benefit of the doubt to the more costly acquisition.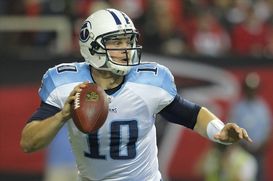 ICONLocker looked rock solid in his debut under new head coach Ken Whisenhunt.
Jake Locker, QB, Tennessee Titans (vs. Dallas, currently owned in 13% of Yahoo! leagues): Remember what former Chargers offensive coordinator Ken Whisenhunt did with Philip Rivers in San Diego last season? The same thing could be happening in Tennessee this year as Locker looked terrific Sunday in Kansas City while completing 66.6 percent of his passes for 266 yards, two scores and no turnovers en route to an impressive QB rating of 111.4. A Week 2 showdown with the porous Dallas defense should only serve to help pad those already established 2014 stats.
Dwayne Allen, TE, Indianapolis Colts (vs. Philadelphia, currently owned in 9% of Yahoo! leagues): Caught four passes for 64 yards and a touchdown on just five targets Sunday night at Denver, but more importantly, fellow Indy tight end Coby Fleener turned a hefty eight targets into just three receptions for 21 yards. Fleener has yet to come close to meeting the expectations that followed him into the National Football League out of Stanford, while Allen continues to produce at a steady clip. And with Reggie Wayne coming back from a knee injury and Hakeem Nicks going M.I.A. for extended periods of time, quarterback Andrew Luck has to trust somebody once the Colts reach the red zone.
Markus Wheaton, WR, Pittsburgh Steelers (at Baltimore, currently owned in 63% of Yahoo! leagues): The chances are slim that Wheaton is still sitting out there, but if so, the second-year receiver out of Oregon State is worth an add for your WR3 slot. With Emmanuel Sanders now in Denver, Wheaton steps up to the No. 2 spot where he amassed six receptions for 97 yards on a team-high seven targets against Cleveland on Sunday. Antonio Brown is still the man in Black & Yellow. But Wheaton has some real nice upside now that he's got a year of experience under his belt.
Carlos Hyde, RB, San Francisco 49ers (vs. Chicago, currently owned in 67% of Yahoo! leagues): There's little hope that Hyde is still available on your waiver wire, but if you happen to play in one of the leagues that let the Ohio State rookie slide through the draft unselected in August, it's time to make a move. Yes, it came against an awful Cowboys defense, but Hyde looked real crisp Sunday in Big D when notching 50 rushing yards and a touchdown on just seven carries (7.1 YPC). It may take some time, but don't be surprised if Jim Harbaugh and the 49ers eventually begin to favor Hyde over incumbent starter Frank Gore.
Andrew Hawkins, WR, Cleveland Browns (vs. New Orleans, currently owned in 25% of Yahoo! leagues): With Pro Bowler Josh Gordon serving a one-year suspension, somebody in Cleveland had to step up and start catching passes. Enter Hawkins, who led the Browns in targets (10), receptions (8) and receiving yards (87) Sunday at Pittsburgh. And note that with tight end Jordan Cameron suffering a shoulder injury in Week 1, Hawkins' target count could be on the rise moving forward, depending on the diagnosis.
Buffalo Bills, D/ST (vs. Miami, currently owned in 45% of Yahoo! leagues): After surrendering a touchdown to the Chicago Bears on their first drive of the season, the Buffalo defense settled down and held Jay Cutler and company to just 13 total points the rest of the way while forcing three turnovers in a 23-20 upset win. Now the Bills come home—where they play much better football—to challenge a Miami Dolphins team that is riding way too high following Sunday's upset win over New England. Note that in ten trips to Buffalo since 2004, the Dolphins are 3-7 while averaging just 1 3.3 points per game with 25 turnovers.
Tampa Bay Buccaneers, D/ST (vs. St. Louis, currently owned in 35% of Yahoo! leagues): Lovie Smith fell flat on his face in his Tampa debut, but Week 2 should offer a different result against a putrid St. Louis offense that mustered only six points with two turnovers in a humiliating home defeat to open the season against the Minnesota Vikings.
Hit me up on Twitter: @JoeFortenbaugh