February 20, 2012 -
Joe Fortenbaugh
The first Combine prop bets are live
The conclusion of the football season doesn't mean the end of football betting, as the NFL Combine and Draft are two events that not only offer action junkies a chance to get a much-needed fix, but also provide several valuable opportunities for those looking to gain an edge.
Offshore sportsbook Bovada.LV became the first shop in the business to post a variety of Combine props Monday afternoon in preparation for the NFL's annual workout spectacular scheduled to get underway in Indianapolis later this week.
We advise you to act now on the following three options as there's no chance these plays will be offering the same value later this week.
LOCK IT UP
PROP: Who will have a faster 40-yard dash time?
Justin Blackmon, wide receiver, Oklahoma State: +105
Kendall Wright, wide receiver, Baylor: -135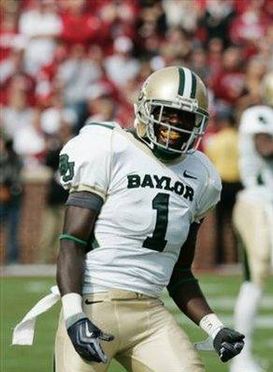 ICONLook for Kendall Wright to leave Justin Blackmon in his dust at Lucas Oil Stadium.
The pick: Talk to any scout in the business and you'll quickly find out that Wright is a slam dunk to come in faster than Blackmon. Look for these odds to skyrocket in a hurry, if Bovada.LV doesn't yank the prop off the board altogether.
PROP: Who will have a faster 40-yard dash time?
Chris Rainey, running back, Florida: -130
LaMichael James, running back, Oregon: Even
The pick: James may be a burner on the field, but Rainey is a track stud at Florida where he spends his offseason racing against fellow Gator and Olympic hopeful Jeff Demps. The 40-yard dash isn't about being elusive, it's about straight-line speed. Not only should Rainey cash, but he may turn in the fastest time in Indianapolis this week.
PROP: Who will have the faster 40-yard dash time?
Morris Claiborne, cornerback, LSU: -130
Alfonzo Denard, cornerback, Nebraska: Even
The pick: If you have to run through women and children to get down on Claiborne, do it. Free money doesn't come around all that often.
Hit me up on Twitter: @JoeFortenbaugh