March 27, 2013 -
Joe Fortenbaugh
The great smokescreen?
Misinformation, misdirection, sleight of hand. All integral weapons in any successful magician's arsenal. But I'm not talking about Penn & Teller and their long-running show at the Rio here in Las Vegas. I'm talking about the NFL draft, where illusions and smokescreens turn professional football into John le Carre's The Spy Who came in from the Cold for two months of every year. One's true intentions must be kept a secret, known only to a select few. Operations must be conducted in the shadows. Lies and deceit reign supreme over honesty and transparency.
The modus operandi for NFL general managers during this stage of the offseason is a simple one to comprehend: Employ the media to perform the dirty work by leaking information about your increasing level of interest in a specific player. In an effort to keep up with all of the latest developments around the league, we'll happily pass the information along to our readers. Mock drafters will then follow suit. And just like that, we all begin to accept the lie as a plausible truth.
The draft transforms NFL front offices into Cold War counterintelligence agencies. Keep the truth a secret, let the lies be known to all. Misdirect and misinform. It's the most effective tactic for tipping the odds in your favor when it comes to obtaining what you truly desire.
The most significant piece in this year's NFL counterintelligence chess match comes in the form of West Virginia quarterback Geno Smith for one very important reason. Smith is regarded as the top prospect at the league's most coveted position. Supply is short and demand is long. It doesn't matter if you believe that Smith's talent level is undeserving of a selection within the top ten. The quarterback position is in high demand. The league-wide perception is that somebody is going to bite.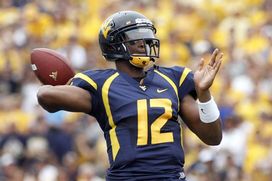 How many teams are truthfully interested in landing West Virginia quarterback Geno Smith?
Considered to be a down season in terms of overall talent at the position, there couldn't possibly be a better year for Smith to enter the annual selection party. And for NFL teams drafting within the top ten, there couldn't possibly exist a better smokescreen than Geno Smith.
The first nine picks of the 2013 draft consist of seven teams in search of a franchise quarterback: Jacksonville (No. 2), Oakland (No. 3), Philadelphia (No. 4), Cleveland (No. 6), Arizona (No. 7), Buffalo (No. 8) and the New York Jets (No. 9). So if you're one of these seven organizations and have your heart set on any player but Smith, what would be the most effective tactic for getting your guy?
Misinform by giving the country a reason to believe you plan on drafting Geno Smith.
This process is already underway. Through media reports, pro day attendance or private workouts conducted or soon to be conducted, all seven of those aforementioned franchises have expressed some level of interest in Smith.
Go ahead and add the Chiefs—who own the first overall selection—to the chess match as well, as the NFL Network's Ian Rapoport reported Wednesday that Kansas City is now "fascinated" with Smith and is comparing him to former Eagles quarterback Donovan McNabb.
This is no doubt the biggest crock of crap and most obvious smokescreen we've been fed to date. The Chiefs just traded for former San Francisco quarterback Alex Smith and have absolutely no intention of drafting Geno Smith. But the front office smells an opportunity to stockpile more picks by trading down, so they're trying to get in on the action just like everybody else.
This isn't meant to suggest that none of the aforementioned teams, save for Kansas City, are interested in acquiring Smith. Far from it. It would be a foolish business practice for a quarterback-hungry organization to fail in performing at least some small measure of due diligence in regards to the draft's top signal-caller prospect.
What this is meant to highlight is the benefit that Smith is providing any of the aforementioned teams who are truly not interested in selecting the West Virginia quarterback. Smith has given these organizations the perfect smokescreen that will aid tremendously in keeping their true interests concealed until draft day. If nothing else, a disinterested party may be able to induce another franchise into trading up and possibly overpaying for Smith's services.
Geno Smith is going to hear his name called during the first ten picks of April's draft. I'd bet the farm on it. And I'd also be willing to wager that the team who pulls the trigger will let us know with less than two weeks before the moment of truth that their intended target is any player but the West Virginia quarterback.
Hit me up on Twitter: @JoeFortenbaugh