August 21, 2012 -
Joe Fortenbaugh
The handcuffs
The fantasy football world has watched the running back position lose some of its shine over the last few years. That's not to say the position is on the verge of extinction, but the pass-happy nature of today's NFL has opened the door for quarterbacks, star receivers—and in some cases, tight ends—to emerge as the new highly desired commodities on draft day.
But don't be fooled. Running backs still play a very crucial role in the pursuit of a championship. They may not get the recognition that was once showered upon them like in years past, but they still have the ability to bring home the wins on a weekly basis.
At this point in the summer, we know all about the star running backs that should be targeted in the early rounds. But what about their handcuffs? Certain running backs require an insurance policy in the event something goes wrong during the regular season. These are the key insurance policies to look for…
MUST OWN
Ben Tate, Houston Texans (ADP: 77.1): Not only does Tate become an instant RB1 if something happens to Foster, but the guy will produce solid numbers even if the top-rated fantasy running back is in the lineup. In 15 appearances last season, the Auburn product averaged a healthy 5.4 yards per carry on his way to 942 yards and four touchdowns. If you're going to pull the trigger on Foster, you have to land Tate for insurance.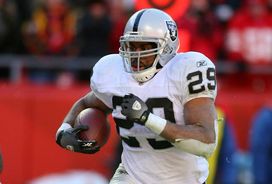 Bush has plenty of starting experience under his belt after spending time backing up Darren McFadden in Oakland.
Michael Bush, Chicago Bears (ADP: 95.3): The former Oakland Raider is going to handle a large percentage of the goal line work in Chicago this season, meaning he's already worthy of a later round draft pick. But ask yourself the real reason the Bears went out and signed Bush this offseason. It's the same reason why the team brought in an experienced backup quarterback in Jason Campbell. Because after Jay Cutler and Matt Forte got hurt in 2011, Chicago's season went to hell.
WARRANT SERIOUS CONSIDERATION
C.J. Spiller, Buffalo Bills (ADP: 85.1): Like Tate and Bush, Spiller is going to see a legitimate amount of snaps whether Fred Jackson is healthy or not. The third-year back out of Clemson caught 38 passes last season and averaged a career-high 5.2 yards per carry while appearing in all 16 games. Jackson played in only ten games last season and turned 31-years-old last February. As a former top-ten selection, Spiller is going to begin to see more and more playing time.
Toby Gerhart, Minnesota Vikings (ADP: 100.7): If you're willing to gamble a top-20 pick on Adrian Peterson, why not buy some cheap insurance to protect your investment? Peterson's a freak of nature, but he's still human. And there are absolutely no guarantees he comes back from that wicked, late-season knee injury and starts producing monster numbers.
Isaiah Pead, St. Louis Rams (ADP: 149.9): Steven Jackson turned 29-years-old in July and probably has more tread on his tires than any other running back in the NFL. Remember, there's a reason new head coach Jeff Fisher spent a second-round selection on Pead. And it wasn't to sit him on the bench.
Taiwan Jones, Oakland Raiders (ADP: ??): Darren McFadden has never appeared in more than 13 games in a season during his four-year career. So if you're going to invest a first or early-second round draft pick on the former Arkansas standout, you need to be protected. Mike Goodson is another option in Oakland that could wind up taking the snaps if McFadden goes down, but Jones is currently listed as the No. 2 on the depth chart. Plus, his services come at a really cheap price.
David Wilson, New York Giants (ADP: 96.3): He appeared on our 2012 sleeper list, will be appearing on our Rookies to Watch list and is now listed here as a handcuff that warrants serious consideration. Ahmad Bradshaw is running the show in New York, but he missed four games last season due to injury. And let's not forget that Big Blue spent a first-round draft pick to land Wilson's services. He's going to see the field whether Bradshaw is healthy or not, but should something happen, Wilson could emerge as a rock-solid RB2 with RB1 upside.
FOR YOUR CONSIDERATION
Ronnie Brown, San Diego Chargers (ADP: 139.0): The upside here is extremely limited, seeing as though Brown is now 30-years-old and has battled a variety of injuries during his seven-year career. But starting running back Ryan Mathews may not be ready to go by Week 1 and has a lengthy injury history of his own to contend with. Acquiring Brown at the end of your draft means you could have an RB3/flex option for Week 1 at the cost of a 14th round pick, plus insurance in the event Mathews ends up getting hurt again.
Ronnie Hillman, Denver Broncos (ADP: 147.1): Willis McGahee turns 31-years-old in October and has eight years of hard service already under his belt. Meanwhile, the third-round pick out of San Diego State rolled up 3,243 yards with 36 touchdowns and a 5.7 yards per carry average in two years playing for the Aztecs. Lance Ball is currently listed at second on the depth chart, but we still think Hillman is more than worthy of a late-round flier.
TEAM NOTES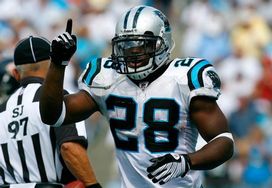 Jonathan Stewart is one of several Carolina running backs who will see plenty of action this season.
Carolina Panthers: DeAngelo Williams, Jonathan Stewart and Mike Tolbert will all see carries in 2012, but we like the current value to be had on both Stewart and Tolbert. Especially Tolbert, who is flying below the radar and could handle quite a bit of Carolina's goal line carries.
Arizona Cardinals: This looks like timeshare between Beanie Wells and Ryan Williams. Williams is the better value pick with more overall upside, so we'll side with him on draft day.
Pittsburgh Steelers: Isaac Redman should handle the workload while Rashard Mendenhall recovers, but we're keeping a close eye on third-year back Jonathan Dwyer. If there were ever a time for him to emerge, now would be it.
Cincinnati Bengals: I'll be passing on both BenJarvus Green-Ellis and Bernard Scott on draft day. It's likely that these two will cut into each other's totals all season long.
Miami Dolphins: Reggie Bush will get selected way too early for my taste, but I'll have an eye on second-year back Daniel Thomas in my drafts that have 12 or more teams.
Kansas City Chiefs: Jamaal Charles is healthy and ready to take back the starting job, but Peyton Hillis was signed during the offseason and will likely see plenty of carries down on the goal line. I like Charles in the second round, but don't think you need to use two relatively high draft picks to handcuff these two backs together. It's one or the other in my opinion.
Washington Redskins: Pass. All the way around.
Detroit Lions: The job will be Kevin Smith's as long as he can produce. Jahvid Best will begin the season on the PUP list and is just too risky to warrant a draft pick, while who knows if Mikel Leshoure ever cleans up his act and treats football like the job that it is. There are too many cooks in the kitchen on this one.
Hit me up on Twitter: @JoeFortenbaugh