June 18, 2013 -
Joe Fortenbaugh
The improbable Indianapolis Colts
A rookie quarterback, an interim head coach, a trip to the playoffs. The Indianapolis Colts were one of the NFL's most compelling storylines in 2012 thanks to an unlikely postseason run amid youth and adversity. But how the Colts got to the playoffs is still a bit of a mystery, at least from a statistical point of view.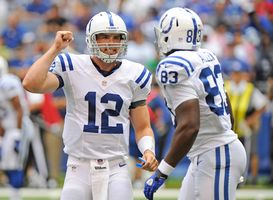 US PRESSWIREAndrew Luck and the Colts made history in 2012 as the only team since the '78 regular season expansion to be outscored by their opposition.
Indianapolis finished the 2012 regular season at -12 in turnover differential (26th in NFL) and -9 in sack differential (26th in NFL)—two key statistics that generally serve as an indicator for whether or not a team is playoff material. To put those numbers into perspective, the teams that ranked behind the Colts in turnover differential (Buffalo, Dallas, NY Jets, Detroit, Kansas City, Philadelphia) and sack differential (Arizona, San Diego, New Orleans, Philadelphia, Kansas City, Jacksonville) all failed to post a winning record in 2012.
But there's another statistic where the Colts came up short and it's even more of a head-scratcher than the numbers Indy posted in the turnover differential and sack differential departments.
Since the NFL expanded to a 16-game regular season in 1978, 214 teams have posted a record of 11 wins or more. And with the exception of the 2012 Indianapolis Colts, every one of those teams recorded a favorable point differential.
To put it another way, the Indianapolis Colts are the only 11-win team since the 1978 regular season expansion to be outscored by their opponents (outscored 387-357).
Here's a rundown for every team that has gone 11-5 or better over the last five years: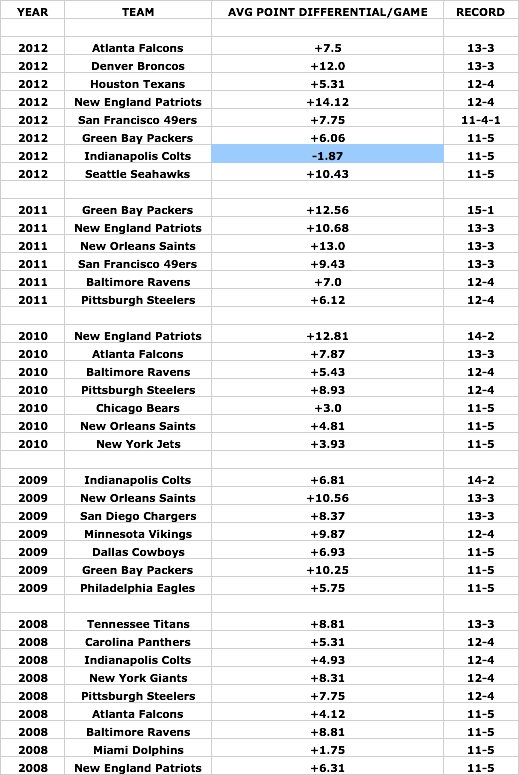 So what does it all mean? Frankly, it's tough to say. We're in uncharted waters here. But I do think it's telling that three different Nevada sports books (Atlantis, Cantor, LVH) all took the 11-5 Colts and opened their 2012 season win total at 8.5 or lower.
Hit me up on Twitter: @JoeFortenbaugh