March 27, 2014 -
Joe Fortenbaugh
The life of the party
It was a vintage performance befitting college football's most recognizable star.
The countdown clock reached 00:00 on Thursday as the most highly anticipated Pro Day of the 2014 draft season took place in College Station, Texas, with the spotlight shining directly on Heisman Trophy-winning quarterback Johnny Manziel.
Everything was different than what we've come to know from previous experiences with these types of workouts. Forget about the fact that Texans head coach Bill O'Brien and dozens of other NFL personnel men were in the building. Former President George H.W. Bush, wife Barbara (with dog) and Texas Governor Rick Perry arrived in a golf cart to witness the festivities. Drake blasted from the speakers. Manziel opted against shorts and a tee shirt in favor of shoulder pads and a helmet, a move that separated the dual threat signal-caller from counterparts Teddy Bridgewater and Blake Bortles, as well as just about every other quarterback who has ever participated in a Pro Day. ESPN chose to broadcast the workout live on ESPN, ESPN2 and ESPN3. A workout, mind you, that also featured future first-round wide receiver Mike Evans, whose name was mentioned just once or twice during the hour-long coverage.
This wasn't a workout, it was an event.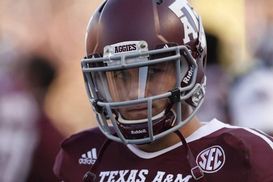 Manziel's Pro Day was nothing more than a confirmation of all we've already come to know.
Everything was the same from what we've come to know about Johnny Manziel the football player. The fast feet, quick release, accuracy and strong arm? Yeah, they were all on display. Manziel was firing on all cylinders as he worked his way through the passing tree while evading a broom (you read that correctly) and bouncing his head along to the beats streaming from above. He was quick, prepared and impressive, so much so that ESPN analyst and former NFL quarterback Ron Jaworski—who had previously stated he wouldn't draft Manziel until the fourth round—changed his tune a bit while praising the performance.
The criticisms are still there, from the sidearm release to the lack of height to the concerns regarding durability. The hype is still there, too, from the unique skill set to the larger-than-life persona, which is exactly what made this Pro Day stand out from all the others. Rather than try to run from his, shall we say, less than clean-cut image, Manziel embraced his character and put it on display for all to see.
Johnny Football could have chosen to exclude the media, the fans and the former Presidents who attended the event, but he didn't. He could have opted for a quiet environment, but instead chose a soundtrack to score the occasion. The future first-round pick had the opportunity to do what every quarterback before him has done at a Pro Day by throwing passes in a tee shirt, but Manziel dared to be different and went with pads and a helmet.
Thursday wasn't just about offering the NFL a chance to witness his football acumen in action, it was an open invitation to get to know Johnny Manziel the star…and that's preciously what made it so refreshing. Manziel isn't running from who he is. He's embracing it.
In the end, however, nothing much has changed. If you loved Manziel prior to Thursday, you still love him now. If you were on the fence or against the idea of the former Aggie leading your football team come September, it's unlikely your opinion has been drastically altered.
It was, after all, just a Pro Day workout. But it was one that perfectly encapsulated college football's most polarizing star.
Hit me up on Twitter: @JoeFortenbaugh