April 23, 2012 -
Joe Fortenbaugh
The mystery of Matt Kalil and the Vikings
An interesting theory has begun to take hold around the NFL over the last week. The widely predicted marriage between USC offensive tackle Matt Kalil and the Minnesota Vikings may not make it to the altar.
When you think about it, this particular morsel of news shouldn't come as a big surprise. The Vikings have several needs to address on both sides of the football and in a division that features six regular season dates against aerial attacks engineered by the likes of Aaron Rodgers, Matthew Stafford and Jay Cutler, Minnesota could be better served drafting a talented cornerback like LSU's Morris Claiborne.
But Kalil's potential fall from the third overall pick has come as a surprise and in the process, has sent the individuals responsible for the shock scrambling to adjust their latest projections as we approach Thursday.
Outside of a story that involves breaking news or Tim Tebow, mock drafts serve as some of the most heavily trafficked articles on football-related websites from January to April. Fans love to debate the logic behind their favorite team's pick, writers thrive on being the first to forecast a potential marriage between team and player and editors smile at the traffic and comments. Everybody wins, or more specifically, everyone is entertained.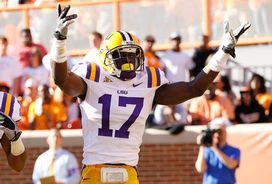 It seemed unlikely back in February that Morris Claiborne could end up in Minnesota. Now? Not so much.
But the problem is that mock drafts can turn a casual guess into a widely accepted "truth" that surprises the masses upon discovery of that well-educated hunch being incorrect.
The Vikings and Matt Kalil serve as the perfect example. Back in January, mock drafters slated Stanford quarterback Andrew Luck as the top pick to Indianapolis followed by a prediction that Oklahoma State wide receiver Justin Blackmon would land in St. Louis. Mock drafters were then forced to make a decision for the Vikings at No. 3. Minnesota already has a quarterback in Christian Ponder, but surrendered a league-high 50 sacks last season. Since Kalil is the highest-rated player at the left tackle position, listing him as the Vikings' pick made sense.
And it made sense to a whole lot of people, because you couldn't find a mock draft until recently that had anybody but Kalil going to the Vikings at No. 3. In fact, so many people bought into this thought process that everyone's attention quickly turned to the Cleveland Browns' selection at No. 4, since the first three picks (after the trade that saw the Redskins move up to No. 2) had become a foregone conclusion.
But here's the kicker: Did the Vikings ever lock on to Kalil the way Indianapolis committed to Luck or Washington zeroed in on Robert Griffin III? Or was Minnesota simply content to let all of us believe in an incorrect assumption so that the team could operate in the shadows?
Matt Kalil to the Vikings made sense. So we typed it in, hit publish and moved on to more pressing issues.
But over the last week, something interesting has happened. People finally started to look at the Vikings and began making the case for somebody other than Kalil to land at No. 3.
Now, Kalil to the Vikings doesn't make as much sense. In fact, Sports Illustrated's Peter King wrote on Monday that if the Vikings go in a different direction, Kalil could be in play for the Buffalo Bills all the way down at No. 10.
We won't know for sure until Thursday evening, so until that time we can continue to guess which teams will select which players.
Just be sure to remember it's only that. A guess.
Hit me up on Twitter: @JoeFortenbaugh