February 21, 2011 -
Joe Fortenbaugh
The need for speed
It goes without saying that the most scrutinized event at this year's NFL Combine will once again be the 40-yard dash. And why not? As we've seen more than once in the past, an NFL prospect can earn a significant pay increase by running a couple hundredths of a second faster than his competition.
You can teach a lineman how to block and you can teach a quarterback how to read a defense, but you can't teach speed. It's a valuable commodity that comes at a premium in professional sports.
Today we're going to take a look at the nine players who posted a sub-4.3 40-yard dash since the Combine implemented electronic timing back in 1999. Did these guys improve their draft stock? Did they have or are they having a productive NFL career?
Lets take a look…
Note: The times listed for each player are the official electronic times from the Combine. They are NOT times that were acquired via a stopwatch.
Note 2: BetOnline.com currently has a prop bet regarding whether or not someone will break the 40-yard dash record of 4.24 seconds at this year's Combine.
Yes: +160
No: -220
Rondel Melendez, WR, Eastern Kentucky
Time: 4.24 seconds
Year: 1999
Drafted: 7th round (#247 overall) by the Atlanta Falcons
There are track guys and then there are football players. Unfortunately for Melendez, he was the former. Tied with Titans running back Chris Johnson for the fastest 40-yard dash since 1999, Melendez's speed was explosive enough to get him drafted—but not good enough to lead to any significant playing time, as the wideout from Eastern Kentucky never caught an NFL pass.
Chris Johnson, RB, East Carolina
Time: 4.24 seconds
Year: 2008
Drafted: 1st round (#24 overall) by the Tennessee Titans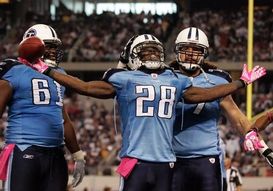 ICONJohnson parlayed his speed into a first round draft pick.
Johnson was a member of the ultra-talented and extremely deep running back class of 2008 that featured Arkansas standouts Darren McFadden and Felix Jones, as well as Rashard Mendenhall, Ray Rice, Jonathan Stewart, Matt Forte and Jamaal Charles. A little-known ball carrier out of East Carolina, Johnson earned a sizeable pay increase when he posted a blazing-fast 4.24 that vaulted him into the first round.
Some guys post fast 40 times, but fail to demonstrate that quickness on the field. Other players come up short at the Combine, but find a way to make it rain on Sundays.
Johnson's a guy who can flash Lamborghini-style speed in either situation.
Fabian Washington, CB, Nebraska
Time: 4.25 seconds
Year: 2005
Drafted: 1st round (#23 overall) by the Oakland Raiders
A three-year starter for the Cornhuskers who earned All-Big 12 honors three times, Washington's 40-yard dash solidified his place in the first round and is recognized by some publications as the fastest time posted by a cornerback at the Combine since 1999.
Now a member of the Ravens, Washington has started 30 games in Baltimore over the past three years, but has recorded just one interception during that stretch. The 27-year old posted a career-high four interceptions in 14 starts with the Raiders back in 2006.
Darrius Heyward-Bey, WR, Maryland
Time: 4.25 seconds
Year: 2009
Drafted: 1st round (#7 overall) by the Oakland Raiders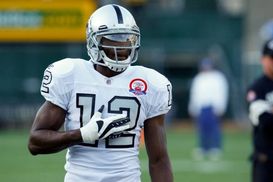 ICONDHB wasn't the best receiver on the board when the Raiders drafted him, but he was the fastest.
With Texas Tech's Michael Crabtree headlining the 2009 wide receiver class along with standout collegiate players such as Jeremy Maclin, Percy Harvin, Hakeem Nicks and Kenny Britt adding some depth to the group, DHB ended up as the first wideout off the board thanks to an Oakland front office that places a premium on speed.
While Crabtree and company have earned starting roles and already produced countless highlight-worthy plays, Heyward-Bey has caught just 35 passes and scored two touchdowns in 25 career starts.
For those of you who say the 40-yard dash is overrated, DHB and his fat bank account are living proof that fast times can lead to big bucks.
Jerome Mathis, WR, Hampton
Time: 4.28
Year: 2005
Drafted: 4th round (#114 overall) by the Houston Texans
Unlike Darrius Heyward-Bey, Mathis didn't hear his name called in the first round despite turning in the fastest 40 time by a receiver at the 2005 Combine. In fact, the Hampton speedster watched 14 other wideouts fly off the board before the Houston Texans decided to pull the trigger on him in the fourth round.
With only six receptions under his belt, Mathis never started a game during his three-year career.
Champ Bailey, CB, Georgia
Time: 4.28
Year: 1999
Drafted: 1st round (#7 overall) by the Washington Redskins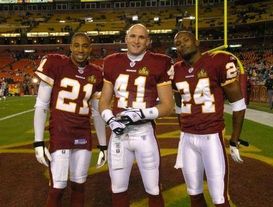 While Matt Bowen (center) allegedly ran a fast 40, Bailey (right) posted a blazing 4.28.
The most accomplished NFL player on this list, Bailey didn't need to do much at the 1999 Combine to earn a spot in the first round. The All-American cornerback played offense, defense and special teams during his junior (final) season at Georgia en route to winning the Bronko Nagurski Trophy, which is given annually to the nation's top defender.
Of course, running a 4.28 just over two months after being recognized as one of the best player's in the country will never hurt your chances on draft day. Bailey was the first defender selected during the 1999 draft after the first six picks featured three quarterbacks (T. Couch, D. McNabb, Akili Smith), two running backs (E. James, R. Williams) and one wide receiver (T. Holt).
Jacoby Ford, WR, Clemson
Time: 4.28
Year: 2010
Drafted: 4th round (#108 overall) by the Oakland Raiders
A collegiate track star who won the 60-meter dash by running a 6.52 at the 2009 NCAA Indoor Track and Field Championships, Ford arrived in Indianapolis last winter with a legitimate shot to come in under the 4.24 that Chris Johnson ran in 2008.
Although Ford came up short of Johnson's coveted mark, the former Clemson Tiger turned some heads with the Raiders 2010. The rookie wideout caught 25 passes for 470 yards and two scores in just nine starts and was a beast on special teams, finding the end zone three times as a kick returner.
Stanford Routt, CB, Houston
Time: 4.29
Year: 2005
Drafted: 2nd round (#38 overall) by the Oakland Raiders
Has anyone else noticed that the Oakland Raiders have drafted four of the first eight players mentioned in this article?
After Nebraska's Fabian Washington (also selected by the Raiders), Routt posted the second-fastest 40 for a defender at the 2005 Combine. Like Jacoby Ford, Routt was a collegiate track stud that was named Conference USA's Men's Track Athlete of the Year after he won both the 200-meter and 60-meter dashes in 2004.
Although he's only recorded six interceptions in six professional seasons with the Raiders, Routt started a career-high 15 games in 2010, with 55 tackles, two interceptions and one touchdown.
Dominique Rodgers-Cromartie, CB, Tennessee State
Time: 4.29
Year: 2008
Drafted: 1st round (#16 overall) by the Arizona Cardinals
Coming from a relatively unknown school like Tennessee State, Rodgers-Cromartie needed to put together an impressive draft season if he wanted a shot at cracking the first round. The talented cornerback delivered, running a sub-4.3 just over one month after winning the Defensive MVP award at the 2008 Senior Bowl.
Troy's Leodis McKelvin (#11 overall to Buffalo) was the only cornerback selected before Rodgers-Cromartie in a CB class that included Antoine Cason, Brandon Flowers, Tracy Porter, Tyvon Branch and Dwight Lowery.
The 24-year old has already earned two trips to the Pro Bowl (2010, 2011) in just three professional seasons.
Hit me up on Twitter: @JoeFortenbaugh