February 20, 2013 -
Joe Fortenbaugh
The NFL's game of Texas hold 'em is underway
Poked and prodded, timed and measured. Add an incomprehensible auctioneer donning a Texas Ten Gallon to the formula and you'd swear that Indianapolis was playing host to the country's largest livestock auction this weekend.
Rest easy, fine citizens of the Circle City. Your home isn't about to be overrun by cattle and cowboys. The influx of travelers descending upon your zip code today come armed only with stopwatches and notepads. Their days will be dedicated to evaluations, their nights spent running up tabs everywhere from St. Elmo to Nicky Blaines. Professional football converges on Indianapolis Wednesday for the start of the league's annual meat market, known professionally as the 2013 NFL Combine.
One of the most intriguing times of year, the draft process is akin to a hand of Texas hold 'em, with each team being dealt its two hole cards during the Senior Bowl. That's when the fun begins. The flop takes place this weekend at the Combine, when general managers and coaches will bet and bluff in the form of statements given to the media. The turn comes during free agency and the river falls on Day 1 of the draft, when each participant is forced to show his hand. The only difference is that nobody in Indianapolis will be wearing sunglasses.
What makes this particular hand of hold 'em so appealing to follow is that every player at the table is bluffing. Sure, you've got tight and loose players sitting together much like you would over at the Bellagio. We saw it last year when Mike Holmgren and the Cleveland Browns bowed out of the race for Robert Griffin III and the No. 2 draft pick. But the bottom line is that every player at the table will be in the hand all the way through the showdown. You can't buy the pot in this hand of hold 'em. You can only help to improve your position by shoveling enough bullshit over the next few months to throw the rest of the table off your scent.
Which brings us to what I'd be thinking on the flight to Indianapolis if I were the general manager of any of the league's 32 franchises. The first big bluff of the year is already on the table. We've been told for weeks that this year's crop of quarterback talent is inferior to what we've seen in the past. There's no Andrew Luck and there's no Cam Newton. Teams in the quarterback market will be in no rush to pull the trigger during the first round.
I'm calling bullshit.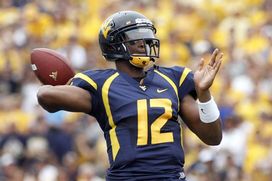 Geno Smith is headed for the first round. Joe Fortenbaugh thinks he'll be joined by at least two other quarterbacks.
Think long and hard back to one year ago at this time. What was everybody saying? We were told that Luck was headed to Indy and Griffin would hear his name called second. There was no reason to overpay for guys like Ryan Tannehill and Brandon Weeden. Why? Because 2013 was loaded with talent. Matt Barkley, Tyler Wilson and Tyler Bray were coming out. Why not wait until next year?
Well, next year has arrived. And suddenly, none of these guys are worthy of a top-ten pick.
It's been interesting to watch the draft stock of Barkley, Wilson and Bray plummet over these last few months because all three quarterbacks share a common bond that everyone has failed to mention. Each prospect spent last season playing under a bad head coach. John L. Smith was a dumpster fire lame duck at Arkansas, Derek Dooley was run out of Tennessee and Lane Kiffin, well, don't get me started on Kiffin. It speaks volumes to a coach's ability when he guides the Associated Press' preseason No. 1 to a 7-6 disaster of a campaign.
This isn't to say that Barkley, Wilson and Bray are worthy of first round picks. It just serves to highlight that we shouldn't believe everything we are hearing. Last year we were told that 2013 was a gold mine for quarterback prospects. This year we are being told the opposite. So which way do we lean?
Over the last ten years, 31 quarterbacks have heard their names called during the first round of the NFL draft. Four quarterbacks came off the board in the first round in 2003, 2004, 2011 and 2012. This is a league that has proven time and time again that it is willing to overpay for the sporting world's marquee position.
Remember Jake Locker, Blaine Gabbert and Christian Ponder in 2011? All three were selected within the first 12 picks of the draft. And nobody gave Locker a shot at going in the top-ten until Rick Gosselin called it in his mock draft the night before the first round began.
As it relates to the NFL draft, the quarterback position is all about the basic economic principle of supply and demand. Demand is always high while the supply is almost always short. It doesn't matter that a player like Brandon Weeden may not have the talent or intangibles deemed worthy of a first round selection. Cleveland needed a quarterback last offseason and wasn't willing to roll the dice to see if the Oklahoma State product would be available in the second round. So they fired at No. 22 and got their man. The same thing happened when Minnesota drafted Ponder at No. 12 back in 2011.
By my count, there are at least eight teams that are in the market for a quarterback: Arizona, Oakland, Kansas City, Jacksonville, Cleveland, Philadelphia, Buffalo and the New York Jets. Some may solve their problem during free agency. Others will look to the draft. But those eight teams constitute 25% of the NFL. Are we really to believe that all eight would be willing to pass on a quarterback in the first round because this is considered to be a down year for the position?
I think not. And I believe that no matter what we hear over the next few months about this year's crop of quarterback talent, at least three of these guys are going to become first round picks in late April.
That's how the NFL works. Front office personnel will spend the next few months telling us everything but their true intentions. They'll bluff and they'll bet, but we won't know for sure until the showdown comes in late April.
So go ahead. Keep telling me that this is a bad year to draft a quarterback in the first round. If you truly believed that, why would you be willing to share such valuable information with all of your opponents? Why not let them make the mistake of drafting one of these guys in the first round?
Is it because you're bluffing?
Hit me up on Twitter: @JoeFortenbaugh