August 08, 2014 -
Joe Fortenbaugh
The NFL's integrity problem
Officially, the National Football League's position on sports gambling in America is one of zero tolerance. This is not only the correct stance, but the only stance. Professional football is a multi-billion dollar industry, the backbone of which depends largely upon a pristine product that is free of corruption. If the integrity of the game is compromised and the results are determined to have been influenced by outsiders operating from deep within the shadows, the ramifications would be calamitous. Public interest would wane resulting in a decrease in television revenue that would ultimately deal a tremendously adverse blow to the NFL's bottom line. This is one of the primary reasons why the sport of boxing is currently on life support. We aren't positive that what takes place in the ring on any given Saturday night is 100 percent on the level, so many of us have chosen to abandon the sport altogether.
The NFL will employ any means necessary to protect the integrity of "The Shield" in an effort to keep the Everest-sized pile of greenbacks rolling through 345 Park Avenue. It's why the league won't bring the draft to Las Vegas and why the NFL—along with the NBA, NHL, NCAA and Major League Baseball—sued Governor Chris Christie in 2012 in an effort to prevent the state of New Jersey from legalizing sports wagering. The National Football League has to appear to be doing everything within its power to prevent anything that might bring harm to the integrity of the game. This is the primary mandate of Commissioner Roger Goodell.
Unofficially, the league is smitten with anything capable of putting more butts in stadium seats and more eyeballs on television screens…and that includes sports wagering. The league will never admit it, nor should they, but the billions of dollars wagered on their product both legally and illegally around the world add layers of padding to that aforementioned bottom line. Why else would team injury reports be made available to the public on Wednesdays? Is it that important for the casual, non-gambling fan to be made aware of the fact that Panthers tight end Greg Olsen was a partial participant in practice due to a pulled groin? For what other reason would millions of people around the country tune into a Thursday night snoozer between Jacksonville and Tennessee? Outside of each team's respective fan bases, a significant portion of that viewership is comprised of gamblers and fantasy football players.
And make no mistake about it because fantasy football is gambling. But instead of wagering on teams, fantasy football owners are betting on players. And rather than paying a high school dropout in an oversized leather jacket wielding a baseball bat and threatening to break your kneecaps in the event of late payment, your losses are given to Frank in accounting, who was burdened with the unenviable responsibilities that come with holding the title of "league manager."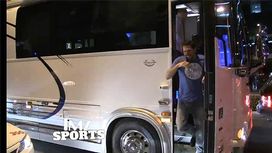 If this is Dean Blandino, the rest of the NFL wants to know more about his relationship with Stephen Jones.
This may sound crazy to some, but the National Football League, behind closed doors and with nothing more than a wink and a smile, isn't as hell-bent on destroying sports gambling as it makes itself out to be. The NFL just doesn't happen to take pleasure in the idea of being open and honest about it in fear of the negative repercussions that arise from such an acknowledgment.
This is preciously why the contents of Thursday night's report from Jason La Canfora of CBS Sports have to be sounding off alarms all around the league office at the moment.
In a video captured by TMZ, the contents of which were further expounded upon by La Canfora, Dean Blandino, the NFL's Vice President of Officiating, is seen stepping off a bus owned by Dallas Cowboys owner Jerry Jones outside a Los Angeles nightclub on the Sunset Strip for what many are speculating was a night of partying on the town with Jones' son, Stephen, the Cowboys Executive Vice President and member of the NFL's competition committee.
In any professional setting, a get together between Blandino and Jones wouldn't so much as elicit the raising of an eyebrow, let alone draw the attention of the national media and members of the NFL's other 31 franchises. But the famed Sunset Strip is no professional setting and it's unlikely that if Blandino were conducting any sort of league business, he wouldn't be representing the National Football League in a tee shirt and jeans while in the accompaniment of a host of young females.
The bringing to light of what appears to be more than just a professional relationship between Blandino and Jones has already evoked a venomous response from several league officials and team executives who spoke to La Canfora on Thursday.
From La Canfora's story:
"So, should I have my owner take him to a strip club when he visits us?" asked one team official, hypothetically. "Is that how it works? We like Dean a lot, but let me tell you, if that was him out with (the owner of a rival of the club this official works for), my owner would be going nuts. This just can't happen.
"It shows a total lack of judgment, and common sense, to get on the bus in the first place. And then to get off of it in that setting? Yeah, we've got a big problem with that. It's one thing to have a drink or two back in the hotel room or whatever, but this goes way beyond that. How does this not look like preferential treatment?"
The problem here is that a high-ranking employee of the National Football League, an individual, mind you, who is responsible for remaining impartial when it comes to the NFL's 32 franchises, has been caught in a compromising position with an executive of one of the league's teams. Have the Dallas Cowboys been receiving preferential treatment from Blandino due to the nature of his apparently close relationship with Stephen Jones? Has Jones lavished Blandino with gifts in the hopes of buying some goodwill within the league office? Maybe the answer to each of those questions is yes. Or perhaps we're reading too deeply into a situation that is nothing more than two colleagues sharing a beer together. But the fact of the matter is that questions are now being asked as to whether there is something going on here that isn't exactly aboveboard. And as a result, the National Football League's corruption-free image has suffered a blow.
Had Dean Blandino's association with Stephen Jones remained on that bus, in the realm of acceptability like sports betting in Las Vegas, none of this would be an issue. But now that this curious relationship has emerged from the shadows and into the light, "The Shield" has been compromised and the NFL's integrity has been called into question.
Hit me upon Twitter: @JoeFortenbaugh