January 30, 2014 -
Joe Fortenbaugh
The NFP Super Bowl prop betting extravaganza
Somewhere in the neighborhood of $100 million will be wagered in the state of Nevada on Sunday's Super Bowl showdown between the Seattle Seahawks and Denver Broncos, with a healthy portion of that nine-figure number dedicated to the world of proposition bets.
Whether you're a casual bettor who enjoys a little "rooting interest" or a degenerate who sweats through his shirt for 12 hours every Sunday during the football season, there's a very good chance that you'll have at least a little action riding on the biggest sporting event of the year. Whether it be the side, total, proposition wagers or "Super Bowl Squares" (a notorious hustle that has seen this writer post a lifetime record of 0-1,642), the NFL's marquee event offers something for just about everybody.
As for the game itself, I'm playing Seattle if the line ever gets to +3. If it doesn't, I'll buy the half point. In regards to the total, I'm leaning towards the under.
As for the proposition wagers I'm currently pondering? Well, let's just say that each of the following 19 selections have found their way onto my radar screen.
Best of luck this weekend and enjoy the game.
PROP: Bobby Wagner UNDER 10.5 tackles (-110 at the LVH)
From: Fortenbaugh
Analysis: In 34 career games, Wagner has recorded 11 or more tackles in a contest just eight times (23.5 percent), with only four of those efforts coming during the 23-year-old's 16 total starts in 2013. And it's worth noting that each of those four aforementioned performances occurred within the boisterous confines of CenturyLink Field.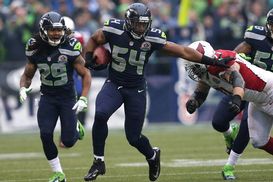 4-3 middle linebackers like Wagner have had little success recording double-digit tackle totals against the Broncos.
Now let's take a look at the Broncos, who have allowed only six opposing defenders to amass 11 or more tackles through 18 games this season. Of those six players, Dallas' Barry Church, New England's Duron Harmon and Oakland's Charles Woodson all play the safety position, while two of the linebackers on the list—Philadelphia's DeMeco Ryans and Washington's Perry Riley—both play inside linebacker in a 3-4 system. That leaves Dallas' Sean Lee as the lone 4-3 middle linebacker—the position Wagner plays—to record 11 or more tackles against the Broncos this season.
One more note to consider here: Each of those six performances took place in a game where the Broncos scored at least 34 points and ran a minimum of 71 plays. I think Denver falls short of both benchmarks Sunday against Seattle's top-ranked defense and stellar rushing attack.
PROP: UNDER 7.5 Seattle receivers to record a reception during the Super Bowl (-175 at the LVH)
From: Fortenbaugh
Analysis: This is some serious juice to lay, so I wouldn't blame anybody for taking a pass on this prop. Just note that through 18 games this season, Seahawks quarterback Russell Wilson has completed a pass to eight or more receivers only five times (27.7 percent). And if that didn't set off any alarm bells, maybe a look at Wilson's recent six-game skid will:
vs. San Francisco: 5 receivers
vs. New Orleans: 6 receivers
vs. St. Louis: 6 receivers
vs. Arizona: 7 receivers
at NY Giants: 7 receivers
at San Francisco: 5 receivers
PROP: Doug Baldwin OVER 39.5 receiving yards (-110 at the LVH)
From: Todd Fuhrman, Gaming Analyst for Don Best Sports and FOX Sports Live
Twitter: @ToddFuhrman
Analysis: "I believe Baldwin becomes the X-factor for Seattle's passing game. Denver will pay attention to Golden Tate on the edge and Percy Harvin's added dimension underneath, meaning Baldwin will need to make a big play or two to open up the Seattle rushing game. I don't love overs when it comes to props, but I think Seattle's passing game will click against Denver."
PROP: Eric Decker's longest reception of the game OVER 18.5 yards (-110 at the LVH)
From: Wagerminds.com
Twitter: @Wagerminds
Analysis: "We have a long and storied history with Super Bowl prop bets posted here at the National Football Post. Ok, we're only 2-0. But still, that's a perfect record.
"With Denver's multi-faceted passing attack, one player prop jumps off the list for this year's Super Bowl prop bet of choice. The over/under on the longest reception of the game by Eric Decker is currently listed at 18.5 yards. Even with a stifling, best-in-the-league Seahawks pass defense, we think there is value in this line.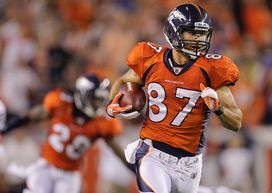 The team at Wagerminds is backing Eric Decker in their quest to go 3-0 on NFP Super Bowl props.
"Seattle has allowed a completion of 20+ yards in 16 of their 18 games this year and they've allowed a play of 20+ yards to 27 different receivers.
"This number may be low because Decker's last three games have been somewhat pedestrian (12 yards vs. Oakland, 19 yards vs. San Diego and 21 yards vs. New England, respectively.) However, the Broncos haven't needed him in any of those games thanks to big leads and the "hold on" approach. But, for the season, Decker has gone for a 20+ play in 13 of 17 games.
"While the weather on game day could serve as a bit of a wild card, we think there is value in laying the -110 in the expectation that Decker will have at least one reception of 19 yards or more."
PROP: Denver Broncos UNDER 6.0 penalties (-139 at PinnacleSports.com)
From: VegasRunner, Professional Sports Bettor at Pregame.com
Twitter: @VegasRunner
Analysis: "The players, coaches, fans and, most importantly, the NFL, definitely do not want the men in stripes determining the outcome of a game of this magnitude, which has the eyes of the world closely monitoring every single play. In fact, it's not completely out of the realm of possibility to conclude that the referees for the Super Bowl have been made to understand that maybe it's best to just let these guys play and allow the players on the field to decide who wins and loses.
"Granted, the refs will be forced to call the obvious penalties, but I don't believe they'll be out there looking to throw a flag on every play. Let's not forget about all the negative press the NFL received just five years ago on Feb 1, 2009, when the refs called 19 penalties in the Steelers-Cardinals Super Bowl showdown.
"Finally, couple that with the fact that Peyton Manning is in the "Jordan Rules" club, which enables the Broncos to get away with more than most teams do. And add to that the fact that the Broncos are facing the most penalized team in the NFL this season and Denver should continue to receive the benefit of the doubt."
PROP: Team to record the most penalty yards: SEAHAWKS (-120 at the LVH)
From: Teddy Covers, Professional Handicapper at Covers.com and Sportsmemo.com
Twitter: @Teddy_Covers
Analysis: "The Seattle secondary is as physical as it gets, and the Seahawks almost exclusively play man-to-man on the outside. Put those two factors together and we can expect a pass interference call (or two, or three), which are always good for piling up penalty yards. We can also count on a flag or two for any dicey hit on Broncos quarterback Peyton Manning. In their two previous playoff games, the Seahawks have recorded 50 percent more penalties and nearly twice as many penalty yards as Denver. This is not a flag-happy officiating crew, so a handful of pass interference or personal foul penalties should go a long, long way towards cashing this bet."
PROP: Wes Welker OVER 5.5 receptions and OVER 56.5 receiving yards (both -110 at the LVH)
From: Marc Lawrence, Professional Handicapper and owner of Playbook.com
Twitter: @MarcLawrence
Analysis: "Welker has appeared in two Super Bowls with New England - both losses. And while he failed to find the end zone in both contests, Welker managed to catch 18 passes for 163 yards combined in those games. Against Seattle's top-ranked pass secondary, he figures to be Manning's prime go-to receiver on short routes over the middle."
PROP: Percy Harvin UNDER 4.0 receptions (-110 at the LVH)
From: Bryan Leonard, Professional Handicapper at Pregame.com
Twitter: @BLeonardSports
Analysis: "The fragile Harvin is being touted as fully healthy by the Seahawks, but this is more than likely coach speak. He needs to catch five balls to beat us and that's roughly 30 percent of the projected completions by quarterback Russell Wilson. I just don't see that happening, as Harvin will more than likely be used as a decoy on passing routes. One bad collision and he could be back on the sidelines."
PROP: BOTH teams WILL convert a field goal of 33 yards or longer (+125 at Sportsbetting.com)
From: Richard Stand, 2010 LVH Supercontest Champion
Twitter: @4RichardStand
Analysis: "It's certainly not a sexy bet by any means, but I would say that this is a lock for Seattle (seems like a no-brainer, right?). They're not exactly an offensive juggernaut, after all. Also, considering Denver is facing a formidable defense, you have to figure the Broncos will at some point have a drive stall during the game, forcing them to attempt a field goal of this length. A miss in the playoffs aside (against San Diego), Broncos kicker Matt Prater has been money all year long. Now, I don't have any fancy data to go on here, but this side seems obvious to me. Furthermore, the weather does not seem like it's really going to be a factor. Swirling winds in the new Meadowlands aside, both of these teams' kickers have had outstanding seasons. I'm banking on both teams attempting at least one field goal of this length, and I'd be shocked if either one misses it."
***BONUS PROP FROM RICHARD STAND***
PROP: When will Joe Buck or Troy Aikman say the word 'marijuana'? (at Sportsbetting.com)
First half: +350
Second half: +700
No mention: -400
Analysis: "Now, I'd be really confident if Al Michaels were calling the game, but even though it's the seemingly conservative Joe Buck (Aikman counts here as well), I have a feeling he's going to make some kind of "trying to be clever" marijuana reference fairly early in the game. Yes, you worry that Erin Andrews will make the reference instead, but there's always the potential for follow-up banter between Joe and Troy in which the word is uttered. Of course, you'll be pissed beyond belief if they say "weed" instead, but why not make a small play on the first half for +350? Both of these teams play in states where marijuana is now legal and Seahawks head coach Pete Carroll made a point of saying this week that medicinal marijuana should be legal in the NFL, so the word is definitely getting some buzz (pun intended). Alright, that was corny. Regardless, take a chance on the YES IN THE FIRST HALF here. I think this bet is a good value."
PROP: Knowshon Moreno OVER 3.0 receptions (-110 at the Wynn)
From: Marco D'Angelo, Professional Handicapper at Pregame.com
Twitter: @MarcoInVegas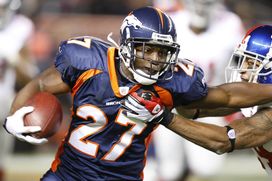 Moreno recorded three or more receptions in 11 of 16 regular season games this season.
Analysis: "In 11 of the Broncos' 16 regular season games played in 2013, Moreno had three or more receptions, so that alone puts us in a positive situation. But I also feel this matchup will dictate that Moreno is a bigger factor in the passing game. Because of the fact that Seattle's defensive backs are so talented, I believe that quarterback Peyton Manning will be forced to check-down to his safety value receiver if nothing is open down the field, in order to avoid taking a sack. And that safety valve will turn out to be Moreno more times than not."
PROP: Russell Wilson's longest rush OVER 11.5 yards (Even money at the LVH)
From: Mike Wilkening, Analyst at "The Linemakers" of Sporting News
Twitter: @mikewilkening
Analysis: "Wilson's mobility poses a major challenge for the Broncos' defense. With wide receiver-like speed, Wilson is a threat to break a sizeable gain either on a designed run or a scramble under duress. In short, the OVER holds plenty of appeal. Note that Chiefs quarterback Alex Smith racked up 98 rushing yards on just nine carries against Denver this season."
PROP: Russell Wilson +9.5 completions OVER Peyton Manning (-110 at Bovada.LV)
From: PredictionMachine.com
Twitter: @predictmachine
Analysis: "The edge in this prop bet is the advantage that Seattle's pass offense has on Denver's pass defense. The Broncos are below the league average in sack rate (6.3 percent) and interception rate (2.8 percent). In addition, Denver does not have an active playe r in their secondary that grades out as an above average player at his position.
"Our projected completions: Manning 22.7, Wilson 16.5."
PROP: Will there be a safety scored in the game: NO (-800 at the LVH)
From: R.J. Bell, Founder of Pregame.com
Twitter: @RJinVegas
Analysis: "The average bettor much prefers to wager a little to win a lot. No American sporting event has a higher percentage of average (i.e. recreational) bettors than the Super Bowl. Upwards of 90 percent of Nevada action on Super Bowl XLVIII is expected to be from non-professionals. The appeal of the big payout allows sports books to offer a deflated price on long-shot props and still attract ample action. The flipside of the deflated payouts is that the "No" price is discounted. This concept also applies to no overtime, no successful two-point conversation and no missed PAT. We may get a little extra value this year because the public is especially anxious to bet on a safety, since doing so has cashed in three of the last five Super Bowls – creating the most positive reinforcement of all – winning money! NFL history tells us that laying -800 on "No Safety" is a positive EV (expected value) bet. The sharp grinders are doing it, and so am I."
PROP: LeBron James 3-pointers made OVER Russell Wilson touchdown passes (+105 at the LVH)
From: Jim Kruger, Professional Handicapper and owner of VegasSportsAuthority.com
Twitter: @KrugerinVegas
*Note: The Heat play the Knicks on Saturday, so this wager will have to be placed prior to tip-off.
Analysis: "James is averaging 1.3 3-pointers made per game this season while shooting 37.5 percent from behind the arc. In addition, LeBron has made at least one 3-pointer in 27 of the 41 games he has played this season. Miami plays at the Garden against the Knicks on SATURDAY, where James has had numerous high-scoring performances. Take note that the Knicks rank next-to-last in the league in defensive efficiency at home."
PROP: Russell Wilson UNDER 9.5 passing yards on first completion of the game (-130 at Bovada.LV)
From: Lance Zierlein, Radio Host on Sports Talk 790 in Houston, co-owner of TheSideLineView.com
Twitter: @LanceZierlein
Analysis: "In his last four games, Wilson has failed to complete a pass longer than eight yards for his first completion, with two of those passes going for eight yards, one going for three and one going for -1. Wilson hasn't been as sharp at the end of the year as he was earlier in the season and I see Seattle trying to get their second-year quarterback an easy completion to get his confidence going early. Therefore, I think we'll see a short, high percentage throw as Wilson's first completion, leaving it up to the Broncos to make the tackle so I can cash in on my ticket."
PROP: Kam Chancellor OVER 7.5 tackles and Julius Thomas UNDER 53.5 receiving yards (-120 and -110, respectively, at 5dimes.eu)
From: Jason Weingarten, owner of Spreadapedia.com
Twitter: @Spreadapedia
Analysis: "I picked two props that are somewhat correlated. Chancellor will shut Thomas down and will be around the ball all day regardless. I'm not sure why he's flying so far below the radar, but Chancellor is the Seahawks best defensive player, in my opinion.
"In addition, Chancellor at 200/1 to win the Super Bowl MVP is definitely worth a look. I think that offering is significantly undervalued, considering Richard Sherman is 33/1 and Earl Thomas is 80/1. Chancellor will be on the field for every defensive snap and will have every chance to make a game-changing play. I'd rather take Chancellor at 200/1 than Andre Caldwell or Bruce Irvin at the same price."
Hit me up on Twitter: @JoeFortenbaugh