February 01, 2013 -
Joe Fortenbaugh
The NFP Super Bowl prop betting extravaganza
There's no need for a lengthy preamble today. The big show kicks off in approximately 48 hours and you clicked on this article for a reason: You want prop advice and you want it now.
Of course, we already knew this. That's why we reached out to 12 of our favorite industry insiders for their top prop selections for the 2013 Super Bowl.
Buckle up and enjoy the ride.
The prop: Frank Gore rushing yards (+3.5) vs. Louisville Cardinals total points
Picked by: Teddy Covers, professional sports bettor, SportsMemo.com
Twitter: @teddy_covers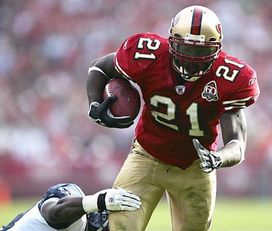 Frank Gore is the subject of two prop bets in this year's extravaganza.
Analysis: Frank Gore is the heart and the soul of the 49ers offense. In addition, we can expect the Ravens defense to concentrate on limiting Colin Kaepernick's big-play ability on the read-option, much like Atlanta did in the NFC Championship Game. The end result of that defensive effort was a 21-carry, 90-yard performance on the heels of his 23-carry, 119-yard outing against the Packers the previous week. If San Francisco has a second half lead, there's going to be a steady stream of Gore rushing yards. Louisville's offense has struggled for the last few weeks, averaging just 62 points per game over their last four contests, well shy of their season long 74-point average. Marquette certainly isn't going to try to run with Louisville – they did that in the Big East tournament last year and got run out of the gym. The Golden Eagles have only let one team hang 70+ on them in regulation since Christmas, and I don't expect Louisville to change that.
Note 1: This prop has already seen enough action to move the line from Frank Gore +3.5 to Frank Gore -5.5.
Note 2: Bryan Leonard of Pregame.com likes this play as well, in addition to…
The prop: Randy Moss receiving yards (-5.5) vs. Kobe Bryant points
Picked by: Bryan Leonard, professional sports bettor, Pregame.com
Twitter: @BLeonardSports
Analysis: Moss is projected at about 35.5 yards while the Kobe number was based on his historical play. In two recent games Bryant had 14 assists and the Lakers won, so I expect more of the same, which reduces his overall shot attempts.
The prop: Jacoby Jones OVER 20.5 receiving yards
Picked by: Our friends at Wagerminds.com
Twitter: @WagerMinds
Analysis: Last year we shared one of our prop player plays and had the Giants third receiver, Mario Manningham, going over 44.5 yards in the game. This year's pick is going to be like deja vu all over again.
Here are the facts: The 49ers are a good defense: they're top-7 against both the run and the pass in Football Outsider's DVOA rankings. In the Ravens/49ers matchup last year, the Niners defense held Ray Rice to just 59 yards at only 2.8 yards per carry.
So, it seems likely that the Ravens will need to pass their way to victory. But the 49ers are a top-10 defense in stopping the opposing team's No. 1 receiver. And they're also top-10 in stopping the opposing team's No. 2 receiver. Tight End? They tend to stop them, too. Running backs coming out of the backfield? Nope, they stop them too. But San Francisco is the 21st ranked defense against the opposition's No. 3 receivers, allowing 58.4 yards per game during the regular season.
Jacoby Jones is a dynamic player capable of big plays and his numbers during the regular season suffered as a result of an ankle injury. We think the Ravens will attempt to move the ball through the air - and that is going to result in Jacoby Jones, the Ravens' No. 3 receiver - getting some targets. Those targets should let Jones gain more than 20.5 passing yards for the game.
The prop: Will Joe Flacco throw an interception? YES (-140)
Picked by: Vegas Runner, professional sports bettor, Pregame.com
Twitter: @VegasRunner
Analysis: Four words: Regression to the mean. Flacco has gone 22 quarters (5+ games) without throwing an interception and that has not been the norm throughout his career. In fact, only one time in all of the 2012 regular season did Flacco go two games without tossing an INT. A look back at his five seasons as a pro demonstrates that the most the Baltimore quarterback has gone without throwing an INT is four games, which he did one time during his rookie season (2008) and once again in 2010. During the other three seasons of Flacco's career, the longest he went without an INT was two games. Couple that with this being his first Super Bowl which happens to come against the 49ers aggressive defense—who is tied for third in INTs this postseason—and I expect this one to cash rather easily.
The prop: David Akers OVER 1.5 field goals made (-130)
Picked by: Warren Sharp, professional sports bettor, SharpFootballAnalysis.com
Twitter: @SharpFootball
Analysis: The 49ers led the NFL in field goal attempts this season. A big reason for that was because San Francisco had the fifth-most red zone attempts in the NFL, but ranked just 15th in conversion percentage, at 55%.
So there should be some opportunities for Akers, considering the Ravens finished the season with the second-ranked red zone percentage allowed (43%), but ranked a below average 19th in attempts surrendered. This means teams are getting into field goal range, but often are not scoring touchdowns.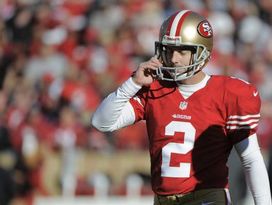 The numbers show that Akers should get his opportunities to convert on Sunday.
Case in point, the Patriots got inside the Ravens 25-yard line six times during the AFC Championship game and came away with only one touchdown.
Aside from the Broncos, who attempted only one field goal against Baltimore, the Ravens allowed two or more field goals in both playoff games and in five of their last six regular season games. On the season, opponents made 42 field goals in 19 games (2.2 field goals per game average) and that includes some bad offenses in terms of red zone attempts per game, such as Kansas City (31st), Cleveland (30th), Oakland (25th), San Diego (21st), Cincinnati (18th), Pittsburgh (16th) and Philadelphia (15th). Right there you have 10 of 16 regular season opponents who ranked poorly in getting red zone trips/game, yet they still averaged 2.2 converted field goals per game.
By far, Akers has been the most criticized player for either team in this Super Bowl, and ever the contrarian, I'm ta king him to make over 1.5 field goals.
The prop: Will there be a score in the first 6:30 of the game? NO
Picked by: Todd Fuhrman, sports betting analyst, DonBest.com
Twitter: @ToddFuhrman
Analysis: I believe both of these teams will look to keep it tight to the vest early in this one. I don't think we're going to see either side come out and start launching the football down the field trying to notch a quick score. Jim Harbaugh may want to get quarterback Colin Kaepernick comfortable in the big-game setting and I think the Ravens will probably hit the 49ers defensive line with a steady dose of Ray Rice and Bernard Pierce. You can't win the Super Bowl in the first quarter, but you sure can lose it with a big turnover or two.
The prop: Will there be overtime? NO (-800)
Picked by: R.J. Bell, CEO of Pregame.com
Twitter: @RJinVegas
Analysis: The average bettor loves to bet a little to win a lot. The sports books know this and make that average bettor pay dearly for the opportunity. But when the sports book allows you to bet a lot to win a little, you can take advantage of the average bettor's inclination. 6.5% of NFL games with a spread between 1 and 6 go into overtime. If you shop hard, you can bet on NO OVERTIME at -800 (not much more than HALF of what the price should really be).
Note: Two-time LVH SuperContest Champion Steve Fezzik likes this play as well, in addition to…
Prop 1: Bernard Pierce OVER 7 carries
Prop 2: Will there be three consecutive scores by the same team? YES
Picked by: Steve Fezzik, back-to-back LVH SuperContest Champion
Twitter: @FezzikSports
Note: Fezzik and I discussed these props via text message instead of email, so the analysis was brief. But we've always respected his opinion and he was more than willing to share two of his favorite plays with the NFP.
The prop: Will Alex Smith take a snap from center? YES (+500)
Picked by: Our friends at Beyond the Bets
Twitter: @BeyondTheBets
Analysis: Most discussion of this prop surrounds the possibility that Alex Smith will be brought into the game as part of a special package, a wrinkle designed to confuse or throw off the Ravens defense. But if you think the 49ers win, isn't it possible that Smith will line up in the victory formation to take the game's final snap? Smith's midseason benching was tough on both him and Jim Harbaugh, and he'll likely play quarterback for some other team in 2013. But for Harbaugh, extending the olive branch and letting Smith take the Super Bowl-clinching snap would be a nice gesture. Even though he's taken only one snap since November 11, we think there's a better than 5-to-1 chance that Smith finds the field against the Ravens. Take Yes +500.
The prop: Will Frank Gore score a touchdown? YES (-115)
Picked by: Marco D'Angelo, professional sports bettor, Pregame.com
Twitter: @MarcoInVegas
Analysis: I expect Frank Gore to have a big day as the Ravens will be extremely focused on making sure that Colin Kaepernick doesn't break a big one on the read-option, along with the fact that I feel Gore is going to have some big runs with quick hitters up the middle. If the Ravens defense over-pursues, Gore will be off to the races.
Bonus from Marco!
The prop: Ray Rice total rushing attempts (16.5). UNDER (-110)
Picked by: Marco D'Angelo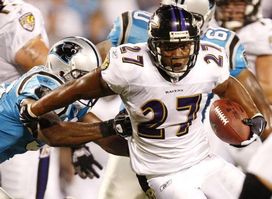 17 carries won't be an easy number to reach if the Ravens are playing from behind.
Analysis: Teams haven't had much success running on the 49ers and in six of the last eight games, opposing teams have rushed the ball 24 or fewer times. When you consider that Rice will lose some of his carries to Bernard Pierce, getting 16.5 rushing attempts is going to be hard in this game. Throw in the fact that Baltimore could fall behind and be forced to abandon the running games. The only scenario I can see where Rice gets 16.5 carries easily is if the Ravens have a big lead and are milking clock. I just don't see that happening.
The prop: Will Terrell Suggs record a sack? YES (+210)
Picked by: Mike Wilkening, sports betting analyst, Oddly Enough
Twitter: @MikeWilkening
Analysis: There's a lot to like about the "Yes" side of this prop. For starters, Suggs has had two weeks of rest coming to the game. Secondly, he's played well in the postseason, with a 10-tackle, two-sack game at Denver being the highlight. His strong performance against the Broncos was the latest in a line of excellent big-game efforts for Suggs, who has 12 career postseason sacks. Finally, Suggs notched three sacks in the Ravens' 16-6 win vs. San Francisco in 2011. At this price, and with a half-sack considered a winner, "Yes" is my pick.
The prop: Will Joe Flacco throw a touchdown pass in the fourth quarter? YES (+140)
Picked by: John Candido, one of our favorite stat geeks, ESPN Insider
Twitter: @JohnCandido
<p>
Analysis:
Since the Baltimore Ravens game versus the Denver Broncos in Week 15, Joe Flacco has lit it up in the fourth quarter, scoring a passing touchdown in four out of their past six games, including four fourth quarter passing touchdowns in his three postseason games. This means that Flacco is on a streak of scoring a passing TD 67% of the time in the fourth quarter of his previous six games. Even with the 49ers possessing the seventh-best defense against passing touchdowns this season, +140 would suggest a 42% chance of this happening in order to break even on your bet. In short, there exists a large edge on this prop bet if Flacco's recent numbers are any indication.
Hit me up on Twitter: @JoeFortenbaugh