May 07, 2013 -
Joe Fortenbaugh
The NFP's preseason fantasy top 25
Upon our initial descent into the pit of fantasy football madness that will sweep the nation over the coming months, we noticed that a potential shift in draft strategy could be on the horizon for the 2013 season. Mind you this possible alternation in the player selection process won't be a major one, but that doesn't mean its repercussions won't have a reasonable effect on the way things shake down during the opening rounds of your draft.
With Aaron Rodgers, Drew Brees, Peyton Manning and Tom Brady comprising the elite tier of fantasy signal-callers, Tony Romo, Matt Ryan and Eli Manning proving to be consistent producers and RG3, Russell Wilson, Andrew Luck, Colin Kaepernick and Cam Newton serving as trendy, up-and-coming options, the quarterback position appears to be the deepest we've seen in years. That means the early quarterback rush that has overtaken fantasy drafts the last few seasons could be headed for a hiatus in 2013, with a shift back to the traditional RB-RB or RB-WR approach for the opening rounds reclaiming its place in the sun.
Here's our first look at the top-25 players in the 2013 fantasy draft class.
1. Adrian Peterson, RB, Minnesota Vikings: Prepare yourselves for the onslaught of "Adrian Peterson is due to regress" analysis that is going to flood the internet this summer. No shit Peterson is due to regress. The guy finished the 2012 campaign just nine yards shy of breaking Eric Dickerson's all-time single season rushing record. The important question is how much is All Day going to regress? If the answer isn't "a lot," then he's your top choice.
2. Arian Foster, RB, Houston Texans: Has amassed 1,640+ total yards in each of the last three seasons and has found the end zone via the ground more times since 2010 (41) than any other ball-carrier in the league. Safe, reliable, durable.
3. Marshawn Lynch, RB, Seattle Seahawks: The addition of wide receiver Percy Harvin and continued development of quarterback Russell Wilson will keep opposing defenses from keying on Lynch, who ran for a career-high 1,590 yards in 2012.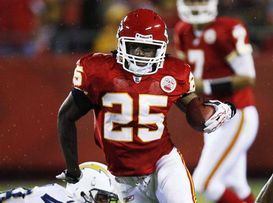 New Chiefs head coach Andy Reid knows a thing or two about utilizing dual-threat running backs.
4. Jamaal Charles, RB, Kansas City Chiefs: Adrian Peterson got all of the attention, but Charles game back from his own nasty injury to post a career-high 1,745 total yards last season. Remember what Andy Reid did with Brian Westbook and LeSean McCoy in Philadelphia? Charles is in line for the same type of production, which is a scary thought considering what this guy did with Romeo Crennel as his head coach.
5. Doug Martin, RB, Tampa Bay Buccaneers: One of the top keeper selections entering the 2013 season, Martin ranked second among running backs in scrimmage yards last year (1,926), trailing only Adrian Peterson (2,314). We could move Martin above Charles before August.
6. Ray Rice, RB, Baltimore Ravens: Not sure how long Rice is going to remain in the No. 6 slot, as we're definitely concerned about the dreaded "Super Bowl hangover." Still, it's tough to question a player who has racked up 1,600+ total yards in each of the past four seasons. Take note that no running back (and only nine receivers) has recorded more receptions over the last four years than Rice (278)
7. Alfred Morris, RB, Washington Redskins: Finished second to Adrian Peterson in rushing yards last season (1,613) as a rookie sixth-round selection out of Florida Atlantic. Morris doesn't offer much in the passing game (11 receptions in 2012) and the one-hit wonder possibility is certainly worthy of consideration. There's some risk here, but keep in mind that Mike Shanahan found Terrell Davis in the sixth round as well.
8. Calvin Johnson, WR, Detroit Lions: Megatron posted 12 or more touchdown receptions in three of four seasons before finding the end zone just five times in 2012. But nobody took notice because the freak was busy busting Jerry Rice's single-season record for receiving yards (1,924). Is there any other pass-catcher worthy of consideration for the top receiver spot?
9. LeSean McCoy, RB, Philadelphia Eagles: Took a big step back during Philly's dismal 4-12 campaign last season due in large part to a concussion that cost the four-year veteran four games. And we'd be lying if we said we weren't worried about Bryce Brown cutting into McCoy's reps. Still, we really like Shady's chances for a bounce-back year with new head coach Chip Kelly running the show.
10. Dez Bryant, WR, Dallas Cowboys: Showed flashes of brilliance while amassing 808 receiving yards and ten touchdowns during a seven-game stretch in 2012. With a career year behind him, Bryant is now ready to take the next step towards becoming one of the game's top-tier receivers.
11. C.J. Spiller, RB, Buffalo Bills: Averaged a redonkulous 6.0 yards per carry last season (207 carries for 1,244 yards) while hauling in 43 passes for 459 yards and two scores. But you can't help but worry about the presence of veteran Fred Jackson, the switch to rookie quarterback E.J. Manuel and the fact that the Buffalo Bills are the Buffalo Bills.
12. Stevan Ridley, RB, New England Patriots: His 1,263 rushing yards last season ranked seventh in the NFL while his 12 rushing touchdowns ranked tied for third. Coming off a career year, what does Ridley have planned for an encore?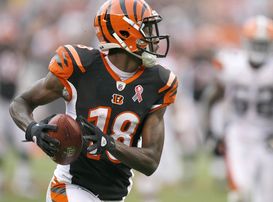 Green is well on his way to becoming one of the best wide receivers in the game.
13. A.J. Green, WR, Cincinnati Bengals: Could move ahead of Dez Bryant before August, as it's difficult to overlook Green's 97-1,350-11 sophomore stat line.
14. Drew Brees, QB, New Orleans Saints: Aaron Rodgers will be the popular pick for the first signal-caller off the board, but we prefer the guy who plays in a dome and has ranked first in fantasy scoring at the quarterback position in three of the last five years.
15. Aaron Rodgers, QB, Green Bay Packers: Has ranked either first or second in fantasy scoring at the quarterback position in each of the last five years. The additions of rookie running backs Eddie Lacy (Alabama) and Johnathan Franklin (UCLA) should help to keep opposing defenses more honest in 2013.
16. Trent Richardson, RB, Cleveland Browns: Will be ranked higher by other publications, but we're concerned about the Cleveland offense and the fact that Richardson rushed for only 950 yards (3.6 YPC) in 2012. He's got the talent to be a perennial Pro Bowler, but his supporting cast leaves a lot to be desired.
17. Julio Jones, WR, Atlanta Falcons: Has to contend with Roddy White, Tony Gonzalez and now Steven Jackson for receptions, which could cause us to slide Jones back a bit before August. Still, it's tough to ignore the fact that Jones ranked third in fantasy scoring at the receiver position last year (standard scoring).
18. Brandon Marshall, WR, Chicago Bears: Has an offensive -minded head coach calling the plays, an upgraded offensive line for his quarterback and some additional weapons to help limit the double coverage he frequently encountered last season. 2013 could be Marshall's best season yet.
19. Matt Forte, RB, Chicago Bears: A beefed-up offensive line and the transition from Lovie Smith to Marc Trestman should provide a big boost to Forte's fantasy totals.
20. Maurice Jones-Drew, RB, Jacksonville Jaguars: Should be rested and ready for action after appearing in just six games last season. The quarterback situation in Jacksonville is still a big concern, but you have to remember that this is the guy who posted three straight seasons of 1,640+ total yards from 2009-2011. Add in the fact that MJD is running for a new contract and you could be getting a steal in the Jaguars' top offensive weapon.
21. Peyton Manning, QB, Denver Broncos: Topped 300 passing yards in nine of 16 regular season starts last season and ranked third among quarterbacks in touchdowns, with 37. Throw veteran Wes Welker into a highly productive mix that already includes up-and-comers Demaryius Thomas and Eric Decker and Manning could challenge for the top spot like the old days.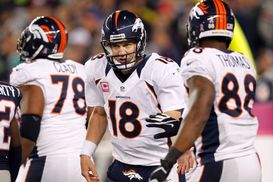 Manning and Thomas emerged as one of the league's most lethal QB-WR tandems in 2012.
22. Demaryius Thomas, WR, Denver Broncos: Caught a total of 54 passes in 21 games before Peyton Manning came to town, at which point Thomas emerged as one of the league's more prolific wideouts, hauling in 94 passes for 1,434 yards and ten touchdowns last season. The addition of Wes Welker will cut into his targets, while simultaneously helping to open up the field for Thomas to make big-time plays.
23. Jimmy Graham, TE, New Orleans Saints: Our No. 1 tight end option thanks to the bevy of injuries that has plagued Rob Gronkowski as of late. Has amassed 184 receptions for 2,292 yards and 20 touchdowns over his last 31 games.
24. Steven Jackson, RB, Atlanta Falcons: Has recorded 1,360+ total yards in each of the last five seasons and will finally be playing on an offense capable of moving the football up and down the field. Between the gas left in the tank and the plethora of surrounding talent, Jackson could be in line for his best season in years.
25. Percy Harvin, WR, Seattle Seahawks: If he could do what he did in Minnesota with Christian Ponder under center, imagine the possibilities for Harvin playing with Russell Wilson and Marshawn Lynch. Health is a concern, as is the fact that he just inked a lucrative $67 million contract.
Hit me up on Twitter: @JoeFortenbaugh