February 28, 2013 -
Joe Fortenbaugh
The NFP's top-50 free agents of 2013
One of the most entertaining aspects of the NFL offseason returns March 12 when the feeding frenzy known as free agency gets underway in 31 cities around the country. To better prepare you for the madness, we've compiled our list of the top-50 free agents who have a chance to hit the open market.
By chance, we mean that some of these guys will never make it to March 12. Some players, like Broncos offensive tackle Ryan Clady, will get hit with the franchise tag while others, like Giants offensive tackle Will Beatty, will come to an agreement on a new long-term contract with their current club. In any event, the following 50 players are still eligible for free agency at the current moment. But over the next few days, several of these players will find themselves under contract for the 2013 season.
TOP 50 FREE AGENTS FOR 2013
Updated: Friday, March 1 at 11:50am eastern.
1. Joe Flacco, QB, Baltimore Ravens: Flacco's about to get paid off on one of the greatest gambles of all time, which started last summer when the 28-year-old rolled the dice by saying no to a contract extension from the Ravens. All he's done since is produce one of the greatest postseason runs imaginable en route to taking home Super Bowl XLVII MVP honors along with a shiny new ring. The Ravens have until March 4 to hit Flacco with either the non-exclusive franchise tag (at approximately $14.6 million) or the exclusive franchise tag (at approximately $20.4 million), but we doubt it comes to that. Baltimore is going to pony up, and rightfully so.
Update: Joe Flacco and the Ravens came to an agreement on a long-term contract extension last Friday.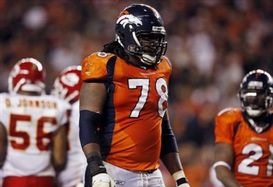 John Elway has already made it clear that he has no intention of letting Ryan Clady hit the open market.
2. Ryan Clady, OT, Denver Broncos: The three-time Pro Bowler has started all 80 regular season games of his five-year career and consistently grades out as one of the best left tackles in the business (5.2 sacks allowed per season). And you don't invest in a quarterback like Peyton Manning without ensuring that his blind side is protected, which is why John Elway has made it clear that Denver will slap the franchise tag on Clady this offseason.
Update: Denver has placed the franchise tag on Clady.
3. Henry Melton, DT, Chicago Bears: The 26-year-old has recorded 13 sacks over his last 29 starts and emerged as one of the league's top interior defensive linemen in 2012. Melton's 24 quarterback hurries last season ranked sixth in the NFL among interior defensive linemen, which is impressive when you consider the fact that he took 175+ fewer snaps than four of the players ranked above him. At the moment, all signs point to the Bears shelling out the $8.3 million it will cost to retain Melton under the franchise tag.
Update: Chicago has placed the franchise tag on Melton.
4. Jairus Byrd, FS, Buffalo Bills: The former Oregon Duck led the AFC in interceptions as a rookie in 2009 (9) and again in 2012 (5), which paved the way for Pro Bowl and All-Pro honors in each season. The Bills have plenty of tough decisions to make in the coming weeks that could possibly lead to Byrd avoiding the franchise tag and testing the waters. His agent will likely point to the 56.9 passer rating opposing quarterbacks posted when throwing at his client in 2012. Philadelphia would be wise to make some inquiries, should the opportunity present itself.
Update (3/1 at 12:45pm EST): Per Adam Schefter of ESPN, the Bills intend to place the franchise tag on Byrd at a cost of $6.9 million.
5. Cliff Avril, DE, Detroit Lions: Avril has amassed 20.5 sacks over his last 32 regular season games with the Lions, but was rated just 55th in the NFL among 4-3 defensive ends by Pro Football Focus in 2012. While some would say he regressed a bit last season, that shouldn't prevent the versatile 26-year-old from cashing in big come March. After all, Avril has recorded 8.5 or more sacks in each of the last three seasons.
6. Mike Wallace, WR, Pittsburgh Steelers: Wallace failed to top 1,000 receiving yards for the first time in three years last season and watched his reception totals drop from 72 in 2011 to 64 in 2012. But that won't stop the Miami Dolphins from making a serious run at one of the game's most explosive deep threats come March. Wallace is only 26-years-old and has scored 26 touchdowns over his last 47 games.
7. Anthony Spencer, OLB, Dallas Cowboys: Despite appearing in only l4 games last season, the six-year veteran posted career-highs in both tackles (95) and sacks (11). Which begs the question, did Spencer step it up because he was playing for a new contract, or is he ready to play at this type of level on a consistent basis? It looks like the Cowboys are prepared to find out, but will have to clear some cap space before they can pull the trigger.
8. Michael Johnson, DE, Cincinnati Bengals: Johnson's first full season as a starter in Cincinnati produced outstanding results, as the 6-7, 270-pounder recorded career-highs in both tackles (52) and sacks (11.5). But the big question in Cincinnati at the moment is whether it will be he or offensive tackle Andre Smith who gets hit with the franchise tag this offseason. Should the Bengals opt to tag Smith, Johnson will enter the market coming off the best season of his four-year career.
Update (3/1 at 1:17pm EST): Per multiple reports, the Bengals are expected to place the franchise tag on Johnson at a cost of $11.175 million.
9. Paul Kruger, OLB, Baltimore Ravens: Kruger's a situational player who has made just seven starts in four professional seasons. But he's coming off a career-best 9-sack campaign that saw the 27-year-old amass another 4.5 sacks—along with a forced fumble and a fumble recovery—during Baltimore's successful four-game Super Bowl run. That's called getting hot at the right time. Look for a 3-4 defense in serious need of some pass rushing help to come calling in March.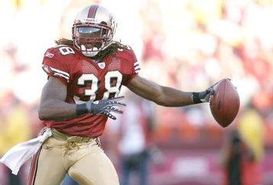 Goldson is riding back-to-back trips to the Pro Bowl into free agency.
10. Dashon Goldson, FS, San Francisco 49ers: Goldson is more of a hard-hitting gambler than a technically-sound player, but that style has helped him earn back-to-back trips to the Pro Bowl along with an All-Pro nomination in 2012. The six-year veteran has recorded 14 interceptions over the last four years, amassed a career-high 11 pass deflections in 2012 and allowed opposing quarterbacks to record a passer rating of just 44.8 when throwing his way last season (ninth in NFL). At the moment, it appears as if the Niners don't intend to use the franchise tag this offseason, which means Goldson will either return to San Francisco with a new deal or make his bones elsewhere in 20 13.
11. William Moore, SS, Atlanta Falcons: Moore has made just 23 starts over the last two years due to injuries, so that could hurt his value on the open market. But the four-year veteran has rolled up 11 interceptions over his last three seasons and made a career-high 75 tackles in 12 starts last year. The 27-year-old appears to be coming into his own with the Falcons, who should make a strong push to re-sign Moore over the next few weeks.
12. Sean Smith, CB, Miami Dolphins: The five interceptions in 63 career games won't knock you off your seat, but Smith possesses one key attribute that cannot be taught: Size. At 6-3, the 25-year-old fits the bill for any team looking to emulate what the Seattle Seahawks have done with physically imposing cornerbacks Richard Sherman and Brandon Browner. Speaking of the Seahawks, former defensive coordinator Gus Bradley is now the new head coach in Jacksonville, a team that could come calling for Smith's services once the market opens.
13. Tony Gonzalez, TE, Atlanta Falcons: The best tight end to every play the game, Gonzo has yet to officially decide whether or not he'll return for a 16th NFL season. It's clear from his 93-930-8 stat line from 2012 that the 37-year-old still has what it takes to produce at a high level in the National Football League. Should he opt for one more run, expect the Falcons to close a deal rather quickly.
14. Dwayne Bowe, WR, Kansas City: Questions regarding work ethic and commitment abound, but it's hard to imagine the Chiefs parting ways with their most talented receiver now that Alex Smith is in the fold. Bowe flashed big-time potential in 2010 when he racked up 72 receptions for 1,162 yards and a career-best 15 scores, but shaky quarterback play in Kansas City over the last few seasons has caused a drop in the statistics department. Expect Bowe to get hit with the franchise tag for a second consecutive season.
15. Aqib Talib, CB, New England Patriots: The talent is there, as evidenced by New England's uptick in secondary play following Talib's arrival in November. But you have to wonder how high the market is willing to go for a player with the baggage and checkered past that Talib brings to the table. That being said, the 27-year-old has amassed 19 interceptions and four touchdowns in 64 career games and was able to keep his nose clean during his short stint in New England. Don't be surprised if the Patriots work to bring him back.
16. Brent Grimes, CB, Atlanta Falcons: Grimes recorded 11 interceptions from 2009-2010 and earned a trip to the Pro Bowl (2010) before opposing quarterbacks started showing him a bit more respect. But an Achilles injury limited the 29-year-old to just one game last season and now that he's set to turn 30 this July, the market may not come calling the way Grimes' agent hopes. The six-year veteran is expected to be ready come Week 1, but his age and injury history are definitely worth noting.
17. Wes Welker, WR, New England Patriots: Is it the system or the player? That's the critical question that needs to be addressed before determining Welker's value on the open market. But the answer is simple: It's both. There's no doubt that Welker has benefitted greatly from playing alongside future Hall of Famer Tom Brady, but no receiver amasses 672 receptions over a six-year span without possessing both skill and talent. Brady and Belichick would love to have him back, but now is the time for the 31-year-old to focus on what's best financially for him.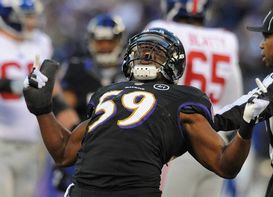 Ellerbe stepped up huge when Ray Lewis was lost for the remainder of the regular season.
18. Dannell Ellerbe, ILB, Baltimore Ravens: The 27-year-old had just seven career starts in three years under his belt before making a splash when asked to fill in for the injured Ray Lewis. Ellerbe racked up a career-high 89 tackles and 4.5 sacks last season while making the case that he deserves to start in the NFL. The four-year veteran has publicly declared that he would like to remain in Baltimore, but the Ravens are hamstrung until they wrap up the Joe Flacco situation. If this guy hits the market, don't be surprised if he commands a whole lot of attention.
19. Andy Levitre, OG, Buffalo Bills: He's started all 64 games of his four-year career, allowing a total of just 11.25 sacks during that time span. In addition, Levitre graded out as the league's ninth-best offensive guard in 2012, according to Pro Football Focus. The 26-year-old has a world of upside and could command big bucks on the open market if the Bills let him get away by opting instead to use the franchise tag on FS Jairus Byrd.
20. Steven Jackson, RB, St. Louis Rams: Expected to void the final year of his contract with the Rams, Jackson is about to hit the open market for the first time in his nine-year career. The 29-year-old has been to three Pro Bowls, been selected as an All-Pro twice and has amassed 1,350+ total yards in each of the last five seasons, all while playing on a bad football team. Age and wear are a concern, but Jackson still has enough left to make for one half of a highly effective 1-2 backfield punch. We're thinking Atlanta, who is set to part ways with Michael Turner.
21. Andre Smith, OT, Cincinnati Bengals: It's hard to imagine that just four years ago Smith appeared to be doing everything within his power to damage his draft stock. But the 26-year-old got his head right, matured and has since developed into one of the best right tackles in all of football. The former Alabama product has surrendered just 12 sacks in 43 career games and graded out as the league's fourth-best offensive tackle in 2012, according to Pro Football Focus. The Bengals will use the franchise tag on either Smith or DE Michael Johnson this offseason and at the moment, we'd be willing to bet it goes to Smith.
22. Jake Long, OT, Miami Dolphins: The first overall pick of the 2008 draft, Long earned a trip to the Pro Bowl in each of his first four seasons in the league. But his production has been in decline over the last two years, as evidenced by the fact that the former Michigan Wolverine surrendered a sack every 3.5 games during his first three professional campaigns, but watched that number drop to one sack every 2.08 games from 2011-2012. Production issues aside, Long missed the final four games of 2012 with a triceps injury and is looking for big-time money on the open market. He's unlikely to get it.
23. Greg Jennings, WR, Green Bay Packers: Now 29-years-old and having appeared in just 18 games over the last two seasons, there are plenty of questions regarding how much Jennings has left in the tank. But while injuries have been a big problem as of late, Jennings should be more than capable of successfully filling a need for a wide receiver-hungry team…if the price is right. The Jets, Texans, Seahawks, Vikings and Rams could all coming looking to kick the tires.
24. Sebastian Vollmer, OT, New Engl and Patriots: Was named second-team All-Pro during a 16-start 2010 campaign and has surrendered a reasonable 11.5 sacks in 51 career appearances. Vollmer has the size (6-8, 320) to develop into one of the league's more dominant tackles, but he'll have to work his way back from arthroscopic knee surgery first. Take note that the 28-year-old graded out as the league's 13th-best offensive tackle in 2012, according to Pro Football Focus. We expect New England to bring him back.
25. Jared Cook, TE, Tennessee Titans: Versatile in that he can line up in the slot, out wide or along the offensive line, Cook is a solid athlete (6-5, 248) who is likely to catch the attention of any team looking to emulate what New England has been doing the last couple of years. He's caught 93 passes over his last two seasons, but Cook tends to fly below the radar because the quarterback situation in Tennessee has been less than stellar, to say the least. Cook and the Titans are currently in the midst of a dispute over his franchise tag number (he says wide receiver money, Tennessee says tight end money), so we'll see if the two sides can work something out before March 12.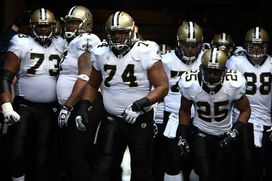 Bushrod hasn't missed a start for the Saints since 2009.
26. Jermon Bushrod, OT, New Orleans Saints: Bushrod has started every game along the New Orleans offensive line for the last three years, earned a trip to Hawaii in both 2011 and 2012 and is surrendering a sack just once every 3.5 games since 2010. The Saints want him back in the fold for the long-term, but don't plan on using the franchise tag this offseason. That means both sides have just under two weeks to work out a deal, or the 6-5, 315-pounder could bolt for a team like Chicago, which is where Bushrod's first position coach, Aaron Kromer, is currently employed.
27. Branden Albert, OT, Kansas City Chiefs: With Alex Smith coming to town and the first overall pick in their back pocket, the Chiefs have to decide who gets the franchise tag between WR Dwayne Bowe, P Dustin Colquitt and Albert. Our money is on Bowe, as Albert missed three games last season with a back injury and this year's draft class has some quality talent at the offensive tackle position. Albert will be looking for big money on the open market, but take note that he's never been to the Pro Bowl and graded out as the 25th-best offensive tackle in 2012, according to Pro Football Focus.
28. Phil Loadholt, OT, Minnesota Vikings: He's started every game but one (2009) during his four-year career with the Vikings and was a big reason why Pro Bowl running back Adrian Peterson ran for over 2,000 yards in 2012. At 27-years-old and considered to be one of the more consistent right tackles in the league, we have a hard time believing the Vikings will let Loadholt skip town.
29. Desmond Bryant, DT, Oakland Raiders: The 6-6, 311-pounder out of Harvard recorded a career-best 36 tackles in 2012 and has amassed 9.0 sacks over the last two years, despite starting just 18 games. Throw in the fact that Bryant graded out as the sixth-best defensive tackle in 2012, according to Pro Football Focus and you have a guy ready to cash in his chips, right? Maybe, but Bryant's arrest in Miami on February 24 for criminal mischief and goofball mug shot may have some teams thinking twice about shelling out the big-time cheese.
30. Michael Bennett, DE, Tampa Bay Buccaneers: The former Texas A&M standout was a relative unknown until he started 16 games for the Buccaneers in 2012, amassing career-highs in sacks (9.0), tackles (41) and forced fumbles (3). Tampa Bay is a team that you'd consider flush across the defensive line based on all the draft picks they've spent there over the last few years. But Bennett has emerged as one of the brighter stars among that unit, meaning the organization should look to bring him back with a new contract.
31. Danny Amendola, WR, St. Louis Rams: The Rams went 5-5-1 with Amendola in the lineup last season and just 2-3 without him, so you have to think the St. Louis front office is interested in bringing the four-year veteran back to town. The 27-year-old is averaging 4.6 receptions per game during his time in St. Louis, but at the moment, he's the only viable receiving option for soon-to-be-on-the-hot-seat quarterback Sam Bradford. Take note that when Amendola suited up in 2012, the Rams averaged 20.6 points per game. When the wide receiver was out of action, St. Louis scored just 14.4 points per game.
32. Randy Starks, DT, Miami Dolphins: One of Miami's more consistent defenders, Starks has amassed 22 sacks during his five-year stint in Miami and has started every game but one over the last four seasons. The nine-year veteran's age (29) may be a bit of a concern, but Starks is coming off a 2012 campaign in which he graded out at 15th in the league among defensive tackles against the rush, according to Pro Football Focus. He's a prime candidate for the Dolphins' franchise tag.
Update: Miami has placed the franchise tag on Starks.
33. Osi Umenyiora, DE, New York Giants: At 31-years-old, Umenyiora is looking to cash in on what could be his final NFL contract. He's started just 11 games over the last two seasons due to the emergence of both Justin Tuck and Jason Pierre-Paul, but still managed to record 15 sacks with the snaps he's seen since 2011. Graded out as the 31st-best defensive end in 2012 by Pro Football Focus, there should be a market for this situational pass rusher who still knows how to get after the quarterback.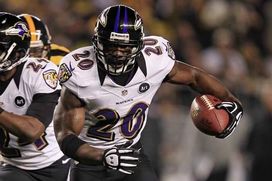 Is it possible that Reed could leave Baltimore for a team like the Patriots?
34. Ed Reed, FS, Baltimore Ravens: He'll be 35-years-old in September, but take note that Reed has started all 32 regular season games for the Ravens since 2011. His skills may be in decline, but the 11-year veteran brings more to the table than a nose for the football. Reed brings leadership, Super Bowl experience and a commanding presence on defense. If he and the Ravens can't work something out, look for Reed to resurface with a contender that may be one or two pieces away from completing the puzzle.
35. Derek Cox, CB, Jacksonville Jaguars: Injuries have limited the four-year veteran to 13 or fewer games in each of the past three seasons, but Cox has intercepted a healthy four passes in three of his four professional campaigns. Playing in Jacksonville hasn't done anything for the 26-year-old's marketability and neither will the fact that he graded out as the 71st-best cornerback in the league in 2012, per Pro Football Focus. Still, Cox should generate some interest and could have a new home by Day 3 of free agency.
36. Louis Vasquez, OG, San Diego Chargers: 2012 was the first time that Vasquez completed a full 16-game regular season, allowing just 2.5 sacks and committing zero holding penalties or false starts in the process. And at 6-5, 335 pounds and considered one of the few bright spots along the shaky San Diego offensive line, don't be surprised if the Bolts figure out how to keep the 25-year-old around for a fe w more seasons.
37. Fred Davis, TE, Washington Redskins: Davis tore his left Achilles tendon back on October 21, so there will be plenty of questions as to the tight end's status as we approach March 12. But the upside is that the five-year veteran has been cleared for running and to "ramp up his physical activity." Durability has been a concern for Davis over the last few years, but when he's on the field, he's more than capable of producing some respectable stat lines (59-796-3 in 12 games in 2011).
38. Jason Jones, DT, Seattle Seahawks: Jones has recorded three or more sacks in each of his five seasons in the league, but didn't start a single game for the Seahawks during his one year in Seattle (2012). There's a good chance that at least one team looking for some interior defensive line help will remember the performances the 26-year-old put on tape during his time in Tennessee, which should help to create a market for the five-year veteran's services.
39. Louis Delmas, SS, Detroit Lions: When he's healthy, Delmas is one of the more physical, playmaking strong safeties in the league. But after making 30 starts over his first two seasons, the Western Michigan product has been sidelined with a variety of injuries that forced him to miss 13 games over the last two years. The 25-year-old will have to demonstrate that he has the durability to withstand the punishment of a 16-game campaign before somebody is willing to offer a lucrative long-term deal.
40. Reggie Bush, RB, Miami Dolphins: Credit Bush for finally coming close to meeting expectations during his last two years in Miami, where the former USC standout recorded 2,660 total yards and 15 touchdowns over his last 31 games. But the 27-year-old has proven he's not an every-down back in the NFL, so he'll need a suitor who is interested in complementing their already-existing backfield. Keep an eye on the Lions, who are rumored to have an interest in bringing Bush to town.
41. Daryl Smith, OLB, Jacksonville Jaguars: Smith was one of the more underrated outside linebackers in the NFL during a three-year stint from 2009-2011 that saw the nine-year veteran account for 311 tackles, 8.5 sacks and three interceptions while starting 48 of a possible 48 games for the Jaguars. But Smith turns 31-years-old in March and appeared in just two games last season due to a groin injury that kept him out of action until December. Re-signing with the Jaguars and new head coach Gus Bradley makes the most sense.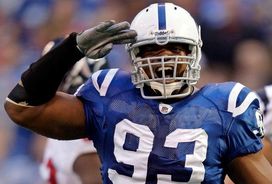 Freeney has enough left in the tank to contribute as a situational pass rusher.
42. Dwight Freeney, DE, Indianapolis Colts: The seven-time Pro Bowler's numbers took a significant hit when Freeney was asked to move from defensive end in a 4-3 system to outside linebacker in new head coach Chuck Pagano's 3-4 scheme. But don't let the age (32) or the wear and tear (11 seasons, 163 games) fool you. Freeney still has enough left in the tank to contribute as a situational pass rusher, especially if he signs with a 4-3 defense. The big question is, how much cash will he be looking for? Players in both Denver and Atlanta began recruiting Freeney the day he was released by Indianapolis.
43. Dominique Rodgers-Cromartie, CB, Philadelphia Eagles: DRC was a total bust during his two seasons in Philadelphia, which is why it wouldn't be the least bit surprising to see the Eagles let him walk. Rodgers-Cromartie graded out as the 98th-ranked cornerback in the league in 2012 and the 86th-ranked CB in 2011, according to Pro Football Focus. Still, we have a feeling that at least one NFL team is going to overpay badly for this 26-year-old come March. If the guy ever figures out how to improve his shoddy tackling, he may have a shot at getting back to the Pro Bowl.
44. Dustin Keller, TE, New York Jets: Caught 120 passes and scored ten touchdowns from 2010-2011, but caught the injury bug during last season's contract year and appeared in only eight games. The Jets would probably like to keep the five-year veteran around for a while longer, but the problem is that the team is cash-strapped at the moment and looks to be in rebuilding mode. If Jared Cook gets hit with the franchise tag in Tennessee, that should help Keller's stock on the open market.
45. Antoine Cason, CB, San Diego Chargers: The 26-year-old posted a career-high 73 tackles in 2012, has recorded 12 interceptions during his five years with the Bolts and amassed 45 pass deflections over his last 48 games. Those are pretty solid numbers until you look at the 98.0 passer rating opposing quarterbacks posted when targeting Cason in 2012. The problem is that he's a bit of a gambler, which means high-risk/high-reward results. Could fit nicely in an aggressive, press-coverage system.
46. Martellus Bennett, TE, New York Giants: One day Bennett may finally wake up and realize that he possesses a tremendous physical advantage over the guys trying to cover him. But until that time comes, the 26-year-old will be nothing more than an inconsistent pass-catcher who displays flashes of big-play potential. The upside is that the five-year veteran is coming off a career-year that consisted of 55 receptions for 626 yards and five scores, so there will definitely be a few teams interested in negotiating.
47. Shaun Phillips, OLB, San Diego Chargers: Coming off a 9.5-sack season in which he started all 16 games for the Chargers, you would think that we might be hearing a bit more about Phillips in the weeks leading up to free agency. But the bottom line is that he'll be 32-years-old when Week 1 finally arrives. Phillips recorded an impressive 69.5 sacks during his nine years in San Diego, but the Bolts are strapped for cash and have younger OLBs in Melvin Ingram, Jarret Johnson and Larry English that the team can turn to. Look for potential interest out of the Browns and Cardinals.
48. Sam Baker, OT, Atlanta Falcons: Baker started all 16 regular season games for the Falcons in 2012, surrendering just 3.5 sacks and grading out as the 27th-best offensive tackle in the league, according to Pro Football Focus. But injuries have been a bit of a problem and to make matters worse for Baker, there is a deep pool of offensive tackle talent heading to market this March. Re-signing with the Falcons could be the most likely outcome here.
49. Keenan Lewis, CB, Pittsburgh Steelers: The 26-year-old from Oregon State started just one game during his first three years in the league before being thrust into action for 16 starts in 2012, where he made a name for himself as a physical presence on the Pittsburgh defense. Although he failed to record a single interception last season, Lewis rolled up 69 tackles and 23 pass deflections while limiting opposing quarterbacks to a passer rating of 80.7 when throwing in his direction. The cash-strapped Steelers will try their best to retain Lewis' services, but that doesn't mean he won't have the opportunity to hit the open market coming off a very respectable season.
50. Dunta Robinson, CB, Atlanta Falcons: