March 05, 2013 -
Joe Fortenbaugh
The only guarantee is that there will be more guarantees
It was only a matter of time before somebody said it. Before somebody threw statistics, probability and luck aside and uttered the most overused, least-fulfilled declaration in professional sports. It's a statement that comes in the form of a promise, which should instead be interpreted as an act of bravado.
In a tweet posted early Tuesday morning, two-time Pro Bowl linebacker Von Miller issued a guarantee that his Denver Broncos will win the Super Bowl. Per Mark Kiszla of the Denver Post, Miller is dedicating the 2013 season to his cousin, Jeremiah, who was recently injured in a car accident. Thankfully, Jeremiah pulled through and emerged from his coma on Monday, prompting an excited Miller to put the rest of the league on notice: 2013 is Denver's year.
I love Miller's enthusiasm. I love his work ethic and his confidence. But I hate the fact that he had to use the "g" word. Anything but the "g" word.
Guaranteeing a win in professional sports is as played out as a WBC championship bout. It no longer carries any level of respectable significance. We can thank the Rex Ryans of the world for that. We can thank them for taking something that was at one time so original, so classic, so cool, that they just had to make like an unwanted Hollywood sequel and ruin it for everybody.
The original guarantee, the only guarantee ever worth mentioning, was so impromptu and so perfect that it will forever be known as "The Guarantee." When one performs an act so sensational, so legendary, society bestows upon it its own moniker. There, amongst sporting lore, is where it should remain, never to be duplicated.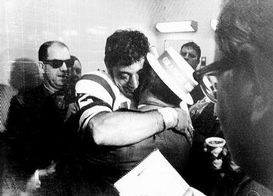 Joe Namath backed up his statment and delivered New York a Super Bowl victory.
The year was 1969 and the eyes of the nation were focused on South Florida. Johnny Unitas and the 18-point favorite Baltimore Colts were preparing for Super Bowl III against an inferior AFL organization known as the New York Jets and their brash young quarterback, Joe Namath. Nobody gave the Jets a shot in hell. Former NFL star Norm Van Brocklin went so far as to say, "This will be Namath's first professional football game."
So what happens next? Three days before the now legendary showdown, an inebriated Namath responds to a heckler in Miami by stating, "We're going to win Sunday. I guarantee it."
Namath drops the "g" word for the first time in professional sports history. Perhaps it was because he was drunk, perhaps it was because he was truly convinced the Jets would win. But as a staggering 18-point underdog, it was unlikely that many shared the same sentiment.
Three days later, Namath makes good on his promise by throwing for 206 yards while guiding the Jets to a 16-7 Super Bowl win where he was named the game's Most Valuable Player. Super Bowl III still stands as one of the greatest upsets in football history, while Namath's guarantee remains one of the sport's signature moments.
Maybe Von Miller's statement comes true and the Broncos win the Super Bowl. Maybe they don't. And while I'll never fault a guy like Miller for exuding confidence in his team, I just wish he would have gone about it a different way.
Namath's movie doesn't require a sequel. It never did. "The Guarantee" had its moment and that's preciously where it belongs, as a moment in history with which we remember fondly.
Jaws and Caddyshack didn't need sequels, either. Those movies were perfect. But that didn't stop Hollywood from dropping the ball the second time around.
Hit me up on Twitter: @JoeFortenbaugh