February 16, 2012 -
Joe Fortenbaugh
The party starts at No. 2
At its core, The Spy Who Came in from the Cold is a Cold War fiction novel about espionage and counter-intelligence tactics used by the British in post-World War II Berlin. The book details a cryptic plot by the British Secret Intelligence Service to plant one of their own within the ranks of the East German Communists.
Two sentences into this article (a new record!) and you may already be asking yourself what in the hell I'm talking about. Those of you who have stumbled across my work before are likely familiar with the unimpressive foreplay I engage in prior to reaching my point.
With draft season officially underway and the NFL Combine set to kick-off in Indianapolis next week, 32 NFL front offices will soon—if they haven't already—begin the process of implementing counter-intelligence tactics in an effort to carefully protect their clandestine interests. The methods used by front office personnel in preparation for draft day certainly aren't as elaborate as what was practiced during the Cold War, but you'd be surprised how far a little misinformation can go in getting the rest of the league to think jab when you're storming in for the uppercut.
Which brings us to the St. Louis Rams, new head coach Jeff Fisher and the No. 2 overall draft pick. Under the widely-believed assumption that the Colts will take Stanford quarterback Andrew Luck with the first overall selection, the Rams currently find themselves in a position of power.
With Luck off the board, a few high-profile prospects have entered the crosshairs of several NFL teams looking to address a big need. The Rams have the option of standing pat on draft day and selecting one of these high-profile players, or they could trade down, acquire more picks and still land a big-name talent.
In either scenario, expect St. Louis and several of the teams drafting behind them to channel their inner Alec Leamas in an effort to secure the best deal possible.
THE TARGET
Robert Griffin III, Quarterback, Baylor Bears: An explosive combination of electrifying athleticism and intelligence, RGIII is easily the most intriguing prospect in this year's draft class. He can sell jerseys, put asses in the seats and bring hope to any quarterback-starved fan base in need of a Pulp Fiction-style adrenaline shot to the heart. Dude rolled up 5,199 total yards and 47 touchdowns en route to the Heisman Trophy last season and is widely regarded as the top quarterback prospect after Luck.
Some even think he's better.
THE AGENTS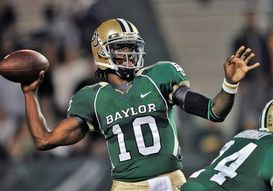 ICONDon't expect RGIII to last until the fourth pick on draft day.
Cleveland Browns (4th pick): Colt McCoy is a nice story, but the Browns need to move in a different direction with Usain Bolt-type speed if they want to give their fans—and offense—something to get excited about. According to mock drafters the world over, this is Griffin's most likely landing spot.
Washington Redskins (6th pick): They're apparently the frontrunners for some guy coming off four neck surgeries, so Shanny and the 'Skins could be out of play come April. With an unimpressive depth chart consisting of Rex Grossman and John Beck that screams "I'm not renewing my season tickets," don't be shocked if Washington gets aggressive in the Griffin sweepstakes should they decline to bring in Manning.
Miami Dolphins (8th or 9th pick): They haven't had a quarterback worth talking about since Dan Marino and passed when given the opportunity to sign Drew Brees. With former Green Bay offensive coordinator Joe Philbin taking over for Tony Sparano, the time is now to land a talented rookie signal-caller this team can build around.
THE EXECUTION
If RGIII aces the draft process, there's no chance he's on the board at No. 4 when Cleveland hits the clock, meaning the Rams hold a King Kong Bundy-amount of leverage if they want to move down in the draft. The Browns are only two spots back and have the ammo—thanks to Atlanta—necessary to make a deal. The only question left is whether or not Cleveland is capable of closing.
THE TARGET
Justin Blackmon, Wide Receiver, Oklahoma State Cowboys: A powerful pass-catcher with game-changing abilities that will strike fear into the hearts of opposing defensive coordinators, Blackmon is this year's most coveted wide receiver prospect. He turned eight receptions in the 2012 Fiesta Bowl into 186 yards and three touchdowns. Even by employing a healthy dose of double coverage, Stanford was completely incapable of slowing this guy down.
THE AGENTS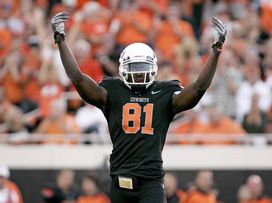 Blackmon's skill set has him at the top of the class for wide receivers.
Washington Redskins (6th pick): Should they land a capable-of-playing-in-2012 Manning, why not add some more firepower to the offense in an effort to keep pace with division rivals Philadelphia, New York and Dallas? Santana Moss turns 33-years-old in June and this unit scored 17 or fewer points in seven games last season. What good is having a quarterback if he has nobody to throw to?
Jacksonville Jaguars (7th pick): With problem areas on both sides of the ball, the Jags could go in any number of directions with the seventh overall pick. But outside of Maurice Jones-Drew, how many players on this team can you name off the top of your head? Jacksonville ranked dead last in the NFL in total offense last season and averaged just 15.2 points per game. Hopefully this organization won't waste MJD's talent the same way St. Louis is wasting Steven Jackson's.
Carolina Panthers (8th or 9th pick): Think about what this team could accomplish over the next ten years with Cam Newton throwing the ball to Justin Blackmon. Scary.
THE EXECUTION
Matthew Stafford wouldn't be Matthew Stafford without Calvin Johnson, so there's a good chance Blackmon is headed to St. Louis to give quarterback Sam Bradford the first legitimate pass-catcher of his career. Don't count out the Cleveland Browns, as Mike Holmgren and Pat Shurmur may feel confident enough in Colt McCoy to give him one more season. Moving up for a marketable weapon that the fans might actually cheer for makes too much sense for the Jaguars, so we can go ahead and rule them out.
Hit me up on Twitter: @JoeFortenbaugh