December 31, 2012 -
Joe Fortenbaugh
The party starts on Saturday
It seems only fitting that Black Monday in the NFL comes on the final day of the calendar year. 2012 draws to a close at the same time the tenures of several head coaches and front office personnel conclude, making way for new blood to try and right the ships in several NFL cities around the country.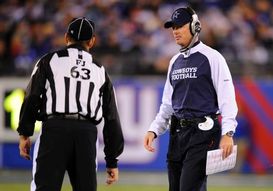 ICONWho gets the blame? Garrett? Romo? Or both?
But before we take a look at the first wave of playoff games scheduled to dominate living rooms around the globe this coming weekend, I want to ask the Dallas faithful what they think about the status of head coach Jason Garrett. All 32 teams in league share the exact same goal: To win the Super Bowl. But for the second consecutive season, Garrett has come up on the wrong end of a win-and-in regular season finale against a divisional opponent.
If Garrett can't win these games, what makes Cowboys owner Jerry Jones confident he can win the three or four battles it takes to hoist the Vince Lombardi Trophy?
I fully understand why head coaches like Andy Reid and Norv Turner were sent packing, but why is Garrett still running the show in Big D? Do all you Cowboys fans out there think this guy is capable of closing the deal?
That's my rant for the day. Have a safe and happy New Year's Eve and let me know in the comments section which of the following bets you plan on making.
UPDATED SUPER BOWL ODDS (courtesy of Jeff Sherman and the excellent staff at the LVH in Las Vegas)
Denver Broncos: 5/2
New England Patriots: 5/2
San Francisco 49ers: 9/2
Atlanta Falcons: 6/1
Green Bay Packers: 9/1
Seattle Seahawks: 9/1
Houston Texans: 20/1
Baltimore Ravens: 25/1
Washington Redskins: 25/1
Cincinnati Bengals: 50/1
Minnesota Vikings: 80/1
Indianapolis Colts: 100/1
Thoughts: Betting the Super Bowl futures market at this point in the season is all about finding A) Value and B) A team capable of providing hedge opportunities. The value is long gone on Denver, New England and San Francisco and we'll pass on the Vikings, Bengals, Redskins and Ravens. We fired on Seattle a few weeks back, so the Seahawks are a pass in this spot as well, especially at 9/1 with a road wild card game. So which teams are we left with? I'd take a look at Green Bay (9/1) and Houston (20/1) and am more than willing to fire a little on the Colts at 100/1. I think Indy has a legitimate shot of escaping Baltimore with a win, giving us a hedge opportunity with New England the following weekend.
THE LINEUP
Cincinnati Bengals (10-6, 6-2 road) at Houston Texans (12-4, 6-2 home)
When: Saturday, 4:30pm ET
Open: Houston -5
Current: Houston -4.5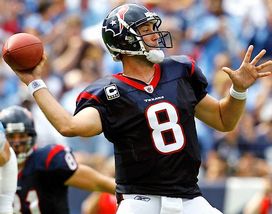 Can Schaub and the Texans rebound now that the playoffs have arrived?
Analysis: Talk about two teams heading in different directions. The Bengals are 7-1 both straight-up and against the spread over their last eight games while the suddenly slumping Texans have dropped three of four and have failed to cover the number in five of their last seven outings. Momentum and confidence issues aside, the big problem in Houston at the moment is that their once stout defense is leaking like a sieve, having surrendered an average of 26.8 points per game over their last seven outings. You have to question the Texans' mindset in this spot after watching home field advantage and a first-round bye fly out the window with a lackluster effort at Indianapolis on Sunday. With the early money coming in on the red-hot Bengals as another factor worth noting, it's going to be tough to lay the points with this sluggish Houston squad.
Take note: Cincinnati is 4-0 ATS over their last four road games while Houston is 11-5-2 ATS over their last 18 home games.
Early wagering thoughts: Cincinnati in a 6-point teaser.
Minnesota Vikings (10-6, 3-5 road) at Green Bay Packers (11-5, 7-1 home)
When: Saturday, 8:00pm ET
Open: Green Bay -7.5
Current: Green Bay -8
Analysis: I absolutely love Green Bay in this spot. The Vikings had to spill their guts on Sunday to qualify for the postseason and now have to turn around and face this same divisional foe on the road six days later. Minnesota is 0-4 both straight-up and ATS in outdoor games this season and is just 1-5 ATS over their last six trips to Green Bay. On the other sideline stands a Packers team that is 8-1 ATS over their last nine games following a loss and 22-8 ATS over their last 30 games on grass. Lastly, take note of the following Minnesota stats from the 2012 regular season:
Vikings at home: 7-1, 26.2 points per game, 20.6 points per game allowed
Vikings on road: 3-5, 21.1 points per game, 22.8 points per game allowed
Take note: Minnesota is 4-0 ATS in their last four games overall while Green Bay is 12-4 ATS in their last 16 games against teams with a winning record.
Early wagering thoughts: Green Bay -8 and Green Bay in a 6-point teaser.
Indianapolis Colts (11-5, 4-4 road) at Baltimore Ravens (10-6, 6-2 home)
When: Sunday, 1:00pm ET
Open: Baltimore -6.5
Current: Baltimore -6.5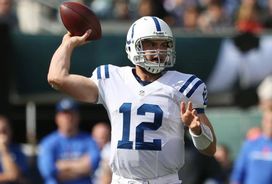 Andrew Luck and the Colts are looking to shock the world.
Analysis: Another matchup featuring two teams on opposite paths. The Ravens enter the postseason having dropped four of their last five both straight-up and against the spread while the streaking Colts have come out victorious in nine of their last 11 with an impressive 11-5 ATS mark for the season to boot. You can't discount the emotional factor in this one, as Chuck Pagano is back on the sidelines for Indy and star linebacker Ray Lewis is expected to return for Baltimore. The Colts are 6-2 ATS over their last eight games following a straight-up win while the Ravens are 3-8 ATS over their last 11 home games. We can see this game going either way.
Take note: Indianapolis is 8-2 ATS over their last ten games against AFC opponents while Baltimore is 5-1 ATS over their last six wild card games.
Early wagering thoughts: Indianapolis in a 6-point teaser, Indianapolis on the money line.
Seattle Seahawks (11-5, 3-5 road) at Washington Redskins (10-6, 5-3 home)
When: Sunday, 4:30pm ET
Open: Seattle -1.5
Current: Seattle -3
Take note: The biggest line move for the first round of the playoffs at the current moment, the early money is pouring in on the road team as Seattle has already moved from -1.5 to -3 in less than 24 hours. Both teams have been on an absolute tear, with the Seahawks winning seven of their last eight and going 6-2 ATS in the process and the 'Skins winning and covering in each of their last seven outings. Keep in mind that the Redskins are just 2-8-4 ATS over their last 14 games after accumulating less than 150 passing yards in the previous game and come into thi s showdown having spent everything in the tank to get by Dallas this past Sunday. In addition, stud quarterback Robert Griffin III looks to be playing at less than 100% due to a knee injury sustained a few weeks back. The Seahawks have a history of struggling away from the confines of CenturyLink Field, but you have to note the fact that Seattle has won and covered in each of their last two road contests.
Take note: Seattle is 6-0 ATS over their last six outings against teams with a winning record while Washington is 4-0 ATS over their last four home games.
Early wagering thoughts: We bought a futures ticket on Seattle to win the Super Bowl a few weeks back, so there is a small hedge opportunity here. We'll keep you posted.
Hit me up on Twitter: @JoeFortenbaugh