March 06, 2013 -
Joe Fortenbaugh
The perfect fit?
After a jab-you-into-submission 672 receptions in 93 regular season games with the Patriots, it appears as if the curtain may be coming down on wide receiver Wes Welker's career in New England. The Patriots balked at the $11.4 million cost of applying the franchise tag to the 31-year-old, five-time Pro Bowler, and with long-term contract talks breaking down between the player and team as of Wednesday morning, it looks like Welker will be free to test the open market beginning March 12.
Having accounted for 27.9% of Tom Brady's targets and 29.9% of the quarterback's receptions from 2011-2012, Welker's departure would leave a gaping hole in the New England offense. Wideout Brandon Lloyd is likely headed for a new city and tight ends Aaron Hernandez and Rob Gronkowski had problems staying healthy during the 2012 regular season. With the team's most reliable and consistent pass-catcher possibly on his way out the door, where could New England turn for help?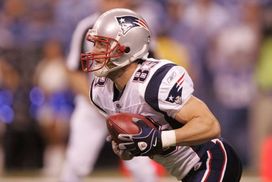 ICONAll signs currently point to Wes Welker testing the free agent waters.
The odds-on favorite at the moment is St. Louis Rams wide receiver Danny Amendola.
Like New England decided with Welker, the Rams opted against using the franchise tag on Amendola, which would have carried a price tag of $10.537 million for the 2013 season. And while St. Louis could hit Amendola with the transition tag at a cost of $8.867 million for the right to match any offer, it's beginning to look more and more likely that the wide receiver will enter the market next week.
The similarities between the two players are striking. Both are precise route-runners who line up primarily in the slot. Both went undrafted out of Texas Tech. Welker stands at 5-9 and weighs 185 pounds while Amendola checks in at 5-10 and 188 pounds. Welker was 26-years-old when he made his first start for the Patriots. Amendola is currently 27-years-old. Both receivers do their best work over the middle of the field between 0 and 9 yards. 45.7% of Welker's 2012 receptions and 36.5% of Amendola's 2012 receptions took place in this location, which is more grabs than either player made at any other spot on the gridiron.
But collegiate ties, size and age aside, take a look at the numbers in the following graph which show Amendola's production since joining the Rams in 2009 and Welker's numbers prior to landing with the Patriots in 2007:

Amendola may appear to have the edge, but you have to remember that prior to joining the Patriots, Welker had made just three career starts and was somewhat underutilized during his stints in San Diego and Miami. Amendola has made 17 starts since joining the Rams and was the team's most integral and reliable receiver in 2010 and 2012 (appeared in just one game in 2011 due to injury). If he could amass that type of production playing with Sam Bradford in St. Louis, imagine what could happen lining up with Tom Brady in New England?
Let's take a look at Amendola's most productive season and compare it with Welker's best campaign prior to joining the Patriots:
Amendola (2010): 85 receptions, 689 yards, 8.1 YPC, 3 touchdowns
Welker (2006): 67 receptions, 687 yards, 10.3 YPC, 1 touchdown
Again, Amendola comes away with the edge due in large part to playing a bigger role with his respective team. Welker's 6-10 Miami squad from 2006 was quarterbacked by Joey Harrington, Daunte Culpepper and Cleo Lemon. Despite the unimpressive array of signal-caller talent, Welker led the Dolphins in receptions that season.
This information certainly fails to earn a spot in the "groundbreaking" category, but it does serve to highlight why so many are speculating that Amendola could become Welker's successor in New England. The Patriots would have a very specific need that Amendola appears more than capable of filling.
As always at this time of year, the question comes down to money. Will the Rams pony up to keep Amendola on the roster, or will the 27-year-old enter the market and begin negotiating with New England, assuming Welker exits stage right?
We'll find out soon enough.
Hit me up on Twitter: @JoeFortenbaugh