February 25, 2011 -
Joe Fortenbaugh
The public thinks Cam Newton will break 4.6
INDIANAPOLIS—It's a question that has drawn quite a bit of interest over the past few weeks: Just how fast is former Auburn quarterback Cam Newton?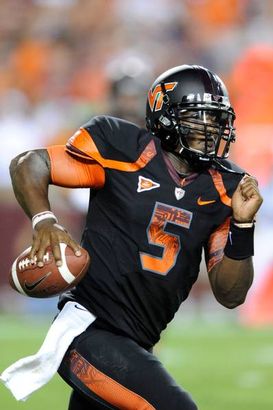 ICONIs Tyrod Taylor faster than Cam Newton?
According to the public, very fast.
As of the current moment, the most popular combine prop bet at Sportsbook.com is whether or not the 2010 Heisman Trophy winner will break 4.6 in the 40-yard-dash, with approximately 75% of the public backing the UNDER.
However, while the betting public thinks that Newton will turn in a fast time during Sunday's positional workouts, they don't think it will be enough to top former Virginia Tech quarterback Tyrod Taylor.
Per Sportsbook.com, 70% of the public is betting that Taylor (-140) will come in faster than Newton (+110).
Which player would you back?
Hit me up on Twitter: @JoeFortenbaugh