October 06, 2010 -
Joe Fortenbaugh
The Randy Moss aftermath
After scoring 50 touchdowns in 52 regular season games with the New England Patriots from 2007-2010, Pro Bowl wide receiver Randy Moss has been traded to the Minnesota Vikings.
Unless you've been hanging out with Marty McFly and Doc Brown back in the year 1955, you've already heard the news. But we're not here today to discuss what has already happened.
We're here to discuss what's going to happen (Grays Sports Almanac-style).
Let's take a look at the fantasy winners and losers from Wednesday's trade and break down the current stock values of Minnesota and New England's key offensive weapons.
Side Note: As a tribute to one of the greatest NFL receivers of the current era, we'll be throwing some of our favorite Randy Moss highlights into the mix today as well.
The Winners
Brett Favre, QB, Minnesota Vikings: The addition of Moss to the Minnesota offense gives Favre a legitimate outside receiving threat that can stretch the field vertically and open up the defense. In addition, the Pro Bowl receiver's presence will be felt more than in his own, personal stat line. Moss will make everyone around him better as opposing defenses will now be forced to account for and defend one of the game's most lethal deep-ball wideouts. Favre is currently averaging just 6.2 yards per attempt this season (25th in NFL). With Moss in the mix, expect that number to head north to around 7.9 YPA—which is what the Gunslinger averaged last year with a healthy Sidney Rice.
Adrian Peterson, RB, Minnesota Vikings: I've been reading about how Peterson is about to "become nasty" now that the Moss acquisition will prevent opposing defenses from stacking seven and eight defenders in the box. Really? I was under the impression that All Day was already nasty, since the guy currently ranks third in the NFL in rushing (382 yards) despite playing one less game than the two backs ranked ahead of him (Foster, Mendenhall). A.P. is currently averaging 23.3 rushing attempts per game, so owners should expect that number to fall off towards the 19.6 attempts he averaged last season now that Minnesota will have the luxury of throwing the football more. However, the upside here is that A.P. will be given more opportunities to punch it into the end zone. The Vikings currently rank 30th in the league in scoring offense (14.3 pts/gm), but finished the 2009 season ranked second (29.4 pts/gm) when they had a top-flight passing attack. 2009 also happened to be the year that Peterson set a career-high for rushing touchdowns in a season, with 18.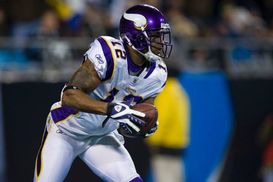 ICONDespite the competition for targets, Harvin's stock is on the rise.
Percy Harvin, WR, Minnesota Vikings: The arrival of Moss allows Harvin to revert back to his natural position—as an inside slot receiver. Some of you may think the second-year wideout is in for a decrease in targets and thus, won't be as valuable. In fact, the actual situation is the complete opposite. Think of Davone Bess in Miami. Bess has been successful due to the fact that opposing defenses have been working to limit No. 1 wideout Brandon Marshall, leaving the middle free for Bess to exploit. The same situation is going to apply now in Minnesota, with Harvin playing the role of Bess. In reality, Harvin owners are actually advised to start getting excited. As an outside receiver with no true No. 1 on the field this season, Harvin is averaging just 8.8 yards per reception. Last season as a slot guy, the former Florida standout averaged 13.2 yards per reception. Good times are here again.
Brandon Tate, WR, New England Patriots: Never heard of Tate? That's ok. Just head to the waiver wire ASAP and pick him up. Why, you ask? Because with Moss out of the fold in New England, Tate stands to be the receiver that steps into the outside role for quarterback Tom Brady. The second-year wideout from North Carolina has only caught 11 passes for 135 yards in two starts this year, but those numbers are about to rise with the influx of targets the 23-year old is going to see coming his way. And if you're concerned about Tate having only caught 11 passes so far this season, keep in mind that Moss has only hauled in nine total receptions on the year. If Brady could turn Deion Branch and Troy Brown into legitimate receiving options, he can do the same for Tate.
Aaron Hernandez, TE, New England Patriots: There's a big reason why Bill Belichick and the New England Patriots weren't too concerned about losing Moss. Think about it: This deal got done in roughly 24 hours, while the Chargers tried and failed over the course of two months to move Vincent Jackson. Rookie tight end Aaron Hernandez (Florida) is one of the big factors as to why the Patriots aren't sweating the departure. Hernandez is an athletic, play-making tight end that can be lined up in the slot to create mismatch problems for opposing defenses. To date, the rookie ranks 11th in scoring among fantasy tight ends (18-240-0), is tied for 67th in the league in targets (20) and is about to become a much more integral part of the New England passing attack. The best part is that this guy could still be available on waivers in your fantasy league.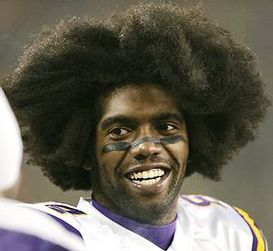 Will the afro make a return now that Moss is back in Minnesota?
Randy Moss, WR, Minnesota Vikings: This is obviously a win for Moss. He was unhappy in New England (yeah, it really sucks having Tom Brady throwing you the football) and has only caught nine passes in four games. The move back to Minnesota should refocus the Pro Bowl wideout and lead to increased effort on the playing field, which is the only thing that has been able to slow this guy down during his illustrious career. Moss owners should be feeling good right now.
The Philadelphia Phillies: You're right, this has nothing to do with fantasy football. But my Philadelphia Phillies are sending Doc Halladay to the bump tonight as the two-time defending National League Champions begin their march towards a third-straight Wor ld Series appearance. I had to give them a shout out.
The Neutrals
Tom Brady & Wes Welker, QB & WR, New England Patriots: Brady owners are worried because their starting QB lost his best deep-ball threat. Welker owners are in a panic because they think opposing defenses will be game-planning specifically to stop White Lightning. We're here to tell you that it's ok to relax, because everything is all good. Remember, this is the same Tom Brady that averaged 3,743 passing yards and 25.8 touchdown passes during the five-year span prior to the arrival of Moss and Welker. He's going to keep producing. In regards to Welker, all you have to know is that he plays for Bill Belichick, who is the master at using multiple personnel packages in an effort to get the ball into the hands of his playmakers. These two shouldn't miss a beat.
The Losers
Sidney Rice (owners), WR, Minnesota Vikings: Notice I said "owners," because any of you that have been hanging on to Rice in the hopes of reaping some late-season rewards just took a big hit. The Vikings have obviously been in panic mode the last few weeks in an effort to bolster their passing attack so that the $20 million they gave to Favre this season doesn't turn out to be a total waste. But consider this: What if part of the panic was related to the fact that Rice may not be recovering the way the organization had hoped? Minnesota went balls-out trying to acquire Vincent Jackson from the Chargers and when that failed, they were apparently the only players in the Randy Moss sweepstakes. Even if this theory turns out to be incorrect, once Rice returns, he will no longer be the No. 1 in Minnesota, which will limit his chances of producing numbers similar to what he put up in 2009.
Bernard Berrian, WR, Minnesota Vikings: Berrian was a loser before the trade and with Moss now in the mix, he's headed to the bench (or possibly the unemployment line). The Sidney Rice injury gave this guy a golden opportunity to make a name for himself in the NFL. He responded by catching five passes for 38 yards and no touchdowns in three games. Good riddance.
Visanthe Shiancoe, TE, Minnesota Vikings: With no viable No. 1 receiver in the lineup, Shiancoe has been averaging 5.6 targets per game in 2010, which is up from his 4.9 average last season. Owners should expect Favre to look his way a bit less now that Moss is on the field, but the increase in offense and red zone opportunities should lead to more touchdowns for the Big V. All in all, this one is more of a wash than a loss.
The Cincinnati Reds: The Little Red Machine is staring down the barrel at a pitching lineup that features Roy Halladay, Roy Oswalt and Roy Hamels (he's required to change his name to fall in line). No chance they come out on top in this one.
Hit me up on Twitter: @JoeFortenbaugh
Win cash today playing fantasy football with the NFP and FanDuel.