January 25, 2013 -
Joe Fortenbaugh
The real storylines of the 2013 Super Bowl
This weekend marks the commencement of the annual pilgrimage made by media members from around the globe to the Super Bowl host city. Their job? To thoroughly cover, analyze and opine every day from now until the clock hits 00:00 and the world's biggest sporting event comes to a conclusion.
The sixty minutes it takes to complete the game pales in comparison to the thousands of man hours that will be spent over the next week dissecting what could, should and will happen on February 3. We want our analysis and we want it now!
Consider this article your Super Bowl Media Primer. Today we're going to preview the stories that will dominate the headlines over the next week, along with the storylines that should get more attention than they ultimately will.
What they'll be talking about: It's the Harbowl!
What they should be talking about: Jim's decision to ride with Colin Kaepernick, John's decision to fire Cam Cameron.
Why: We get it. The men charged with coaching this year's Super Bowl participants happen to be comprised of the same genetic material. Stephen and Billy Baldwin come from the same gene pool as well, but that doesn't mean I plan on watching any of their movies in the near future.
Instead, our focus should lie with the season-altering decisions made by both brothers that paved the way for a trip to New Orleans. Jim shocked the country when he sent veteran Alex Smith to the bench in favor of the unproven Colin Kaepernick, who only helped to fan the flames that a new era of NFL football is upon us. In nine games under Smith, the 49ers averaged 23.6 points per game. In the nine games the team has played with Kaepernick under center, San Francisco is averaging 28.5 points per game, which includes marquee playoff wins over Aaron Rodgers and the Packers and Matt Ryan and the Falcons.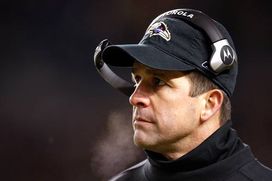 Question: John, how does it feel to be coaching against your brother in the Super Bowl?
In Baltimore, John sent offensive coordinator Cam Cameron packing after a 31-28 loss to the Washington Redskins back in December, replacing him with former Indianapolis Colts head coach Jim Caldwell. The Ravens were scoring 25.4 points per game with Cameron calling the plays and have seen an uptick to 26.1 points per game with Caldwell running the show.
But more importantly, the switch to Caldwell has led to a surge in production from quarterback Joe Flacco, who has thrown eight touchdown passes with no interceptions in three postseason starts, good for a QB rating of 114.7.
Instead of discussing how Jim and John spent their youth arm wrestling one another, let's devote our time to talking about how good these guys really are, regardless of what their DNA says.
What they'll be talking about: Ray Lewis' final NFL game before retirement
What they should be talking about: The man Lewis became after that January night in 2000.
Why: Lewis' announcement that 2012 would be his final NFL season was met with mixed emotions. Some shuddered at the thought that the league was losing one of the greatest defenders to ever play the game, while others denounced the heartfelt reaction given to the linebacker's ever-growing list of achievements. The man was brought up on murder chargers, they said. We shouldn't treat him as a hero.
But there's a lesson to be learned from all of this. Love him or hate him, you have to respect the man Lewis became after the murder trial. Facing a fork in the road where one path led to darkness and the other to light, Lewis opted to grow up, change his ways and become a man.
Second chances are rare, but they do happen. Ray Lewis got one and he made the most of it. In a situation where so many professional athletes have made the wrong decision and continued down that shadowy road to oblivion, Lewis matured before our eyes, setting an example for everyone around him.
The man has made mistakes, just like we all have. How he chose to respond and the man he has become since are worthy of acknowledgment.
What they'll be talking about: Colin Kaepernick, the pistol offense and the "new NFL"
What they should be talking about: Joe Flacco
Why: No disrespect to Kaepernick, because his story is most definitely worth telling. I just happen to be a bigger fan of the storyline surrounding Joe Flacco.
We've seen this play out before our eyes in the past with sensational results. The quarterback lacking the movie star looks and charisma declares himself to be worthy of elite status. The nation laughs. With nobody paying any attention, the quarterback grinds his way into the postseason, knocks off a rising star and future Hall of Famers in the process and goes on the win the Super Bowl. Elite status cemented.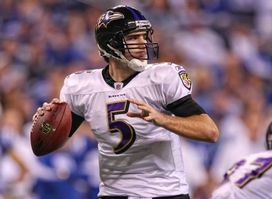 ICONJoe Flacco's big moment has finally arrived.
Eli Manning did it in 2008. Joe Flacco has a chance to do it in 2013.
This was supposed to be Flacco's year and after shredding the Cincinnati Bengals on national television back in Week 1, the Baltimore quarterback looked to be on his way. But costly interceptions, missteps on the road and an overall lack of explosive play had us thinking that Flacco would never take that elusive next step. The guy had reached his peak and there was nowhere to go but down.
Dropping four of five to close out the regular season had many thinking that upstart Indianapolis and star rookie quarterback Andrew Luck were poised to upset the Ravens in the Wild Card round of the playoffs. Instead, Joe Flacco rose to the occasion and gave the boot to Luck, as well as Peyton Manning and Tom Brady on their own turf, to earn his spot in Super Bowl XLVII.
Joe Flacco is in a contract year and his spectacular postseason play is going to lead to a financial windfall in the offseason. But think about what could happen to this guy's life if he comes up roses one week from Sunday? Colin Kaepernick is only 25-years-old and has a very bright future in front of him.
Joe Flacco is 28-years-old and is standing on the doorstep, with an opportunity to tell every non-believer, "I told you so."
Hit me up on Twitter: @JoeFortenbaugh