February 01, 2011 -
Joe Fortenbaugh
The rundown from Media Day
DALLAS—The annual interview frenzy known as "Super Bowl Media Day" took place Tuesday at Cowboys Stadium in Arlington. In the past, this event has opened up the floodgates for any yahoo with a camera to make an ass out of himself (or herself) on national television, much to the delight of anyone seeking some form of entertainment prior to the final football game of the season.
Such previous treasures from Media Day include a reporter asking Redskins signal-caller Doug Williams, "How long have you been a black quarterback?"
Thankfully (depending how you look at it), this year's Media Day was a bit tamer as the Green Bay Packers and Pittsburgh Steelers got in, did their thing and got out.
Here's the rundown from Dallas…
The cold-ass weather was the hot topic as the media awoke Tuesday morning to find a pleasant mixture of snow and ice on the ground in Big D. Anyone caught looking ahead to next year's Super Bowl quickly realized that Indianapolis offers the same beaches and lack of sunshine that can be found here in Texas.
Working the Super Bowl is one thing. Even if the weather is nice, you don't have much time to enjoy it. But what about the fans that shell out $3,000 for a single ticket to watch their team play? This is supposed to be a vacation for the fans, although last time I checked, vacations involved fruity alcoholic drinks with umbrellas. Not skin-piercing winds and slushy sidewalks.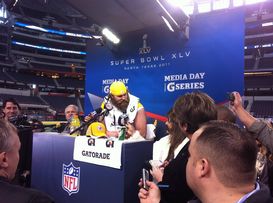 The Beard.
Steelers defensive end Brett Keisel's beard continues to dominate everything in its path. That damn thing is so thick that I wouldn't be surprised if it could be used as a third arm when Keisel tries to bull-rush from the five-technique. I even heard a rumor that he lost a ChapStick in that forest.
Packers cornerback Tramon Williams said that Eagles wide receiver DeSean Jackson is the fastest player he's ever gone up against. That question obviously preceded a question about the Steelers' Mike Wallace and his ability to get vertical down the field. Williams spoke highly of the Pittsburgh receivers and also gave credit to former Packer Al Harris for aiding in Williams' development.
"James Harrison"
-Was the response I got when asking Packers OT Chad Clifton which Steelers defender jumps out on tape.
Speaking of Harrison, the Pittsburgh linebacker once again spent a portion of his time fielding questions about the fines he amassed this season. You could tell by watching and listening to Harrison that the guy feels he is being singled-out by the league.
When someone mentioned that Bears DE Julius Peppers had only been fined $10,000 for his hit on Aaron Rodgers during the NFC Championship game, Harrison responded, "Not me." (Meaning, since it wasn't him who delivered the hit, the fine wasn't going to be as much).
"When it doubt, we air it out!"
-Greg Jennings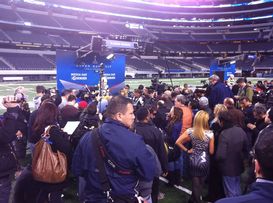 The quarterbacks drew the biggest crowds at Media Day.
Cincinnati Bengals wide receiver Chad Ochocinco was in attendance and asking questions. Ocho spoke so quietly that I was never able to make out what he was saying, but he got his questions answered. This season the loquacious wideout went solo at Media Day, whereas last year he had that whole "OCNN" news team with him.
"I'm a smooth, big guy. Not a big, fat, big guy."
-Casey Hampton
Contrary to the beliefs of a few reporters, Steelers head coach Mike Tomlin will NOT miss Thursday's episode of "The Jersey Shore."
Hines Ward on retirement: "Until Coach Tomlin says he doesn't need my services, I'm going to keep playing."
Steelers safety and newly-crowned Defensive Player of the Year Troy Polamalu spoke with great pride about the Pittsburgh defense. Polamalu said that the Steelers D tries to control the flow of the game. Trailing Baltimore 21-7 at the half of their AFC Divisional Round matchup, Polamalu told the defense, "We gotta get this game under control."
Keep in mind that the Pittsburgh defense had only given up 98 total yards through the first two quarters of that game.
For those of you who were hoping for more drama, I apologize. I guess you'll just have to hope that these two really outstanding football teams give you something worth watching on Sunday.
Hit me up on Twitter: @JoeFortenbaugh