March 13, 2013 -
Joe Fortenbaugh
The Seahawks may not be done spending just yet
A pleasantly surprising 11-5 regular season campaign in 2012 that ended on a last-second field goal in the playoffs has many—including the Seattle front office—convinced that the Seahawks are on the cusp of winning a Super Bowl.
The organization rode a tidal wave of hype and momentum into the postseason and continued to build upon next season's expectations with the blockbuster trade that netted Pro Bowl wide receiver Percy Harvin.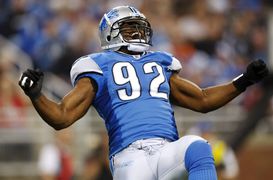 Avril could fill a major need for the Seahawks along the defensive line.</p>
So with the offense receiving a big upgrade at the beginning of the week, it looks like the Seahawks may be trying to add just as big a boost to the defensive side of the football as we approach the end of the week.
According to ESPN's Adam Schefter, free agent defensive end Cliff Avril has boarded a flight to Seattle and is on his way to meet with the Seahawks.
One of the marquee players in this year's free agent class, Avril has the versatility and athleticism to play either defensive end in a 4-3 system or outside linebacker in a 3-4 scheme. After losing DE Chris Clemons to an ACL tear in January's postseason win over Washington, the Seahawks are clearly interested in seeing if they can land Avril to fill the void.
What's interesting is that many expected Avril to be one of the first names off the board once the market opened up at 4:00pm eastern on Tuesday, but after Cleveland went shopping for Paul Kruger and Desmond Bryant, perhaps Avril and his agent didn't receive the lucrative contract offers they were expecting.
The 26-year-old pass rusher recorded 39.5 sacks during his five years in Detroit, including 20.5 sacks over the last two seasons. Playing in the noisy confines of CenturyLink Field, Avril could be a force to be reckoned with.
Update: Albert Breer of the NFL Network says the parties have reached an agreement and that Avril is on his way to Seattle to sign the contract.
Hit me up on Twitter: @JoeFortenbaugh