July 30, 2010 -
Joe Fortenbaugh
The T.O. effect
The Cincinnati Bengals sent shock waves through the NFL on Tuesday when they reached an agreement with veteran free agent wideout Terrell Owens on a one-year, $2 million contract with $2 million in incentives.
The move pairs the former Pro Bowler with loquacious wide receiver Chad Ochocinco and already has many speculating as to what kind of end zone celebrations—not to mention drama—these two are capable of producing in 2010. Two big playmakers, two big mouths, two big egos.
It's going to be an explosive year in Cincinnati.
But with training camps opening and double sessions getting underway, it's time to take a look at what kind of impact the Owens signing will have on the world of fantasy football. The Bengals are a hotbed of fantasy talent entering 2010 making it all the more important to have a solid understanding of what each player is currently worth now that Owens is in the fold.
To check out our complete lists of projections, scouting reports, rankings and more, CLICK HERE to purchase the 2010 National Football Post Fantasy Draft Guide.
Carson Palmer Quarterback Ht: 6-5 Wt: 235 Experience: 8th season
2010 Projected Stat Line: 325/511 (63.6%), 3,702 yards, 28 TDs, 13 INTs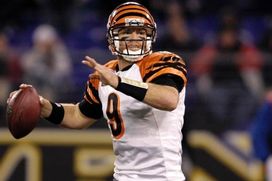 ICONWith a slew of new toys at his disposal, Palmer could be poised for a big season.
Breakdown: Palmer cracked the NFP's 2010 top-20 sleeper list prior to the Owens signing and we see no reason to pull him off it now that T.O. is in the mix. The 30-year old signal caller has four legitimate pass-catchers at his disposal in Owens, Ochocinco, Antonio Bryant and rookie tight end Jermaine Gresham. Owens' arrival will help to open up the field more this season by preventing opposing defenses from rolling coverage over the top of No. 85. In addition, a top-flight rushing attack led by the rejuvenated Cedric Benson will force Cincinnati's opponents to respect the run.
I know that many of you believe the Bengals will continue to be a run-heavy offense, but don't get too caught up in what you saw last season. Former Bengal Laveranues Coles failed to replace T.J. Houshmandzadeh as a legitimate No. 2 target, which made it more difficult for Cincinnati to produce a consistently effective aerial attack. In addition, the Bengals got very little production from the tight end position in 2009 and former No. 3 wideout Chris Henry appeared in just eight games.
Keep in mind that when Palmer had two legitimate wide receivers at his disposal (Ochocinco and Houshmandzadeh) during the 2005-2007 seasons, he averaged 534.6 passing attempts per year with the Bengals throwing the football 56.6% of the time.
Last season, Cincinnati ranked 28th in the NFL in pass to run ratio (50.0%). Expect that to change with a legitimate receiving unit now in place.
Chad Ochocinco Wide Receiver Ht: 6-1 Wt: 192 Experience: 10th season
2010 Projected Stat Line: 75 receptions for 1,075 yards and 8 touchdowns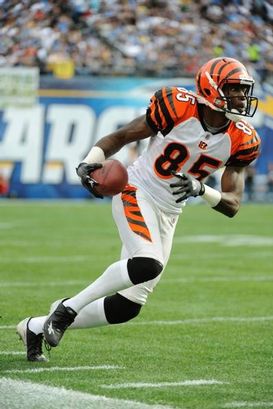 IconOcho has a new partner in crime with the addition of Owens.
Breakdown: Ochocinco bounced back from a miserable 2008 campaign last year by hauling in 72 receptions for 1,047 yards and nine touchdowns as the only serious receiving threat on the Cincinnati roster. Now that another legitimate receiving option will be joining him on the field, opposing defenses won't be able to pay as much attention to No. 85 as they did in 2009. NFP analyst and Bud Heavy aficionado Matt Bowen did an excellent breakdown on this subject earlier in the week.
Ocho's going to have an easier time this year as he won't be facing the same amount of double-teams that limited his production last season. However, the additions of both Owens and Bryant to the starting lineup will cut into his target totals, meaning his opportunities will take a slight hit in 2010.
Ochocinco's a top-20 fantasy wideout that will function very well as a solid WR2 on your roster. He'll have an easier time making plays this season, but that benefit will be somewhat mitigated by the fact that he won't see the 128 targets (17th in NFL) that came his way in 2009.
Antonio Bryant Wide Receiver Ht: 6-1 Wt: 211 Experience: 8th season
2010 Projected Stat Line: 57 receptions for 787 yards and 5 touchdowns
Breakdown: After signing a four-year, $28 million contract with the Bengals last March, it looked like Bryant was going to be in a nice position to emerge as one of the league's top No. 2 receivers in 2010. However, the former Tampa Bay Buccaneer is reportedly still having problems with his knee (the same one that limited him last season) and is rumored to have looked sluggish during Cincinnati's first practice this past week.
Look at it like this: You don't spend $28 million on a wide receiver just to go out and add Terrell Owens at the end of July. Something is up in Cincinnati and the Bengals are most likely concerned about Bryant's health entering the season. In addition, all indications point to Bryant being moved into the slot now that Owens will be lining up on the outside opposite Ochocinco.
Since Bryant will likely start the year as the No. 3 wideout on the Cincinnati depth chart, fantasy owners are advised to lower his draft stock to that of a later round pick. He's got some upside, but the knee injury and the addition of Owens will cut into his snaps and targets.
Jermaine Gresham Tight End Ht: 6-5 Wt: 261 Experience: Rookie
2010 Projected Stat Line: 35 receptions for 319 yards and 4 touchdowns
Breakdown: Anybody who watched the HBO series "Hard Knocks" last summer is well aware of the injury problems that plagued the tight end position in Cincinnati entering 2009, which made it no surprise when the Bengals selected Gresham in the first round of April's draft.
The former Sooner is a physical tight end with good hands that can run well down the seam and find the soft spots over the middle. Gresham caught 66 passes for 950 yards and 14 touchdowns in 2008 at Oklahoma, but had his 2009 campaign derailed by a knee injury. While all reports indicate that he is healthy and ready to go this season, keep in mind that Gresham hasn't played a meaningful snap of football in close to two years.
With Ochocinco, Owens and Bryant lining up on the field, Gresham's targets and opportunities will be somewhat limited in 2010, but don't be surprised if he emerges as a legitimate red zone threat for quarterback Carson Palmer. At 6-5, 261 pounds, Gresham is a mismatch nightmare for opposing linebackers and safeties.
Cedric Benson Running Back Ht: 5-11 Wt: 227 Experience: 6th season
2010 Projected Stat Line: 299 carries for 1,238 yards and 9 touchdowns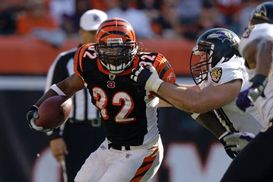 ICONBenson should make another serious run at 300 carries in 2010.
Breakdown: Despite the influx of talent at the wide receiver position, Benson is still going to be a workhorse back in 2010. The five-year veteran carried the ball 301 times last season even though he appeared in just 13 games. Benson is a powerful runner who excels at hitting the hole and lowering his shoulder to drop the boom on opposing linebackers.
However, fantasy owners should prepare for two things when evaluating Benson's potential in 2010. The Bengals are going to throw the ball more this season now that they have a top-flight receiving unit and don't be surprised if second-year running back Bernard Scott handles a portion of the workload. Scott picked up 321 yards on the ground last season, which included a 61-yard scamper against the Oakland Raiders in Week 11.
We still have Benson rated as a top-ten fantasy back, but the Bengals won't need to lean on him as much this season now that Owens and Bryant are on board.
And last, but certainly not least…
Terrell Owens Wide Receiver Ht: 6-3 Wt: 224 Experience: 15th season
2010 Projected Stat Line: 66 receptions for 918 yards and 7 touchdowns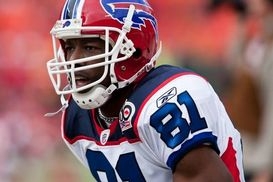 ICONIs T.O. the guy who can put the Bengals over the top?
Breakdown: It's no secret that T.O. is in the twilight of his career and has struggled as of late with press coverage at the line of scrimmage. But there's no questioning his work ethic and desire to produce on Sundays. This guy keeps himself in top shape all year long and will be ready to play from the moment he hits the practice field.
As an aging No. 2 in Cincinnati, Owens' role will be somewhat limited to quick slants over the middle and vertical patterns down the sideline, but he still has the explosiveness to make the big play and the size and strength to win the jump-ball battle in the red zone.
Owners are advised to target T.O. as a WR3 in the middle to later rounds. We don't see him topping 1,000 receiving yards this season, but with Carson Palmer at quarterback, Owens will once again make an impact in the fantasy football world.
Hit me up on Twitter: @JoeFortenbaugh</a>