May 14, 2013 -
Joe Fortenbaugh
The ultimate NFL road trip: Part I
Proper prior planning prevents piss poor performance—the 7 Ps that the old man engrained into my half-wandering mind as a youth. And judging by the onslaught of emails I have received from many of you over the last few weeks, I'm not the only guy who was taught the benefits of planning through the fun of alliteration.
We may be four months away from the start of the 2013 regular season, but that hasn't stopped many of us from initiating preparations for NFL road trips this fall. Having already spoken with many of you about the must-hit destinations in cities like San Diego, Seattle, Chicago, Dallas and Miami, I got to thinking this past weekend: Why not put all of our collective experiences together to help create the perfect blueprint for an NFL road trip?
I'll get the ball rolling today with the golfing portion of the NFL road trip: 16 course recommendations for the 16 AFC cities. We'll roll out the NFC later this week and then will turn our attention to hotels, restaurants, bars and anything else worth experiencing in the NFL's 31 cities.
Remember, I'm only here to initiate the conversation. I need you guys to hit up the comments section, my email (Joe.Fortenbaugh@NationalFootballPost.com) and twitter (@JoeFortenbaugh) to help fill in the blanks for the places I have yet to visit. I also want to hear about all of your itineraries once you lockdown this year's destination.
AFC ROAD TRIP GOLF COURSE DESTINATIONS
BUFFALO
Course: Peek'n Peak Resort Upper Course (Slope: 137, Rating: 73.7)
Rates: From $59-$119
Distance from Ralph Wilson Stadium: 78 miles
Significant elevation changes highlight this 7,061-yard layout that has played host to seven Nationwide Tournaments. Water comes into play on two holes (Nos. 1 and 9) at this scenic and heavily wooded New York track, known for its rolling hills and bentgrass greens. Reasonably priced for one of the well-respected courses in western New York, golfers can turn 36 at Peek'n Peak (Upper Course and Lower Course) before heading back to town to hit up Anchor Bar.
MIAMI
Course: TPC Blue Monster at Doral (Slope: 125, Rating: 72.2)
Rates: $350
Distance from Sun Life Stadium: 16 miles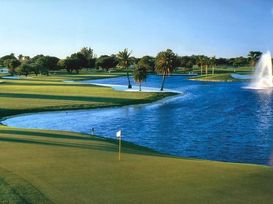 Donald Trump, owner of both the Blue Monster and the world's greatest head of hair, hired architect Gil Hanse (who was tapped to construct Rio de Janerio's 2016 Olympic Golf Course) to renovate Dick Wilson's Miami masterpiece. The Blue Monster reintroduces itself to the world in December of 2013, giving the Doral Golf Resort and Spa five courses to cut your teeth on while soaking in the South Florida sun.
NEW ENGLAND (Massachusetts)
Course: Crumpin-Fox (Slope: 141, Rating: 73.8)
Rates: From $71-$77
Distance from Gillette Stadium: 105 miles
A Robert Trent Jones Sr. (Spyglass Hill) design set in the gorgeous New England hills of Bernardston, Massachusetts, Crumpin-Fox became one of my favorite sleeper tracks in America after a three-courses-in-three-states trip brought me here in the summer of 2010. Quiet, scenic and challenging, the Fox offers stiff tests at the Par-5, 592-yard eighth and Par-4, 457-yard 16th. While not exactly a stone's throw from the stadium, this course is just too good a value for us to exclude from this list.
NEW YORK
Course: Bethpage Black (Slope: 148, Rating: 76.6)
Rates: From $25-$75 for NY residents, from $78-$150 for non-residents
Distance from MetLife Stadium: 44 miles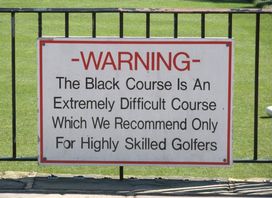 Keep the beers on ice because you'll need all of your faculties to successfully navigate The Black Course.
High handicappers are advised to steer clear of The Black Course, host of the United States Open in 2002 and 2009 and considered by some to be the toughest golf course in America. The legendary A.W. Tillinghast is responsible for this New York gem, with Rees Jones handling the 1997 redesign. Tight fairways, deep rough and strategically placed bunkers are just three of the reasons why The Black Course comes complete with a warning.
BALTIMORE
Course: Bulle Rock (Slope: 147, Rating: 76.4)
Rates: From $79-$139
Distance from M&T Bank Stadium: 38 miles
Pete Dye's 7,375-yard layout in Havre De Grace consistently ranks as the top public course in the state of Maryland, just behind the heavy hitting private tracks like Congressional, Baltimore Country Club and Caves Valley. Water comes into play on seven holes, including the Par-4, 485-yard 18th, which requires an ultra precise approach shot into a green guarded by the drink on three sides.
<p>
CINCINNATI
Course:
Shaker Run Golf Club
(Slope: 138, Rating: 74.0)
Rates:
From $35-$65
Distance from Paul Brown Stadium:
35 miles
A 27-hole facility highlighted by the original Lakeside and Woodlands nines, Shaker Run is a gorgeous complex to experience as the state of Ohio transitions from the summer heat to fall foliage. You'll want to get off to a fast start here as No. 2 on the Lakeside nine features a 165-yard Par-3 tee shot over the lake.
CLEVELAND
Course: Fowler's Mill Golf Course (Slope: 136, Rating: 74.7)
Rates: From $39-$59
Distance from Cleveland Browns Stadium: 30 miles
Ranked No. 5 on Golf.com's Best Public Courses in Ohio for 2012, Fowler's Mill is a 7,025-yard Pete Dye creation that features a variety of challenging approach shots as well as the risk/reward behemoth that awaits at the Par-4, 461-yard fourth. Golfers will need to hit a high percentage of greens if they want to escape this Chesterland track with a low score.
PITTSBURGH
Course: Totteridge Golf Course (Slope: 139, Rating: 75.8)
Rates: From $39-$55
Distance from Heinz Field: 33 miles
From Oakmont to Merion, the state of Pennsylvania is home to some of the most legendary layouts in the game. The only problem is that these courses aren't open to the public and therefore require high-ranking connections in order to make it through the gates. But that doesn't mean you can't find quality golf at a very reasonable price in Pennsylvania. Case in point: Totteridge Golf Course in Greensburg, an 18-hole championship course built by Rees Jones that ranks 19th on Golf Digest's Best Courses in Pennsylvania list for 2013.
HOUSTON
Course: Memorial Park Golf Course (Slope: 122, Rating: 73.0)
Rates: From $21-$38
Distance from Reliant Stadium: 12 miles
One of H-Town's most popular golfing destinations, Memorial Park played host to the Houston Open from 1951-1963 and sits on a 600-acre stretch of property that went through a facelift in 1995. Per CBS Houston, Memorial Park draws over 60,000 golfers per year while a survey conducted by the Houston Chronicle proclaimed this John Bredemus design to be the city's best value course.
INDIANAPOLIS
Course: The Fort Golf Resort (Slope: 139, Rating: 74.4)
Rates: From $42-$74
Distance from Lucas Oil Stadium: 15 miles
If you have the time, we highly recommend taking the two-hour drive from Indy to French Lick for a spin on either the Pete Dye or Donald Ross courses that consistently top the rankings for the state of Indiana. But if you're staying in Naptown, The Fort isn't a bad consolation prize. Yet another Pete Dye layout to grace our list, this 7,148-yard track opened to the public in 1998 and was ranked as the third-best public course in the state of Indiana by Golf.com in 2012.
JACKSONVILLE
Course: TPC Sawgrass (Slope: 155, Rating: 76.8)
Rates: Up to $375
Distance from EverBank Field: 24 miles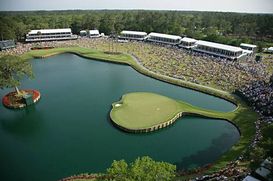 Because every golfer looking to establish a half-decent course resume should have at least one trip to No. 17 on their list.
TENNESSEE
Course: Gaylord Springs Golf Links (Slope: 136, Rating: 73.8)
Rates: From $55-$76
Distance from LP Field: 12 miles
A taste of Scotland comes to the Music City as Gaylord Springs offers a resort atmosphere at a pubic course price. Just don't spend too much time admiring the 43,000-square-foot clubhouse because the Par-5, 530-yard first offers up an early eagle opportunity for the big hitters.
DENVER
Course: The Ridge at Castle Pines North (Slope: 134, Rating: 73)
Rates: From $59-$145
Distance from Sports Authority Field at Mile High: 25 miles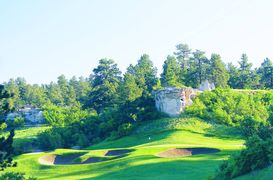 One of the most aesthetically pleasing golf states in the country, Colorado has a laundry list of terrific courses for every type of player. We're partial to the elevation changes at The Golf Course at Redlands Mesa in Grand Junction, but for those of you traveling to Denver this season, The Ridge at Castle Pines North should wow you just the same. Tom Weiskopf's Par-71 opened in 1997 and made an appearance on Golf Magazine's Top 100 Courses You Can Play list, among other distinctions. Never played in Colorado? Well then enjoy what the high altitude does for your tee shots.
KANSAS CITY
Course: Swope Memorial Golf Course (Slope: 132, Rating: 70.9)
Rates: From $30-$40
Distance from Arrowhead Stadium: 7 miles
Measuring only 6,274 yards from the back tees, Swope Memorial checks in as the shortest course to grace our AFC list. But here's the thing: When you get the opportunity to play a course designed by the same guy (A.W. Tillinghast) who brought us Baltusrol, Winged Foot and the San Francisco Golf Club for the price of just $40, you take it.
OAKLAND
Course: Pasatiempo Golf Club (Slope: 143, Rating: 72.4)
Rates: Up to $250
Distance from the Oakland Coliseum: 63 miles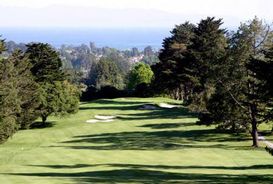 Situated in a hotbed for renowned golf courses, travelers to the Bay Area will have no shortage of elite tracks to choose from…assuming that money is no object. Pebble Beach and Spyglass are only 110 miles away, but why not take a spin on Dr. Alister MacKenzie's (Augusta National, Cypress Point, Lahinch) Pasatiempo, which recently made Golf Digest's list of the 100 greatest public courses in America? The fact that our favorite architect, Tom Doak, handled the 2007 restoration of Pasatiempo only adds to the layout's appeal.
SAN DIEGO
Course: Coronado Golf Course (Slope: 120, Rating: 71.6)
Rates: From $30-$35
Distance from Qualcomm Stadium: 12 miles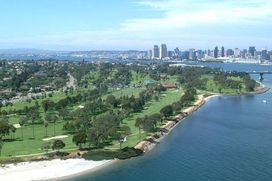 One could make the case that this course is the best bang for your buck in the entire country. You get to spend the day soaking up the rays on Coronado Island before knocking one back at Grumpy Dan's Grill and, for those who really want the Coronado experience, capping off the afternoon with lunch at the Hotel del Coronado before taking the bridge back to San Diego. A round at Torrey Pines South will get you the bragging rights, but Coronado Golf Course is the place to go for value.
Hit me up on Twitter: @JoeFortenbaugh