August 15, 2011 -
Barry Dorey
They've seen enough: Bills cut Aaron Maybin
Move over Vernon Gholston, you've got some company.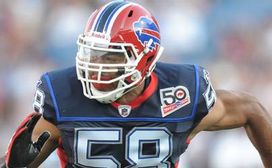 After two very disappointing seasons, Aaron Maybin is finished in Buffalo.
After two years, one start and just 22 career tackles, the Buffalo Bills have decided to pull the plug on 2009 first-round draft pick Aaron Maybin, ESPN's Adam Schefter reports.
The move signals the end of arguably the least productive career in franchise history. Maybin was the 11th overall pick in the 2009 draft, but produced next to nothing in 27 career appearances.
At least 2008 bust Vernon Gholston lasted three years with the Jets.
Then again, Gholston recorded just three more tackles than Maybin despite appearing in 45 games.
We'll leave this one up to you guys.
Hit me up on Twitter: @JoeFortenbaugh