June 05, 2012 -
Joe Fortenbaugh
Time for a wake-up call
The Jacksonville Jaguars have a problem on their hands.
Rookie first-round pick Justin Blackmon was arrested early Sunday morning in Oklahoma for aggravated driving under the influence. A breathalyzer test demonstrated that the wide receiver had more than three times the legal limit of alcohol in his system (0.24).
As a result, speculation has already mounted in regards to what's next for the former Oklahoma State standout. League discipline could be on the way in addition to the fact that since Blackmon has yet to sign his rookie contract, the Jaguars could attempt to include provisions in the deal that would affect his overall guaranteed money.
But the Jaguars shouldn't just be thinking about how best to punish the fifth-overall selection in April's draft. Instead, the organization should protect their investment by getting Blackmon some much-needed help.
According to multiple studies on the subject, DUI drivers get behind the wheel in an inebriated state an average of 87 times before they are arrested. After Sunday's arrest, Blackmon has now been busted for driving under the influence twice since 2010. The star receiver is either a statistical anomaly, or has engaged in this type of reckless behavior on far too many occasions.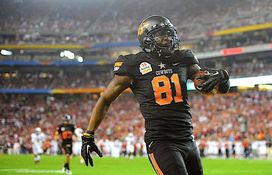 ICONBlackmon will only reach his on-field potential when he addresses his off-the-field issues.
Compounding the problem is the fact that in both instances, Blackmon was pulled over for speeding, meaning the risk was far greater for a result more disastrous than eight hours spent drying out behind bars.
This isn't a situation in which a guy was pulled over for a broken taillight after having one too many drinks at the local bar. Blackmon is only 22-years-old and has been legally permitted to consume alcohol for just 18 months. He now has two DUI arrests under his belt, one of which came when he was under the age of 21. This wasn't a mistake. It's a pattern of high-risk behavior that, if left unchecked, is going to conclude with a very sad headline.
If the Jaguars really want to address the problem, the team should think about forcing Blackmon into a lengthy substance abuse program so he can listen to people who have made the same mistake he has, but whose actions have culminated with far more devastating results.
The Jaguars are rebuilding their roster in an attempt to obtain the city's first winning season since 2007. Justin Blackmon has the potential to play a big role in that process. Like everyone else, he's made mistakes and deserves another chance to show people that he can change.
But a short suspension and financial penalty won't accomplish that. Blackmon needs a wake-up call. And if the Jaguars want to get the most out of their latest first-round pick, they're going to need to step up and address this situation for what it really is.
A cry for help.
Hit me up on Twitter: @JoeFortenbaugh