February 11, 2014 -
Joe Fortenbaugh
Time to get paid
The 2013 NFL free agency period brought a somewhat surprising departure from the freewheeling spending sprees that had become the norm prior to last winter. Look no further than the defensive end position for proof, as several talented pass rushers expecting to cash in their chips on the open market quickly discovered that the lucrative offers of years past were nowhere to be found. After watching 30-year-old Julius Peppers hit the lottery in 2010 (six years, $84 million, $42 million guaranteed) and 27-year-old Mario Williams strike in rich in 2012 (six years, $96 million, $50 million guaranteed), free agent defensive ends like Cliff Avril and Michael Bennett found themselves agreeing to short-term "prove it" contracts in the hopes of getting back onto the open market before age or injury became too great a factor.
Granted, few would put Avril or Bennett in the same class as Peppers and Williams when the latter two found themselves looking for new homes. Combine that with the fact that the NFL salary cap experienced only a small bump in 2013 and it becomes clearer as to why the league's general managers were unwilling to award gaudy six-year deals to the available pass rushing contingent.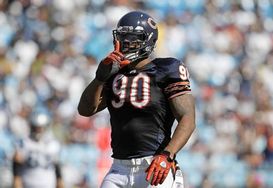 Julius Peppers struck it big as a 30-year-old back in 2010.
Still, it did come as a surprise to watch a 27-year-old in Michael Bennett, who was coming off the greatest season of his four-year career (9.0 sacks, 18 tackles for loss, 3 forced fumbles), settle for a one-year, $5 million deal with the Seattle Seahawks. The same can be said about the 27-year-old Avril, who had notched 29.0 sacks in 45 games from 2010 to 2012 with the Detroit Lions, only to find a conservative free agent market that resulted in a two-year, $15 million contract with the Seattle Seahawks.
Again, neither Avril nor Bennett had performed to the level of Peppers or Williams prior to entering the free agent waters, but that doesn't mean heads failed to turn when the league recognized what had become of the pass rusher market.
However, all it takes is one quick look at what the 2014 free agent pool has in store at the defensive end position to realize that the conservative spending habits of 2013 were more the exception than they were the rule.
DEMAND
Like any marketplace, the contracts signed during the NFL free agency period will be dictated by the law of supply and demand. So let's begin by taking a look at which teams could be active players in the defensive end market.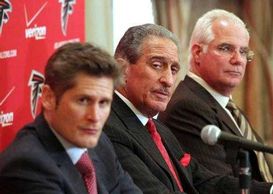 The Atlanta Falcons are in desperate need of an upgrade to one of the league's worst pass rushing units.
Atlanta Falcons: The first year of the Thomas Dimitroff-Mike Smith alliance in Atlanta saw the Falcons finish the 2008 season ranked 11th in the NFL in sacks. But the five years since that inaugural campaign have produced sack rankings of 26th, 20th, 19th, 28th and 29th, respectively. With current defensive ends Kroy Biermann (29-years-old in September) and Osi Umenyiora (33 in November) past their prime, look for Atlanta to make a serious run at one of the top free agent pass rushers set to hit the market.
Available cap space: $13.397 million, 15th in NFL
Chicago Bears: Under first-year head coach Marc Trestman, the Bears went from having the league's 28th-ranked offense in 2012 to the NFL's eighth-ranked unit in 2013. The defense, however, was a different story, falling from a ranking of fifth in 2012 to 30th in 2013, with a league-worst 31 sacks recorded last season (tied with Jacksonville). Chicago was already in need of a boost to the pass rushing department and that demand will only intensify once the team parts ways with the aforementioned Julius Peppers, who many predict will be cut in the near future due to an astronomical 2014 salary cap number of $18.183 million, second in Chicago only to quarterback Jay Cutler ($20.0 million).
Available cap space: $6.694 million, 22nd in NFL (but will increase significantly after cutting Peppers)
Jacksonville Jaguars: Having worked as the defensive coordinator in Seattle prior to accepting the head coaching job in Jacksonville last offseason, Gus Bradley knows the importance of putting pressure on the opposing quarterback. Unfortunately for the Jacksonville franchise, this would appear to be a novel concept, as no team in the National Football League has recorded fewer sacks since 2009 than the Jags (122). The upside is that should Jacksonville choose to enter the defensive end market next month, the organization has plenty of ammo to make a splash thanks to approximately $50 million in available cap space, second only to the Oakland Raiders.
Available cap space: $50.183 million, second in NFL
New York Giants: Make no mistake about it, the New York Giants are a football team that wins games thanks a ferocious front four. The problem for Big Blue, however, is that after the team amassed 48 sacks (fifth in NFL) en route to winning the Super Bowl in 2011, the organization came back the following two seasons to notch just 33 (22nd in NFL) and 34 sacks (25th in NFL), respectively. Osi Umenyiora bolted for Atlanta last offseason and Justin Tuck is headed for the open market next month, so the Giants will be looking for at least one defensive end via free agency or the draft. This team makes noise when it generates consistent pressure and over the last two seasons, that element has been missing from the defensive side of the football.
Available cap space: $13.4 million, 14th in NFL
Oakland Raiders: The Silver & Black need upgrades at just about every position on the field, but the bright side is that no team in the league has more available cap space entering the 2014 offseason ($61 million). Don't expect general manager Reggie McKenzie and the Raiders to go on a reckless spending spree come March, but now that the franchise is finally out of salary cap hell, it's time to make purchases on integral positions. Lamaar Houston, the team's leading sack specialist from 2013 (6.0 sacks), is headed for free agency, so the Raiders would be wise to start there and then continue building.
Available cap space: $61.725 million, first in NFL
Tampa Bay Buccaneers: With new head coach Lovie Smith in the fold, look for the Buccaneers to become a defensive-minded football team with an emphasis on getting after the quarterback. Current defensive ends Da'Quan Bowers (5.5 sacks in three seasons) and Adrian Clayborn (13 sacks in three season) just won't cut it. The Buccaneers have ranked 23rd or worse in sacks in each of the past five seasons and with a solid and high-priced secondary already assembled, look for Tampa Bay to acquire another pass rusher who can help take this defense to the next level.
Available cap space: $10.867 million, 19th in NFL
SUPPLY
Unlike last offseason, the defensive ends in 2014's free agent class are going to get paid. Here's a look at five guys who should be in high demand come March 11…assuming they get past the franchise tag (approximately $12.5 million) and hit the open market.
Greg Hardy (6-4, 290): A sixth-round selection out of Mississippi in 2010, the 25-year-old Hardy was an absolute beast for the Carolina Panthers over the last two seasons, notching 26.0 sacks (career-high 15.0 sacks in 2013), 30 tackles for loss and three f orced fumbles. Age, health and character all check out just fine, which is why Hardy's new contract will set the market for free agent defensive ends.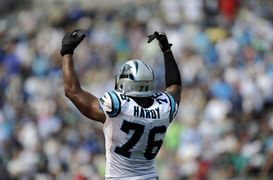 Many consider Hardy to be the top defensive free agent available in 2014.
Michael Bennett (6-4, 274): Bennett became a full-time starter for the Tampa Bay Buccaneers in 2012, where the Texas A&M product amassed a career-high 9.0 sacks. Unfortunately for Bennett, he entered the free agent pool last winter to find a bear market at the defensive end position. So the 28-year-old simply signed a one-year, $5 million "prove it" deal with the Seattle Seahawks and went on to record another 8.5 sacks in just three starts. This time around will bring a more lucrative payday.
Lamaar Houston (6-3, 300): Houston hasn't missed a game since entering the league in 2010 as a second-round selection out of the University of Texas. And if the 26-year-old played in any city but Oakland, you'd probably know a lot more about him. The 300-pounder has recorded 4.0 or more sacks in three of four professional campaigns and is coming off a stellar year that featured career-highs in sacks (6.0), tackles (69), QB hits (16) and forced fumbles (2). Houston would love to find a way onto the free agent market, but the most likely scenario here is that Oakland hits him with the franchise tag.
Michael Johnson (6-7, 270): Johnson's 2012 breakout campaign (11.5 sacks, 20 QB hits, 15 tackles for loss, one interception) resulted in Cincinnati's use of the franchise tag on their star defensive end to the tune of $11.1 million for the 2013 season. Not a bad chunk of change by any stretch, but the problem for Johnson is that he came back in 2013 to notch just 3.5 sacks in 15 regular season games. That set off some alarm bells, especially for those who felt Johnson's success was a byproduct of playing on the same defensive line as Pro Bowl DT Geno Atkins. The offers will be there, but Johnson may find some disappointment in the details contained within.
Jared Allen (6-6, 270): Allen turns 32-years-old on April 3, so he won't land the long-term deal reserved for the other names on this list. But for a team who feels they may be one or two pieces away from making a serious run at the Super Bowl, this guy makes all the sense in the world. Allen hasn't missed a game since 2007 and has recorded double-digit sack totals in each of the past seven years. He brings leadership, a strong work ethic and a resume that includes five Pro Bowl nominations to the table and based on his 11.5 sacks in 2013 (tied for seventh in the NFL), Allen still has enough gas left in the tank to make a big contribution.
Hit me up on Twitter: @JoeFortenbaugh