July 03, 2014 -
Joe Fortenbaugh
Time to shine
A cavernous rift engulfs the space between the differing avenues with which to perceive a collegiate football record of 11-2. On one side of the great divide resides the exuberance and satisfaction of the programs that have met or exceeded the expectations doled out the summer before. The Baylor Bears stood on this perch after laying waste to the Big 12 conference on their 2013 romp to a spot in the Fiesta Bowl.
For college football's aristocracy, a final tally of 11-2 is often perceived in some way or another as a disappointment, like receiving an eight in blackjack after being dealt an ace on the first card. 19 is still a powerful hand, but there's no doubt you were looking for the increased payoff that comes with a 21. This is the side of the aforementioned cavern where a team like Oregon stands after posting an 11-2 mark. A winning percentage of .846 is nothing to scoff at, but when a National Championship was the preseason goal, the result can still manifest itself in unsettling ways.
After a four-year run of appearances in BCS bowl games that included a trip to the National Championship in 2011, the Oregon Ducks went 11-2 in their first season under new head coach Mark Helfrich last year and had to settle for a postseason spot in the December 30 Alamo Bowl. But as the clock continues to click south towards the team's season opener on August 30, the expectations continue on a northbound trajectory…despite some noticeable setbacks that occurred in the transition from former boss Chip Kelly to Helfrich.
In conference play from 2012 under Kelly to 2013 under Helfrich, the Ducks went from a +22 turnover differential to just +2, a +257 scoring differential to +145, a sack differential of +6 to +4 and a third down conversion rate of 46.2 percent to 43.1 percent. Those 2013 statistics are still very respectable and ones that many programs around the country would be willing to trade for in the drop of a hat. But that doesn't mean this downward trend should be dismissed.
Will the Ducks find a way to regain their perch atop the Pac-12 conference while earning a berth in the new playoff system, or will Oregon once again be doomed by a late-season misstep?
THE OFFENSE
It's unfair to employ a mundane label such as "offense" to this unit when you consider the fact that Oregon has hung 40 or more points on the scoreboard in 31 of their last 40 games. The label "assault" seems more apropos.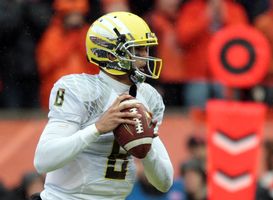 US PRESSWIREMariota has accounted for 77 touchdowns in just 26 games with the Ducks.
Led by first-team All-Pac-12 quarterback and Heisman candidate Marcus Mariota, the Ducks should be every bit as explosive in 2014 as we've witnessed in years past. The redshirt junior has accounted for 77 touchdowns over the last two seasons and upped his yards per passing attempt average from 7.97 in 2012 to 9.49 in 2013. Mariota's numbers took a dip towards the back-end of the 2013 campaign, but that was due largely to the fact that the dual-threat signal-caller was playing with a torn MCL suffered against UCLA on October 26. Mariota bypassed a spot in the first round of May's NFL draft to return for one more shot at collegiate glory and has bulked up to approximately 220 pounds in the process.
The upside for the rest of this offense is the return of all five starters—including All-American center Hroniss Grasu—to the offensive line, as well as another year with 2012 leading rusher Byron Marshall. The downside comes with a glance at the receiving unit, which lost leading pass-catcher Josh Huff to the NFL and second-leading receiver Bralon Addison to a spring knee injury. The projected starters at wideout—Keanon Lowe, Dwayne Stanford and Darren Carrington—combined for just 18 receptions for 233 yards and three scores last season (all produced by Lowe).
But as was the case last season, as Mariota goes, so go the Ducks. The Heisman Trophy candidate will need to stay healthy for Oregon to have any shot at a national title.
THE DEFENSE
Oregon ranked second in the Pac-12 and 13th nationally in scoring defense last season (20.5 ppg), but when it came to conference play, this unit forced 14 fewer turnovers in 2013 than they did in 2012 while watching opponent's convert at a 43.6 percent clip on third down compared to 36 percent in 2012. Since defensive coordinator Nick Aliotta retired, improving this unit's overall efficiency will fall to former linebackers coach Don Pellum.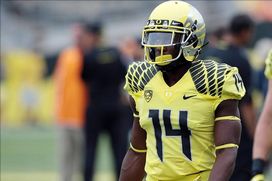 Ekpre-Olomu notched three interceptions in 2013.
Five starters are back, including All-American cornerback Ifo Ekpre-Olomu, who stands as the lone returner in the Oregon secondary. The Ducks' leading tackler, Derrick Malone (105), and sack specialist, Tony Washington (7.5), lead the linebacking unit, while massive 6-8, 296-pound defensive end Arik Armstead has chosen to commit full time to football over basketball and should provide a serious threat coming off the edge. Keep an eye out for 6-6, 275-pound sophomore defensive tackle T.J. Daniel as well.
After getting pushed around by Stanford in each of the last two seasons while watching the Cardinal convert a staggering 52.6 percent of their third down conversions, the defensive mandate in Eugene this off-season was simple: Hit the weight room. Oregon's defensive line has spent the last few months bulking up in an effort to better combat the bigger and more physical offensive lines from the Pac-12.
THE SCHEDULE
8/30: vs. South Dakota
9/6: vs. Michigan State
9/13: vs. Wyoming
9/20: at Washington State
10/2: vs. Arizona
10/11: at UCLA
10/18: vs. Washington
10/24: vs. California (Santa Clara)
11/1: vs. Stanford
11/8: at Utah
11/22: vs. Colorado
11/29: at Oregon State
Michigan State presents an early test on September 6, but the Ducks have already been installed as 13-point favorites for that encounter. The real tests come on October 11 in Los Angeles against national title contender UCLA and November 1 vs. nemesis Stanford. The good news for Oregon is that the Ducks will have nine days to get ready for the UCLA game. The bad news is that Washington and new head coach/former Boise State HC Chris Petersen are waiting in the wings the following week to play spoiler in what could be a letdown spot for the Ducks.
FROM THE EXPERTS
Nine of Oregon's 12 games (vs. Michigan State, at Washington State, vs. Arizona, at UCLA, vs. Washington, vs. California, vs. Stanford, at Utah and at Oregon State) are currently posted at the Golden Nugget sports book in Las Vegas. In addition, CG Technology (formerly Cantor Gaming) has posted a season win total of 10.5 (over: -130, under: even) for the Ducks, while the Westgate Las Vegas SuperBook (formerly LVH) has listed Oregon at 6/1 to win the national championship, behind only defending champion Florida State (4/1).
"First game on the agenda that could cause problems is the Michigan State game," Chris Andrews, bookmaker and co-founder of the website Against The Number.com told NFP. "My power ratings have Oregon a strong favorite. I'm opening Oregon with a 98 +5.5 point home field advantage. Michigan State is 84. That would make Oregon -19.5. Now I know that's way too high and would cause a flooding of dog money. But Oregon is known to blow teams out if they can get the lead. And I do believe there is a strong chance they will get an early lead.
"Oregon has to travel to UCLA, which everyone, myself included, thinks will have a strong season. I have UCLA rated 92 +4 for home field, so that would make Oregon a 2-point favorite. Needless to say, that should be a tough game. Either team could reasonably be national champions. They host Stanford, who I believe will be down this year. Nonetheless, they have the formula to beat Oregon or at least give them a hell of a game.
"Oregon is my number two ranked team in the country right now. It looks very likely that they will play UCLA in the PAC-12 championship, but I realize things have a way of changing rapidly, like they do every season. If it plays to form, either of those teams should be a solid representative in the four-team playoff."
2013 RESULTS
8/31: Win, 66-3 vs. Nicholls
9/7: Win, 59-10 at Virginia
9/14: Win, 59-14 vs. Tennessee
<strong>9/28: Win, 55-16 vs. California
10/5: Win, 57-16 at Colorado
10/12: Win, 45-24 at Washington
10/19: Win, 62-38 vs. Washington State
10/26: Win, 42-14 vs. UCLA
11/7: Loss, 26-20 at Stanford
11/16: Win, 44-21 vs. Utah
11/23: Loss, 42-16 at Arizona
11/29: Win, 36-35 vs. Oregon State
12/30: Win, 30-7 vs. Texas (Alamo Bowl)
Hit me up on Twitter: @JoeFortenbaugh
Follow Chris on Twitter: @andrewssports