December 17, 2012 -
Joe Fortenbaugh
'Tis the season
You know that overwhelming feeling of anticipation, that surge of excitement you encountered as a child on Christmas morning in the moments before your parents woke up and allowed you to open your gifts? I never felt that.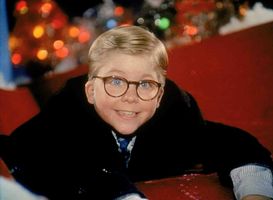 "You'll shoot your eye out, kid."
It's not because my parents didn't spoil me rotten (they did). It's because I was an immature little brat who spent the two weeks leading up to the Big Day snooping through every square inch of the house to see what my mother had already purchased. I already knew what was coming on Christmas morning. A little snot on the verge of blossoming into a full-fledged knucklehead, severely lacking in the departments of both patience and good form.
NFL personnel are older and, in most cases, more mature. They spend all season racing around handling varying degrees of business. A few extra minutes before gathering around the tree on Christmas morning is insignificant.
But what do you get for the guy who has everything?
Lucky for you, we spent Monday morning pondering this exact question. What follows is our Christmas list for a few notable players, coaches and front office executives.
The comments section awaits your suggestions.
Ray Rice, RB, Baltimore Ravens: 2013 Lexus LS Sedan
Without question, Lexus' December to Remember advertising campaign is my absolute favorite commercial interruption of the year. Outside of It's Always Sunny in Philadelphia, these commercials make for the best comedy on television. Think about it: Who do you associate with that has ever given or received a Lexus for Christmas? Only is this country would millions of dollars be thrown at an ad campaign as absurd as this. America in a nutshell.
But the more I think about it, the more I realize who this campaign is actually targeting: The young, trust fund pinhead who treated his girlfriend like absolute crap during the 11 months leading up to Christmas. That's why the Ravens should give star running back Ray Rice a new Lexus this December. One of the premier players at his position, Rice will rank 12th in the NFL in carries after Monday night, assuming Jets running back Shonn Greene touches the ball at least one time against the Titans. Take note that rookies Alfred Morris, Doug Martin and Trent Richardson have all amassed more carries this year than Rice.
Underutilized and underappreciated, we hope Rice enjoys walking out to his driveway on December 25 to see a brand-new car underneath a ridiculously oversized red ribbon.
The Kansas City Chiefs: TaylorMade RocketBladez golf clubs
The perfect gift for a guy who has spent the last three months on the golf course working to lower his handicap. His game is improving, but to take that next step he'll need to ditch the hand-me-down irons and upgrade his arsenal to something more modern and forgiving.
The Kansas City Chiefs are that guy. At 2-12 and coming off a thrilling 15-0 defeat at the hands of the high-flying Oakland Raiders, it's not like the Chiefs have spent the fall months playing football. With only two weeks remaining in the regular season, it's time for these guys to buckle down and take the game of golf seriously. These new irons will get plenty of use during the month of January, as there's nothing on the schedule to prevent the Chiefs from booking no fewer than four tee times per week.
And remember, boys: Golf is a game played by gentlemen. No mulligans.
New York Jets front office & coaching staff: Clue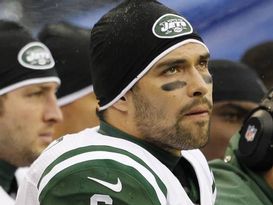 I've solved the mystery: It was Mark Sanchez, with the turnover, in the fourth quarter.
With the exception of the high-stakes Monopoly showdowns I played during my time at Penn State, Clue is this writer's board game of choice. Las Vegas casinos have even gone so far as to turn this classic detective game into a gaudy slot machine. I have yet to make any money off it.
This is the gift Jets general manager Mike Tannenbaum and head coach Rex Ryan should expect to find in their oversized stockings on Christmas morning, courtesy of owner Woody Johnson. The gift will serve as a test: Once Tannenbaum and Ryan are capable of successfully identifying that it was Colonel Mustard in the library with the rope, Johnson will then promote both men to the task of selecting a quarterback capable of leading at least two scoring drives per game.
Baby steps.
Larry Fitzgerald, WR, Arizona Cardinals: Kurt Warner
Remember that scene in Christmas Vacation when Cousin Eddie kidnaps Clark Griswold's boss because the cheap bastard gave his employees a one-year membership in the Jelly of the Month Club instead of a bonus?
Just substitute Fitzgerald for Griswold, Kurt Warner (tied up in his pajamas) for the boss and head coach Ken Whisenhunt for Cousin Eddie.
Jim Schwartz, head coach, Detroit Lions: $5,000 gift certificate for Chico's Bail Bonds
Jim Schwartz and his merry band of misfits have been very naughty this past year. And naughty children do not get iPads and PlayStations for Christmas. They get something more practical, like socks and underwear, just like I awoke to on December 25 during the eighth grade after a minor run-in with local law enforcement officials on Halloween.
Schwartz and his players need to be reminded that Santa Claus does not reward bad behavior. Therefore, a $5,000 gift certificate to Chico's Bail Bonds will be placed in the head coach's stocking in the hopes that he won't need to use it in 2013.
But just like the underwear and socks I received many years ago, this gift isn't a matter of if. It's a matter of when.
Adrian Peterson, RB, Minnesota Vikings: Barrel Racing Purple Ostrich Horse Saddle
If Peterson breaks Eric Dickerson's single-season rushing record (2,105 yards) after suffering two torn knee ligaments last Christmas Eve, I think it's safe to say that this guy needs a new challenge. He's simply too talented to spend the next few years toiling away in the NFL.
Why a racing saddle, you ask? Because Peterson will be required to wear one when he takes on the world's best thoroughbreds in next year's running of the Kentucky Derby. Human competition is no longer enough to quench the running back's thirst. But a 10-furlong race against some of the fastest animals on the planet? I think that's something we'd all be interested in watching.
Vegas sports books currently have Peterson posted at 5/1 to win the Derby and 55/1 to win the Triple Crown.
Shahid Khan, owner, Jacksonville Jaguars: Garmin nuvi 3590LMT navigation system
MapQuest won't cut it. Can we please give this guy something that can help him get where he's trying to go? Khan wants to drive to New Orleans, but he took a wrong turn and ended up in Uzbekistan.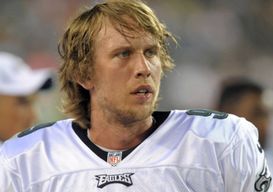 "Wait, I forgot to add the crystals."
Nick Foles, QB, Philadelphia Eagles: Napoleon Dynamite DVD
The perfect stocking stuffer. Everybody laughs when he opens it, then everybody laughs when they watch it together.
Then everybody laughs when they take a look at the current standings in the NFC East.
Tampa Bay Buccaneers: Revere Supply GeoMaster Life Raft
The pirate ship in the north end zone of Raymond James Stadium is taking on water, as the Buccaneers have dropped four straight after an impressive 6-4 start to the Greg Schiano era. Cries of "Abandon ship!" could be heard for miles around the greater Tampa area on Sunday afternoon after the Bucs managed to get shutout in New Orleans 41-0 against one of the league's most abysmal defensive units.
The good news is that the Tampa Bay front office is prepared for the crisis after surviving a ten-game skid to finish the 2011 campaign. That's why this $5k life raft is waiting under the Christmas tree.
There's just one problem: The raft has space for only 25 people, which means that some of the roster is going to be left treading water off the coast of Florida. You've got to save the quarterback (Josh Freeman), the high-priced free agents (Vincent Jackson, Carl Nicks, Eric Wright), the long-time veteran (Ronde Barber) and the first-round draft picks (Mark Barron, Doug Martin).
Sorry, LeGarrette Blount. Looks like you're swimming.
Robert Griffin III, QB, Washington Redskins: Amber Alert GPS Child Tracking Device
After the season he's had, head coach Mike Shanahan and owner Daniel Snyder are going to want to know the whereabouts of RG3 during the offseason. They will want to know that he's safe and uninjured. More importantly, they will want piece of mind.
There's no way Griffin is going to like this gift. He'll be teased by classmates at every turn. But he'll be safe and that's what matters most.
That's the trade-off that comes with the shiny new 10-speed that's also waiting under the tree, courtesy of Uncle Daniel.
Jay Cutler, QB, Chicago Bears: Tonka Classic Mighty Dump Truck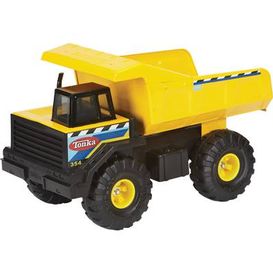 Merry Christmas, Jay!
Jay Cutler wants a football for Christmas, but there's a problem. A football only works if you have friends to play with. And Jay is a moody young man prone to hissy fits and temper tantrums.
Jay gets his football, but doesn't like the way his friends are playing with it. In a huff, Cutler takes his ball and goes home to his backyard, where a brand new Tonka Dump Truck is waiting. Jay no longer needs the football. He's more than content to move a big pile of rocks from one end of the sandbox to the other by himself.
Roger Goodell, NFL Commissioner: How to Win Friends & Influence People (book)
Nobody wants to get a book for Christmas. It defeats the whole purpose of the vacation, when homework and reading are the furthest things from any kid's mind.
Commissioner Goodell has had a rough year thanks to the elimination of the Bounty Scandal punishments he handed down a few months back. Players are angry and the negative press is unrelenting. It's time to do some soul searching.
Goodell awakes on Christmas morning and unwraps this book. He's pissed. But after the big family dinner, when the drunk uncle and screaming kids have finally gone home, Goodell begins reading. And he likes what he's learning, even if he—like most of us—will never admit it.
Tom Brady, QB, New England Patriots: Scratch-off lottery tickets
Which, while sitting next to his supermodel wife in his mega-mansion surrounded by MVP awards and Super Bowl rings, he'll scratch-off to discover he's hit the $1,000,000 jackpot, giving us yet another reason to hate his stinking guts.
Hit me up on Twitter: @JoeFortenbaugh