June 13, 2013 -
Joe Fortenbaugh
Top 15 fantasy quarterbacks
Let's get right to it…
1. Drew Brees, New Orleans Saints: No quarterback has thrown for more yards (15,273) or tossed more touchdown passes (122) over the last three years than Brees, who should receive a boost from the return of offensive mastermind Sean Payton. The 34-year-old Super Bowl MVP has amassed 300+ passing yards in 23 of his last 32 regular season games and comes complete with a no-lead-is-safe defense that will have the Pro Bowler throwing well into the fourth quarter. You can make the case for Aaron Rodgers all you want, but Brees is the safest and most consistently productive option at the position.
2. Peyton Manning, Denver Broncos: Ranked sixth in passing yards (4,659), third in touchdown passes (37), second in QB rating (105.8) and tied for first in completion percentage (68.6%) last season despite joining a new offense after spending close to two years away from the game. Age (37) and arm strength are definitely concerns, but the addition of high volume receiver Wes Welker could be the offseason transaction that puts this team—and quarterback—over the top.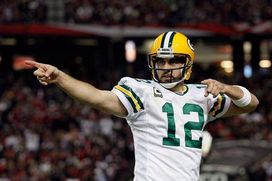 Outside of Drew Brees, Aaron Rodgers is probably the safest quarterback option on the board.
3. Aaron Rodgers, Green Bay Packers: Has posted a QB rating of 101.2 or higher in each of the previous four seasons, the last two of which consisted of 84 touchdown passes and just 14 interceptions. You can make the case for Rodgers at No. 1, No. 2 or No. 3. But no matter how it shakes down on draft day, the owner who lands the Green Bay stud will be one step closer to a fantasy postseason berth thanks to this guy's penchant for monster stat lines.
4. Cam Newton, Carolina Panthers: It's still humorous to think about the Newton owners who were disappointed with the Heisman Trophy winner's sophomore season. Sure, the yardage and touchdown totals dipped a bit, but Newton topped 700 rushing yards for the second straight year and now has a grand total of 22 rushing scores in 32 career regular season contests. We'd love to see more consistency on a week-to-week basis, but the upside here warrants a spot in the top five.
5. Matt Ryan, Atlanta Falcons: Has the best 1-2 receiving punch in the game in Roddy White and Julio Jones, should benefit from the addition of running back Steven Jackson and is coming off a 2012 season that featured career highs in passing yards (4,719), touchdowns (32), completion percentage (68.6%) and QB rating (99.1). Pay no mind to the postseason struggles. That means nothing in the world of fantasy football.
6. Russell Wilson, Seattle Seahawks: Too high for you liking? Then take note that Wilson went from averaging 183.2 passing yards and 1.25 touchdown passes per game through the first eight contests of his career to 206.5 passing yards and 2.0 touchdowns per game over the final eight matchups of 2012. The Wisconsin product posted a QB rating of 100.0 last year (fourth in NFL) and picked up 489 rushing yards and four scores via the ground game. Throw in Percy Harvin and an offseason spent in the film room and you have a guy who is ready to take another monstrous step in his development.
7. Matthew Stafford, Detroit Lions: Ranks third in passing yards (10,005) and fourth in touchdown passes (61) since 2011. Stafford's history with injuries and questionable offensive line raise a couple of red flags, but his recent production justifies his selection as a top-7 signal-caller.
8. Tom Brady, New England Patriots: 100+ catch specialist Wes Welker is gone, the roster is devoid of a proven outside receiver and the tight end duo of Rob Gronkowski and Aaron Hernandez can't be trusted to stay healthy and on the field for the bulk of a 16-game regular season. We've made no attempt to conceal our Brady man crush over the years, but it's worth noting that the future Hall of Famer experienced a dip in passing yards, touchdowns, completion percentage and QB rating from 2011 to 2012.
9. Colin Kaepernick, San Francisco 49ers: Rushed for 415 yards and five scores in just 13 appearances during the 2012 regular season and is poised for a big jump in production with a full offseason of work as the San Francisco starter under his belt. Take note that the loss of wide receiver Michael Crabtree could eventually result in us sliding Kapernick down the board a few spots by August.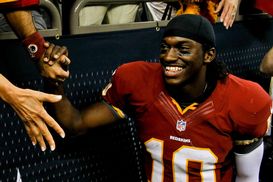 RG3's knee is the only thing keeping the Washington quarterback from a spot in the top 5.
10. Robert Griffin III, Washington Redskins: If not for the knee injury sustained during Washington's wild card loss to Seattle last January, RG3 would be sitting in our top 5 heading into the dog days of summer. The 2012 Heisman Trophy winner rolled up a completion percentage of 65.6%, QB rating of 102.4 and TD:INT ratio of 4:1 during a rookie season in which Griffin took the National Football League by storm. Those aren't fluky numbers. As most of you are already well aware, this kid is the real deal.
11. Tony Romo, Dallas Cowboys: Besides a very respectable golf game, if there's one thing Tony Romo does well, it's roll up the stats. The nine-year veteran is coming off a 2012 campaign that featured a career-high 4,903 passing yards (third in NFL) and should have little trouble hitting that mark again this season as star wide receiver Dez Bryant takes another step towards becoming one of the best in the business. However, owners are advised to take note that Romo hasn't topped 35 touchdown passes in a season since 2007.
12. Andrew Luck, Indianapolis Colts: Luck's 4,374 passing yards as a rookie were impressive, but the Stanford product's 18 interceptions, 54.1% completion percentage and 76.5 QB rating demonstrated that there's still plenty of work to be done. He'll improve on all of those numbers in 2013, but isn't worthy of a top 10 selection at the moment.
13. Andy Dalton, Cincinnati Bengals: Went from 3,398 passing yards and 20 touchdowns as a rookie to 3,669 passing yards and 27 touchdowns as a sophomore. Expect another statistical bump in 2013 thanks to the addition of rookie tight end Tyler Eifert and continued development of wide receivers A.J. Green and Mohamed Sanu.
14. Eli Manning, New York Giants: Topped 4,000 passing yards in three consecutive seasons before taking a step back in 2012 due in large part to injuries sustained at the wide receiver position, not to mention the notorious Super Bowl hangover. Eli will bounce back strong this season while making a run at top-8 fantasy production.
15. Jay Cutler, Chicago Bears: New head coach Marc Trestman brings an offense-first philosophy to Chicago, while offseason acquisitions Martellus Bennett, Kyle Long, Jermon Bushrod and Matt Slauson provide key personnel upgrades at integral positions. Should second-year receiver Alshon Jeffery stay healthy and produce respectable stat lines on a consistent basis, Cutler could find himself enjoying the best season of his eight-year career.
Hit me up on Twitter: @JoeFortenbaugh