March 02, 2011 -
Joe Fortenbaugh
Top 20 Biggest Draft Busts
Tuesday's report stating that the New York Jets have officially decided to part ways with former first-round draft pick Vernon Gholston got me thinking: With just three NFL years under his belt, where does Gholston fall on the all-time bust list?
You can see where this is going.
Today we're going to take a look back to 1998 and rank the top-20 draft busts of the last 13 years. However, we're going to narrow our search to players who were drafted prior to 2009 and who were selected within the first ten picks.
For those of you who will inevitably take exception to this list, you know you can always email me at Joe.Fortenbaugh@NationalFootballPost.com.
20. Peter Warrick, WR, Florida State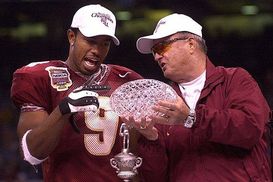 Warrick made some plays, but never lived up to the hype.
Year: 2000
Selected: #4 overall by the Cincinnati Bengals
The first receiver off the board in 2000, Warrick looked destined for stardom after a rookie season that consisted of 51 receptions and four touchdowns in 16 starts. But the former Seminole wideout lasted only five more years, never topped 850 receiving yards in a season and scored just 18 touchdowns in 79 career games. Warrick's career came to an end with the Seahawks in 2005, when he caught just 11 passes in 13 games.
Who they could have had: Jamal Lewis, Brian Urlacher, John Abraham
19. Ted Ginn, WR, Ohio State
Year: 2007
Selected: #9 overall by the Miami Dolphins
Ginn's collegiate career came to an end after he returned the opening kickoff of the 2007 BCS title game 93 yards for a touchdown. That was final time Buckeye fans had something to cheer about that night, as Ginn was lost for the remainder of the game after injuring his ankle celebrating the touchdown (Florida went on to win 41-14). Three months later, the Miami Dolphins passed on Patrick Willis, Darrelle Revis and Dwayne Bowe to make Ginn the ninth overall pick in the 2007 NFL draft. He scored just five touchdowns in three years with the Fish before being traded to San Francisco.
Who they could have had: Mentioned above
18. Matt Leinart, QB, USC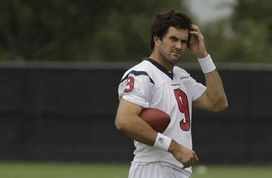 Here's Leinart trying to figure out where it all went wrong.
Year: 2006
Selected: #10 by the Arizona Cardinals
The former USC superstar entered the 2006 draft with a Heisman Trophy and BCS national championship under his belt, but also brought with him an ego the size of Hollywood and a questionable work ethic. Believed by many to be Arizona's quarterback of the future, Leinart quickly lost the job to an aging Kurt Warner and went on to start just 17 games in four seasons with the Cardinals before getting cut prior to the start of the 2010 season. With a career QB rating of 70.8, the former Trojan star has thrown more interceptions (20) than touchdowns (14).
Who they could have had: Jay Cutler, Haloti Ngata, DeAngelo Williams
17. Derrick Harvey, DE, Florida
Year: 2008
Selected: #8 by the Jacksonville Jaguars
In one of the worst draft day trades in recent memory, the Jaguars gave up their first-round pick along with two third-round picks and a fourth-round selection so they could move up 18 spots to land Harvey. In the three years since making that ill-fated transaction, Harvey has racked up only 8.0 sacks in 32 out of a possible 47 starts. The former Florida pass rusher is currently listed as the third DE on the depth chart and Jacksonville has spent the last two years trying to correct their mistake.
Who they could have had: Jerod Mayo, Ryan Clady, Chris Johnson
16. Pacman Jones, CB, West Virginia
Is this a mugshot?
Year: 2005
Selected: #6 overall by the Tennessee Titans
Forget character concerns, this kid can play! In just two years with the Titans, Jones racked up more run-ins with the cops (8) than interceptions (4). Pacman is so out to lunch that the dude actually tried to fight a bodyguard that was assigned to KEEP HIM OUT OF TROUBLE.
Who they could have had: DeMarcus Ware, Aaron Rodgers, Roddy White
15. David Terrell, WR, Michigan
Year: 2001
Selected: #8 overall by the Chicago Bears
Terrell made 30 starts but scored only nine touchdowns in four seasons with the Bears before Chicago finally said, "enough's enough." He signed with the Denver Broncos for the 2005 season, but appeared in just one game and didn't catch a single pass. After five underwhelming years in the league, Terrell retired with an average of 25.6 receptions per season.
Who they could have had: Santana Moss, Steve Hutchinson, Reggie Wayne
14. Mike Williams, OT, Texas
Year: 2002
Selected: #4 overall by the Buffalo Bills
The good news for Buffalo fans is that this was one of several bad draft picks made by NFL teams during the first round in 2002. The bad news is that Pro Bowl offensive tackle Bryant McKinnie was taken three picks later by the Minnesota Vikings. Williams actually started 42 games over the first three seasons of his career, but only made 14 starts over the following three years. No matter what the position, a top-five pick has to give you more than three seasons.
Who they could have had: Dwight Freeney, Ed Reed
13. Courtney Brown, DE, Penn State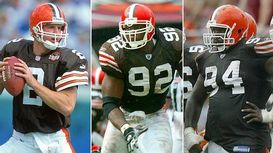 Ouch! This picture has to sting.
Year: 2000
Selected: #1 overall by the Cleveland Browns
After starting all 16 games and recording 4.5 sacks as a rookie in 2000, Brown suffered a variety of injuries that prevented him from ever playing another full season. The final three years of his career (2004-2006) consisted of just two sacks, 15 starts and two cuts. Believe it or not, this guy was actually clocked at 4.52 in the 40-yard dash.
Who they could have had: Thomas Jones, Brian Urlacher, Shaun Ellis
12. Johnathan Sullivan, DT, Georgia
Year: 2003
Selected: #6 overall by the New Orleans Saints
Sullivan tends to go relatively unnoticed during bust discussions because he did so little during his four-year career that everyone quickly forgot about him. After making 12 starts and recording one sack as a rookie in 2003, the former Bulldog started just four games and posted only 0.5 sacks over his final three seasons. There's a rumor floating around that he forced a fumble in 2003, but I have yet to confirm it.
Who they could have had: Jordan G ross, Terrell Suggs, Troy Polamalu
11. Troy Williamson, WR, South Carolina
Year: 2005
Selected: #7 overall by the Minnesota Vikings
One of the fastest players to enter the 2005 draft, Williamson is a perfect example of how a blazing 40-yard dash time doesn't translate into success on the football field. Sure, the guy could run. But one of the requirements of playing wide receiver is that you have to catch the football. Sadly, this was something that was lost on the former Gamecock, as Williamson actually dropped more passes his first year (11) than he caught for touchdowns in five NFL seasons (4). Just three years after being drafted seventh overall, Williamson was traded to the Jacksonville Jaguars for a sixth-round pick.
Who they could have had: Derrick Johnson, Roddy White, Logan Mankins
10. Joey Harrington, QB, Oregon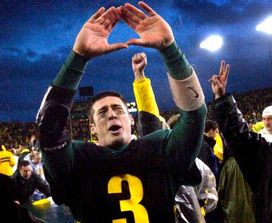 Harrington was living the dream before the Lions drafted him.
Year: 2002
Selected: #3 overall by the Detroit Lions
Yes, Harrington never lived up to the hype of being the third overall selection in the draft, but give this guy at least a little bit of credit. He bounced around the league for seven seasons, threw for just shy of 15,000 yards and had to try and win games for a team assembled by Matt Millen. The day commissioner Paul Tagliabue announced Harrington's name as the Lions' first selection in 2002 was the day his career ended.
Who they could have had: It wouldn't have been a huge upgrade, but the Lions passed on David Garrard three times in 2002.
9. Andre Wadsworth, DE, Florida State
Year: 1998
Selected: #3 overall by the Arizona Cardinals
1998 gave us future NFL Hall of Famers Peyton Manning and Charles Woodson, but that year also produced three of the next nine names on this list, starting with Wadsworth. After racking up five sacks in 15 starts as a rookie, Wadsworth shut down the engines and recorded just three sacks over the next two years before washing out of the league. The only thing that keeps his name out of bust headlines is the fact that Wadsworth was taken one spot after the guy that appears at No. 3 on this list.
Who they could have had: Chuck Woodson, Randy Moss, Alan Faneca
8. Tim Couch, QB, Kentucky
Year: 1999
Selected: #1 overall by the Cleveland Browns
Couch was the No. 1-rated high school football prospect in 1996 after he finished his career at Leslie County High School. Just three years after that, Couch was the No. 1 pick in the 1999 NFL draft. Five years later, the dude washed out of the league with a QB rating of 75.1 and a career record of 22-37. Cleveland fans were not amused.
Who they could have had: Donovan McNabb, Edgerrin James, Torry Holt, Champ Bailey
7. Jamal Reynolds, DE, Florida State
Year: 2001
Selected: #10 overall by the Green Bay Packers
Three seasons, three sacks, zero starts.
I should probably move this guy up the list.
Who they could have had: Marcus Stroud, Casey Hampton, Reggie Wayne
6. Curtis Enis, RB, Penn State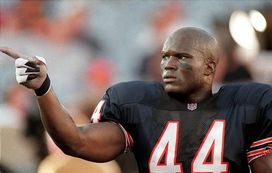 Curtis Enis is seen here not carrying the football.
Year: 1998
Selected: #5 overall by the Chicago Bears
Take a minute to get the obligatory last name jokes out of your system and then we'll continue.
Feel better now?
The highly touted 250-pound running back out of Penn State gave Bears fans a whole lot of nothing over three uneventful seasons that consisted of just four touchdowns and an embarrassing 3.3 yards per carry average.
Enis was so bad in Chicago that after the team dumped him in 2000 he never played again.
Who they could have had: Fred Taylor, Keith Brooking, Vonnie Holliday
5. Akili Smith, QB, Oregon
Year: 1999
Selected: #3 overall by the Cincinnati Bengals
Have you ever noticed how Joey Harrington takes a ton of flack for being a bust, but Akili Smith goes relatively unmentioned? I'm sure that's not the case in Cincinnati, but this guy doesn't get nearly the amount of flack he deserves for how little he accomplished during his NFL career.
Despite being the third overall selection in 1999, Smith's NFL glory days consisted of only four seasons, 17 starts, five touchdown passes and a QB rating of 52.8.
And much like Curtis Enis, Smith was so bad he never caught on with another team.
Who they could have had: Champ Bailey, Jevon Kearse, Antoine Winfield
4. Vernon Gholston, LB, Ohio State
Year: 2008
Selected: #6 overall by the New York Jets
A top-ten pick with zero sacks and only five starts in three seasons, Gholston is living proof that a fast 40-yard dash and a chiseled upper body will get someone to fall in love with you.
Sadly for Jets fans, it turned out to be their front office instead of some girl.
Who they could have had: Jerod Mayo, Joe Flacco, Chris Johnson
3. Ryan Leaf, QB, Washington State
Year: 1998
Selected: #2 overall by the San Diego Chargers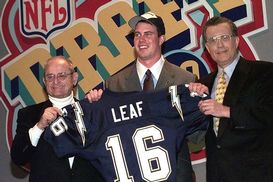 Oops
Looking back, it was a real disservice to Peyton Manning that he was actually mentioned in the same breath as the hot-headed Leaf.
The former Cougar parlayed a big arm and a spot in the 1998 Rose Bowl into the No. 2 pick in the NFL draft in what is considered to be one of the biggest blunders in talent evaluation history. In four NFL seasons, Leaf completed just 48.4% of his passes, committed 48 turnovers and threw only 14 touchdown passes. The lowlight of his career came on September 20, 1998 against the Kansas City Chiefs, when Leaf threw two interceptions, lost three fumbles and completed just one of 15 passes.
When pondering how big of a bust Leaf truly was, think about how Drew Brees is a Super Bowl MVP and the pride of New Orleans, while Leaf fled to Canada in 2009 to avoid drug and burglary charges.
Who they could have had: Anybody else would have been a better pick.
2. Charles Rogers, WR, Michigan State
Year: 2003
Selected: #2 overall by the Detroit Lions
Based solely on his signing bonus, Matt Millen paid Rogers $252,777 per reception ($9.1 million/36 career receptions) during his career. However, I may be giving Millen too much credit here, as it was actually the Ford family's money that he was so brazenly flushing down the toilet when he selected Rogers.
But that's not the true genius of Matt Millen. To understand how bad of a pick this really was, take a look at which player was drafted one spot later.
Who they could have had: Andre Johnson (No. 3 to the Houston Texans)
1. JaMarcus Russell, QB, LSU
Year: 2007
Selected: #1 ove rall by the Oakland Raiders
<p class="co_image co_image_right inline_right">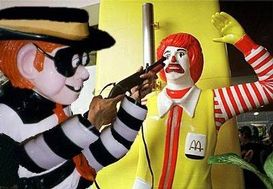 Even the Hamburgler needed a gun to hold up Ronald McDonald.
Too many people have made the mistake of underestimating JaMarcus Russell over the past few years. You can cite his poor work ethic and failure to learn the Oakland offense, but you're still missing the point. Russell wasn't a football player, he was a thief masquerading around in a 6-6, 260-pound body that was designed to look like an NFL quarterback.
Think about it: Sans mask and gun, this guy managed to flat out rob Al Davis on national television of more than $39 million.
Bernie Madoff went to jail and John Dillinger wound up dead. But Russell has managed to walk the streets a free man, with no hassle whatsoever from federal, state or local authorities.
We were just too dumb to notice.
Who they could have had: Does it really matter?
Hit me up on Twitter: @JoeFortenbaugh