June 24, 2013 -
Joe Fortenbaugh
Top 20 fantasy wide receivers for 2013
While it's not exactly moving at the speed of light, the gap in fantasy scoring totals between elite players at the running back position and elite players at the wide receiver position continues to shrink. In 2008, the top 10 fantasy running backs combined to outscore the top 10 wide receivers by an average of 37.9 points per player for the season (standard scoring rules). In 2012, that number shrank to 34.3 points per player.
Workhorse running backs are a dying breed and therefore remain the most precious commodity for fantasy owners. But that hasn't stopped the rise in top-10 wide receiver selections over the last few years. We'll have more on the comparisons between running backs and wide receivers in the near future, but for now, let's take a look at the NFP's early summer 2013 fantasy wide receiver rankings.
TOP 20 WIDE RECEIVERS FOR 2013
1. Calvin Johnson, Detroit Lions: Led all receivers in fantasy scoring last season despite ranking 30th at the position in touchdowns (5). What that says is abundantly clear: Despite having a week to prepare overly talented and highly paid personnel, opposing defensive coordinators still have very little chance of slowing down Megatron. The six-year veteran has topped 100 receiving yards in 19 of his last 30 regular season games.
2. Dez Bryant, Dallas Cowboys: Set career highs in receptions (92), receiving yards (1,382) and touchdowns (12) last season thanks, in large part, to a seven-game stretch that saw the Oklahoma State product catch 46 passes for 808 yards and ten scores. 2013 will see Bryant join the ranks of the league's elite tier of pass-catchers.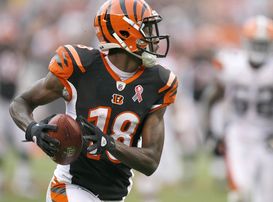 Green ranked seventh in the NFL in receptions last season, with 97.
3. A.J. Green, Cincinnati Bengals: Posted a top-four fantasy season at the wide receiver position in 2013 while watching his stat line grow from 65-1,057-7 as a rookie to 97-1,350-11 during his sophomore campaign. Green's yards per reception average dipped from 16.3 in 2011 to 13.9 in 2012, but we're more than willing to leave those concerns at the door after witnessing his target totals rise from 115 to 164.
4. Brandon Marshall, Chicago Bears: Reuniting with quarterback Jay Cutler in 2012 led to the greatest statistical campaign of Marshall's seven-year career as the 29-year-old ranked third in the league in targets (194), second in receptions (118) and third in receiving yards (1,508). Added bonuses include Chicago's new offensive-minded head coach, an improved offensive line and the fact that Cutler is entering the final year of his contract.
5. Julio Jones, Atlanta Falcons: Ranked ninth in fantasy scoring at the receiver position last season despite catching only 31 passes for 447 yards and two scores in eight home games. If Jones can find a way to produce his 2012 road stats (48-751-8) while playing inside the Georgia Dome, the Alabama product will crack the top-5 in fantasy scoring this season.
6. Andre Johnson, Houston Texans: Age ain't nothing but a number. That was proven to us in 2012 when the then 31-year-old Johnson posted a top-8 fantasy season that featured a career-high in receiving yards (1,598, second in NFL). After ten seasons spent torching opposing secondaries with his freakish size, athleticism and uncanny ability to create separation, Johnson is no longer considered one of the sexier names at the wide receiver position. Throw in his age (32 in July) and 2012 touchdown total (4) and you've got a highly skilled playmaker who could come at an excellent price on draft day, thanks to owners more interested in finding the next big thing.
7. Vincent Jackson, Tampa Bay Buccaneers: There's a good chance that this is as high as you will see Jackson ranked on the internet this summer. My only question is why do so many others feel that V-Jax is unworthy of a spot this far up the board? Jackson's first season in Tampa—which many felt had bust potential thanks to that fat new payday—resulted in the most productive stat line of the receiver's eight-year career (72-1,384-8), good for the sixth-highest fantasy total at the wideout position. We see no reason to believe that those numbers will take a significant hit in 2013.
8. Percy Harvin, Seattle Seahawks: He's completed a full 16-game regular season just once in four professional campaigns, has never topped 1,000 receiving yards and just landed a ludicrous six-year, $67 million contract that could leave him fat and happy entering the fall. All of those are good reasons to question Harvin's chances for fantasy success in 2012. But if Harvin could roll up 62 receptions for 677 yards in just nine games with Christian Ponder at quarterback, think about what this guy could do with Russell Wilson running his offense.
9. Demaryius Thomas, Denver Broncos: The Peyton Manning acquisition transformed Thomas from a moderately productive, talent-rich youngster into a Pro Bowler. That's what happens to the supporting cast when Manning lines up under center. And while we envision another highly productive season from the former Georgia Tech standout, it's worth noting that Wes Welker's inevitable 100+ receptions are going to take away some opportunities from other guys on the roster, which just so happens to include Thomas.
10. Roddy White, Atlanta Falcons: Topped 1,150 receiving yards for the sixth consecutive season in 2012, has posted seven or more touchdowns in each of the last five years and trails only Wes Welker (326) in passes caught from 2010-2012 (307). Ho hum. Nothing much to see here.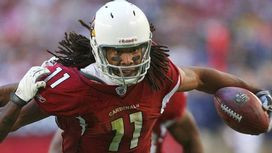 With Carson Palmer and Bruce Arians now in the mix, Fitzgerald should find a way back to 1,000+ yards.
11. Larry Fitzgerald, Arizona Cardinals: Think about the career numbers this poor bastard could have already posted had he not spent the post-Kurt Warner era fighting for whatever errant pass was lucky enough to come his way? Fitzgerald's streak of five consecutive 1,050+ receiving yard seasons came to and end in 2012, but we're betting he gets back on track this year with the arrivals of quarterback Carson Palmer and head coach Bruce Arians.
12. Victor Cruz, New York Giants: Amassed a respectable stat line (86-1,092-10) in 2012 despite playing three games without the benefit of having Hakeem Nicks on the opposite side of the field. Add a Super Bowl hangover to the mix and you can see why Cruz fell just short of the lofty expectations set by many entering last season. The contract situation is worth monitoring this summer, but the Giants are a first class organization. They'll have it all figured out well before Week 1.
13. Wes Welker, Denver Broncos: Traded one future Hall of Fame quarterback for another this offseason, meaning he shouldn't have an issue hitting 100+ receptions for the sixth time in seven years. Since 2007, no player in the NFL has caught more passes than Welker (672), with Chicago&rsquo ;s Brandon Marshall eating dust in second place (592). Don't expect double-digit touchdown totals. Do expect high productivity on a very consistent basis.
14. Randall Cobb, Green Bay Packers: With Greg Jennings out of the picture, Cobb is free to complete his ascent to the highly coveted position of Aaron Rodgers' top target. Look for the third-year veteran to drastically improve on last season's 18th place fantasy finish (80-954-8) now that he is expected to be a full 16-game starter (8 starts in 2012).
15. Marques Colston, New Orleans Saints: Has recorded 1,000+ receiving yards in six of seven professional campaigns, 80+ receptions in each of the last three years and eight or more touchdown grabs in three of the last four seasons. Between that level of consistent production and the fact that Drew Brees is still under center, it's hard to envision ranking Colston any lower than 15th.
16. Dwayne Bowe, Kansas City Chiefs: Forget about the "game manager" label that quarterback Alex Smith picked up in San Francisco because there's no way a pass-happy head coach like Andy Reid is going to give up a high second round pick for a guy who excels and handoffs and check downs. If Bowe could amass 72 receptions for 1,162 yards and 15 touchdowns with Matt Cassel as his quarterback in 2010, we have to believe that he can attain similar numbers with a more consistent passer like Smith.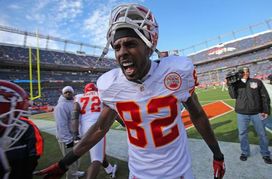 Dwayne Bowe has plenty of reasons to smile now that Alex Smith and Andy Reid have entered the mix.
17. Eric Decker, Denver Broncos: Ranked seventh in fantasy scoring at the wide receiver position in 2012, but between Demaryius Thomas and the addition of Wes Welker, we feel that Decker will experience a slight regression in 2013. There are only so many passes in John Fox's conservative game plan to go around.
18. Jordy Nelson, Green Bay Packers: Experienced a significant (and predicted) drop in production from 2011 to 2012, but still managed to average a healthy 15.2 yards per reception with seven scores despite appearing in only 12 games. We definitely like Randall Cobb as a top-20 receiver, but the big question is whether or not it will be Nelson or James Jones to emerge as Green Bay's second-most productive wideout.
19. Mike Williams, Tampa Bay Buccaneers: Too high for your liking? Then consider the fact that after adding playmaker Vincent Jackson to the lineup, Williams reemerged as a legitimate fantasy starter in 2012 who finished the year as the position's 17th ranked scorer. The 26-year-old out of Syracuse has recorded nine or more touchdown receptions in two of three NFL seasons.
20. Steve Smith, Carolina Panthers: Has rolled up 152 receptions for 2,568 yards and 11 touchdowns in two seasons playing with quarterback Cam Newton. Enters the season at 34 years of age, but still has enough gas left in the tank to warrant a spot in our top 20.
FIVE SLEEPERS TO CONSIDER
1. T.Y. Hilton, Indianapolis Colts: Ranked 25th in fantasy scoring at the wide receiver position as a rookie in 2012 (50-861-7). Big play capabilities, should benefit from a full offseason working with quarterback Andrew Luck.
2. Cecil Shorts, Jacksonville Jaguars: Somebody has to catch the passes being thrown in Jacksonville, especially if Justin Blackmon is unable to keep himself out of trouble. Ranked 21st in fantasy scoring among wideouts last season (55-979-7).
3. Tavon Austin, St. Louis Rams: St. Louis didn't trade up from No. 16 to No. 8 in April's draft so they could select Austin and then throw him 40 passes. The West Virginia burner is expected to become the Rams' top playmaker as soon as possible.
4. Jeremy Maclin, Philadelphia Eagles: Could benefit in a big way from Chip Kelly's new offense, but more importantly, Maclin is entering the final year of his rookie contract this fall. There's no better way to land a lucrative payday then by producing a career season.
5. DeAndre Hopkins, Houston Texans: Have the Texans finally found a legitimate No. 2 receiver to line up opposite Andre Johnson? Hopkins caught 82 passes for 1,405 yards and 18 scores during his final season at Clemson and could turn some heads in 2013 thanks to an offense that already keeps opposing coordinators fidgeting in an attempt to slow down Johnson and running back Arian Foster.
Hit me up on Twitter: @JoeFortenbaugh