March 06, 2014 -
Joe Fortenbaugh
Top 50 2014 NFL free agents
Last winter's NFL free agent period was a bit anticlimactic due in large part to the salary cap's modest rise from $120.6 million in 2012 to just $123 million in 2013. Sure, wide receiver Mike Wallace and a few others hit the jackpot last March, but pass rushers like Cliff Avril and Michael Bennett, as well as several other productive prospects, entered the free agent waters only to find a market unwilling to spend like it had during previous offseasons.
This year's crop of free agent talent is undoubtedly hoping that 2014 brings a reversal of fortune and a return to the aggressive spending habits that had become so prevalent prior to the 2013 offseason. And with the salary cap jumping from $123 million to $133 million, some believe that could very well be the case.
The following is a list of the National Football Post's top-50 2014 free agents. Those who have been hit with the franchise tag (ex: Carolina's Greg Hardy and New Orleans' Jimmy Graham), transition tag or some other device that will limit their ability to exploit the market have been excluded from the rankings.
THE NFP'S TOP 50 2014 FREE AGENTS
1. Jairus Byrd, Free Safety (Age: 27, Seasons: 5): One of the elite safeties in the game today, Byrd has the range and playmaking ability to command top dollar on the open market. Has recorded 22 interceptions in 73 career games, plays fast and excels at tracking the ball in coverage. Impact player who provides an immediate boost to the back-end of a defense. Was hit with the franchise tag in 2013, but will cash in this March, paving the way for Seattle safety Earl Thomas to strike gold in the near future.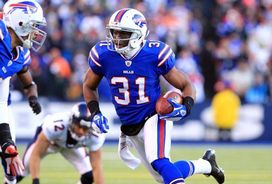 Byrd tops our 2014 list thanks to his combination of range and big-play potential.
2. Michael Bennett, Defensive End (Age: 28, Seasons: 5): His 9.0 sacks in 2012 topped all Tampa Bay defenders, but translated to nothing more than a one-year, $5 million "prove it" deal with the Seattle Seahawks. So Bennett went out and turned heads once again, amassing 8.5 sacks, nine tackles for loss and a career-high 26 quarterback hits en route to a Vince Lombardi Trophy. Durable, versatile and highly productive.
3. Eugene Monroe, Offensive Tackle (Age: 26, Seasons: 5): The eighth-overall pick in the 2009 draft out of Virginia, Monroe made 62 of a possible 66 starts with the Jacksonville Jaguars before an early-season trade sent the offensive lineman to Baltimore, where he started each of the final 11 contests of the year. Smooth footwork, pass protection reliability and age will all contribute to a big payday for Monroe during free agency. As will the elevation in play that occurred immediately following his trade to the Ravens.
4. Alterraun Verner, Cornerback (Age: 25, Seasons: 4): Appeared in all 64 regular season games with the Tennessee Titans after entering the league in 2010 and is coming off a career-high five-interception campaign that resulted in a trip to Hawaii for the Pro Bowl. Took a big step forward in his development last season, but still has room for improvement. Young, high-ceiling player who will command significant attention from several cornerback-needy franchises.
5. Branden Albert, Offensive Tackle (Age: 29, Seasons: 6): Excels in pass protection and has reels of tape to back it up, but has battled some injuries over the past two seasons (made 25 of a possible 32 regular season starts). Albert was hit with the franchise tag in Kansas City last offseason, but reportedly drew some trade interest from the Miami Dolphins. Although a deal never materialized, look for Miami, as well as Arizona, to get involved in the Albert sweepstakes on March 11.
Played under the franchise tag at a price of $11.175 million in Cincinnati last season after amassing a career-high 11.5 sacks in 2012. But Johnson's production fell off in 2013—partly due to the injury sustained by Bengals DT Geno Atkins—as the Georgia Tech product recorded just 3.5 sacks and five tackles for loss (down from 15 TFL in 2012). Possesses elite size (6-7, 270 pounds) and length and defends the run very well, but needs to develop more consistency in the pass rushing department.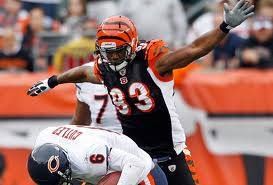 Johnson would rank in our top-3 had it not been for a curious decline in production last season.
7. Jared Veldheer, Offensive Tackle (Age: 26, Seasons: 4): Appeared in all 48 regular season contests during his first three years in the league, surrendering only 15.5 sacks while making significant strides during the 2012 campaign. But triceps surgery limited Veldheer to just five appearances last season, likely dropping his stock below that of both Monroe and Albert. The Raiders have the cash to keep the 6-8, 321-pound monster in the fold, but little progress has reportedly been made regarding a long-term deal.
8. Lamaar Houston, Defensive End/Edge Rusher (Age: 27, Seasons: 4): A serious force to contend with at the point of attack who exhibits excellent skills defending the run. Durable (has played in all 64 regular season games since joining the Raiders in 2010) with a high motor, Houston has the versatility to play DE in a 4-3 system and DE or OLB in a 3-4 scheme. With over $60 million in cap space, the Raiders should make a play to bring Houston back, but they won't be the only suitors looking to mint the former Texas standout.
9. Aqib Talib, Cornerback (Age: 28, Seasons: 6): Two years in New England helped Talib remake his image, but the red flag character concerns will likely prevent some organizations from jumping into the mix. A physical cover man with true shutdown capabilities, the real knock on Talib is his inability to stay healthy and on the field (has never played a full 16-game season). Needs the right environment to stay on track, which is why re-upping with the Patriots makes some sense.
10. Linval Joseph, Defensive Tackle (Age: 25, Seasons: 4): Consistent, durable producer hitting the market at only 25 years of age, which will only help to increase Joseph's value. Has amassed 9.0 sacks, 20 quarterback hits and 17 tackles for loss over his last 47 games and, despite playing DT in the Giants' 4-3 system, possesses the size (6-4, 323 pounds), footwork and power to excel in a 3-4 scheme. Has a high ceiling and could take a big step forward with the right mix of coaching and supporting talent.
11. Vontae Davis, Cornerback (Age: 25, Seasons: 5): Talented player who woke up as soon as he left Miami and joined the Colts in 2011. Started all 16 games during a 2013 campaign that marked the best season of Davis' five-year career. Consistency is an issue, but Davis has five years and two teams under his belt at the age of only 25, so the upside here could be too much for some teams to pass up. Look for Indianapolis to make every effort to keep this guy from bolting town.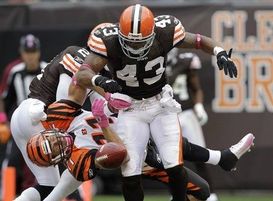 Cleveland has the cash to keep the hard-hitting Ward in town, but the Oregon product may want to bolt for a more stable environment.
12. T.J. Ward, Strong Safety (Age: 27, Seasons: 4): Lacks elite range, but is one of the most physical and hard-hitting safeties in the game today. Amassed a career-high 112 tackles and two interceptions in 16 games with the Browns last year, who possess both the salary cap space and need to keep Ward on the roster. Could garner some interest from Philadelphia, who has been looking to improve its safety play ever since Brian Dawkins left town back in 2009.
13. Dominique Rodgers-Cromartie, Cornerback (Age: 27, Seasons: 6): Signed a one-year "prove it" deal with the Denver Broncos last offseason after a disastrous two-year stint in Philadelphia. It turned out to be the right move, as DRC bounced back and emerged as one of Denver's top defenders (31 tackles, 3 INTs, 14 pass deflections). Has the skill set and potential to land a handsome payday, but there are still questions regarding both his motivation and attitude. The Broncos would love to keep him on board.
14. Henry Melton, Defensive Tackle (Age: 27, Seasons: 4): Was one of the 2013 offseason's top free agent prospects before getting slapped with the franchise tag at a cost of $8.45 million to the Chicago Bears. Melton—who at that time was one of the best up-and-coming interior defensive linemen in the game—handled the situation like a true pro, even after suffering a torn ACL just three games into the 2013 campaign. Now the big question is whether or not the 6-3, 295-pounder can regain the pre-injury form that resulted in 13.0 sacks from 2011-2012, as well as a trip to the Pro Bowl in 2012. Don't be surprised if the Tampa Bay Buccaneers and new head coach Lovie Smith—who coached Melton in Chicago from 2010-2012—make an enticing offer.
15. Randy Starks, Defensive Tackle (Age: 30, Seasons: 10): One of the most durable, consistent and reliable interior defensive linemen around, Starks hasn't missed a game since 2007 and has notched 23.0 sacks over his last five years with the Dolphins. Is a load to handle up front and is effective both pushing the pocket and playing the run. Age is a concern, but Starks still has enough gas left in the tank to upgrade an NFL defensive line for a few more years.
16. Hakeem Nicks, Wide Receiver (Age: 26, Seasons: 5): Has flashed the traits inherent in a No. 1 wideout (155-2,244-18 from 2010-2011), but just completed a two-year stretch that devalued his resume while raising some eyebrows (109-1,588-3). In addition, Nicks has never played a full 16-game season and was held scoreless through 15 appearances in 2013. So the big question is which player are you signing, the pre-2012 Nicks or post-2012 Nicks? A roll of the dice, but at the right price, is a gamble worth taking.
17. Jason Hatcher, Defensive Tackle (Age: 31, Seasons: 8): Made the switch to a 4-3 DT under defensive coordinator Monte Kiffin in 2013 and racked-up career-highs in sacks (11.0), quarterback hits (14), tackles for loss (15) and forced fumbles (2). A physical inside presence who does a tremendous job of pushing the pocket, Hatcher is likely headed to a franchise that feels it is one or two players away from a serious Super Bowl run, due to the fact that the former Dallas Cowboy turns 32-years-old in July.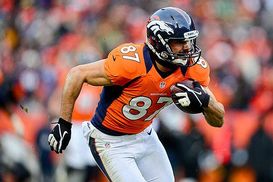 Decker is looking for No. 1 wideout money, but may be disappointed with how the market views his skill set.
18. Eric Decker, Wide Receiver (Age: 26, Seasons: 4): Decker and his agent will argue that the wide receiver's production over the last two years (172-2,352-24) is worthy of a $10 million-per-year salary. But that argument will collapse quickly when the opposing party points out Demaryius Thomas' even more impressive production, the presence of Peyton Manning under center and Decker's inability to produce against physical cornerbacks. The best fit for the 26-year-old is on an offense with another viable pass-catching option. For example, how nice would it be for Cleveland's incoming rookie quarterback to take the field knowing he's got Decker and Josh Gordon at his disposal?
19. Donte Whitner, Strong Safety (Age: 28, Seasons: 8): Has appeared in 63 of a possible 64 regular season games over the last four years, earned a trip to the Pro Bowl in 2012 and notched a career-high 12 pass deflections in 2013. Whitner brings a tempo-setting presence to the defensive side of the football, but his instincts are questionable and you have to wonder if he can thrive on a unit outside of San Francisco that lacks the bevy of talent he's grown accustomed to playing with.
20. Sam Shields, Cornerback (Age: 26, Seasons: 4): Possesses all the tools—especially the speed—to become one of the game's top shutdown cornerbacks, but has yet to put it all together for a significant stretch. Still, Shields has amassed 13 interceptions in 53 career games, notched a career-high 51 tackles last season and played a big hand in limiting star wideout A.J. Green to one of his least productive outings of the 2013 season. Should draw significant interest on the open market and will likely be had for a cheaper price than both Verner and Davis.
21. Arthur Jones, Defensive Lineman (Age: 27, Seasons: 4): Has stepped up his game over the last two years thanks to increased playing time, which resulted in 8.5 sacks since 2012 and a career-high 13 starts last season. Can anchor the interior of a defensive line and excels against the run, but needs some improvement when it comes to pushing the pocket and getting after the quarterback.
22. Karlos Dansby, Inside Linebacker (Age: 32, Seasons: 10): Hasn't missed a start since 2010 and notched 6.5 sacks (highest total since 2006) and a career-high four interceptions last season with the Cardinals. An every down linebacker who made plays—against both the pass and run—all over the field last season, 2013 was one of the best campaigns of Dansby's 10-year career. But at 32-years-old, the question for potential suitors has to focus on how much gas this guy has left in the tank.
23. Geoff Schwartz, Offensive Guard (Age: 27, Seasons: 4): Joined the Chiefs in 2013 after a one-year stint in Minnesota, stepped in for an injured Jon Asamoah midway through the season and never relinquished the gig, flashing the skill set we saw in 2010 when Schwartz played with the Carolina Panthers. Is better in pass pro than vs. the run, but brings versatility and youth to the table.
24. Everson Griffen, Defensive End (Age: 26, Seasons: 4): A versatile edge rusher who has made just one start for the Vikings since joining the league in 2010 due to the pass-rushing presence of both Jared Allen and Brian Robison. Griffen has plenty of upside, as evidenced by the 8.0 sacks he recorded in 2012, but is still somewhat of a mystery due to a lack of significant playing time. With Allen also headed for the open market, the Vikings make the most sense for Griffen when it comes to a long-term deal. But it's likely that there are a few other teams interested in picking up the phone to remind Griffen of how little he was utilized in Minnesota over the first four years of his career.
25. Chris Clemons, Free Safety (Age: 28, Seasons: 5) : Grabbed the starting job in Miami prior to the start of the 2012 season and never looked back, making 32 consecutive regular season starts that included 185 tackles, three interceptions and 12 pass deflections. Has the versatility to play both safety positions and will come at a much cheaper price than Byrd or Ward, which should lead to plenty of interest. Continues to get better with time and could serve as an upgrade for a handful of teams in need of a safety.
26. Paul Soliai, Defensive Tackle (Age: 30, Seasons: 7): A 340-pound space-eater who excels against the run, Soliai is a consistent force along the interior of the defensive line. Is durable, can push the pocket and will provide an immediate impact wherever he plays in 2014. Should draw plenty of interest from 3-4 teams looking to upgrade the nose tackle position.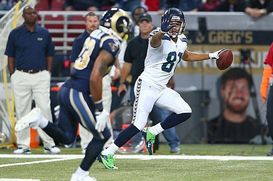 Tate is coming off the most productive season of his four-year career.
27. Golden Tate, Wide Receiver (Age: 25, Seasons: 4): Isn't a high-volume pass-catcher headed for big-time money as a team's No. 1 receiving option, but makes for a solid No. 2 and is coming off the most productive season of his four-year career (64-898-5). Excels at picking up yards after the catch and can contribute as a punt returner. Only 25-years-old and could experience a big uptick in production by joining a pass-first offense.
28. Malcolm Jenkins, Free Safety (Age: 26, Seasons: 5): Possesses the versatility to line up all over the field while assuming a myriad of roles, but has never taken that next step New Orleans thought he would when they drafted Jenkins 14th overall in 2009. Has recorded just six interceptions in 71 career games and could have to wait for Byrd, Ward and Clemons to set the market before finding the right situation.
29. James Jones, Wide Receiver (Age: 29, Seasons: 7): Set career-highs in receptions (64) and touchdowns (14) in 2012 and then came back the following year to record a career-high in receiving yards (817). More sure-handed now than he was early in his career, Jones will have to contend with a market that features several younger and more productive options (Decker, Nicks, Tate). A tough, physical receiver who can make things happen after the catch.
30. Anthony Collins, Offensive Tackle (Age: 28, Seasons: 6): Has started just 25 games in six seasons, but made a big enough splash in 2013 (career-high 15 appearances) to land on the radar screens of several teams looking for help at the tackle position. Versatile enough to play both the right and left side, Collins is reliable in pass pro and has made the most of every snap he's been given.
31. Daryl Smith, Outside Linebacker (Age: 31, Seasons: 10): Smith has a nose for the football and is effective in pass coverage, which means you can leave him on the field for all three downs. Started every regular season game for the Ravens in 2013, recording career-highs in sacks (5.0), interceptions (3.0) and pass deflections (18). Won't command a lucrative long-term deal due to his age (turns 32 on March 14), but still has enough gas left in the tank to make an impact.
32. Jared Allen, Defensive End (Age: 31, Seasons: 10): 2013 marked the seventh consecutive season that Allen notched a double-digit sack total (11.5) and sixth consecutive year the five-time Pro Bowler started all 16 regular season games. Durable, extremely difficult to neutralize and a proven leader. Allen turns 32 in April, so the most likely suitors will be the teams who feel they are closing in on a Vince Lombardi Trophy. Denver should be in the mix and Atlanta may come calling as well.
33. Ben Tate, Running Back (Age: 25, Seasons: 3): Has only 421 rushing attempts under his belt since joining the professional ranks in 2010, with a 4.7 yards per carry average and good hands coming out of the backfield. Tate is the best running back the 2014 free agent class has to offer, which means he'll draw some interest. The problem is that the running back position has decreased in value so much over the last few years that the big-time paydays are a thing of the past. Cleveland has a need and should take a long look.
34. Justin Tuck, Defensive End (Age: 30, Seasons: 9): 27 games played from 2011-2012 resulted in only 9.0 sacks, leading many to wonder whether Tuck's career had come to a close. But the Big Blue pass rusher rebounded nicely during his 2013 contract year to amass 11.0 sacks and 63 tackles (highest totals since 2010). High-motor player who defends the run well and can still disrupt opposing signal-callers. However, age and wear should keep the big spenders from calling.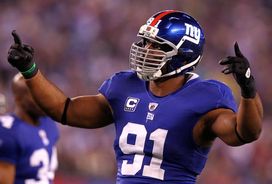 After a disappointing two-year stretch, Tuck bounced back with 11.0 sacks in 2013.
35. Captain Munnerlyn, Cornerback (Age: 25, Seasons: 5): With 77 appearances, 50 starts and seven interceptions under his belt all by the age of 25, Munnerlyn enters the free agent waters as an experienced and reliable run defender who likes to lower the boom. Isn't an elite cover corner and will struggle vs. some of the league's top receiving threats, but is an effective starter with game-changing, big-play potential (four touchdowns since 2012). Would work better as a team's No. 2 corner as opposed to being the top guy.
36. Anthony Spencer, Defensive End (Age: 30, Seasons: 7): Spencer tore it up on the field in 2012, recording career-highs in tackles (95.0), sacks (11.0) and tackles for loss (14.0) before undergoing microfracture knee surgery last season after appearing in only one game. That surgery, along with the fact that Spencer is on the wrong side of 30, will likely result in a less than stellar marketplace for the seven-year veteran, which means the eventual buyer could wind up with a steal.
37. Emmanuel Sanders, Wide Receiver (Age: 26, Seasons: 4): New England came sniffing around last offseason, but Sanders stayed put. Is coming off a career-year that included 67 receptions for 740 yards and six scores. Lacks elite size (5-11, 180 pounds) and has never started more than ten games in a season. Best fit would be as a No. 2 wideout with an established, productive No. 1 teammate.
38. Willie Young, Defensive End (Age: 28, Seasons: 4): Is still developing despite 28 years of age, but emerged in 2013 to make 15 starts, resulting in 3.0 sacks and career-highs in tackles (47), quarterback hits (10) and tackles for loss (7). No longer a situational pass rusher, Young will likely be had for an excellent price due to his limited resume. Good upside here.
39. Walter Thurmond III, Cornerback (Age: 26, Seasons: 4): A proven commodity at the nickel back position, Thurmond is coming off one of the most productive seasons of his four-year career. And having played on the league's best defense that just so happened to win a Super Bowl this past February, we're betting that there will be more than a few teams looking to elevate this guy from the nickel position to an outright starting cornerback.
40. Charles Tillman, Cornerback (Age: 33, Seasons: 11): There's no denying Tillman's place in history as one of the great turnover- inducing cornerbacks of the last decade. But the two-time Pro Bowler turned 33 in February and missed the final eight games of the 2013 season due to a torn triceps. There's still something left in the tank, but when it comes to the big money that will be spent on cornerbacks next week, that cash will be reserved for the younger guys like Verner, Davis and Talib.
41. Tarell Brown, Cornerback (Age: 29, Seasons: 7): Battled a rib injury late in the 2013 season that caused a drop in play, but has some quality tape to fall back on since taking over as a starter in 2011. Isn't capable of locking down an opposing team's top receiver, but makes for a good second cornerback.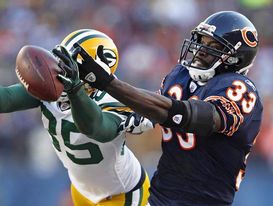 Will the 33-year-old Tillman be in high demand come March 11?
42. Brandon Spikes, Middle Linebacker (Age: 26, Seasons: 4): Poor speed and limited range means he'll be on the sideline come third down, but Spikes is a quality run-stopper who is coming off an 86-tackle season. Instinctive, aggressive and physical.
43. Zach Strief, Offensive Tackle (Age: 30, Seasons: 8): Surrendered just three sacks in 15 starts last year, is reliable in pass protection and does an effective job against the run. Limited to playing the right side and hasn't logged a full 16-game season since 2009.
44. Red Bryant, Defensive Lineman (Age: 29, Seasons: 6): Started all but one game for the Seattle Seahawks over the last three seasons where he excelled at stuffing the run. At 6-4, 323 pounds, there's a good chance that Bryant will kick inside to the tackle position with his next team. Was recently released so the Seahawks could avoid paying him a $3 million roster bonus that was due in March.
45. Rodger Saffold, Offensive Tackle (Age: 25, Seasons: 4): Has surrendered just 2.5 sacks over his last 22 outings and possesses the versatility to play either the guard or tackle position. Age is a plus, injury history is a minus.
46. Antoine Bethea, Safety (Age: 29, Seasons: 8): Bethea has started every regular season game for the Colts since 2008, has appeared in two Super Bowls (winning one, 2006) and does an excellent job defending the run. Possesses a diverse skill set and has a nose for the football, but turns 30 in July and will be competing on the open market with younger and more versatile safeties. Should wind up re-signing with the Colts.
47. Jermichael Finley, Tight End (Age: 26, Seasons: 6): Caught 116 passes for 1,434 yards and ten scores from 2011-2012, but suffered a season-ending neck injury in 2013 that makes him a gamble. Finley is expected to be 100 percent for the start of the 2014 campaign, but he's a player who many believed fell short of fulfilling his potential prior to the injury. The talent is there, but the motivation and focus are often times lacking.
48. Clinton McDonald, Defensive Tackle (Age: 27, Seasons: 4): Busted loose in 2013 with a career-high 5.5 sacks, 14 quarterback hits and seven tackles for loss. You'd know his name if not for the overshadowing that took place in Seattle last season thanks to the star-studded defensive cast McDonald played alongside. Solid pass rusher who could make a name for himself as a regular starter in a new city.
49. Jonathan Babineaux, Defensive Tackle (Age: 32, Seasons: 9): Durable (92 of a possible 96 regular season starts since 2008), stout against the run and capable of pushing the pocket, although it hasn't shown up on the stats sheets over the past few years due to the less than stellar supporting cast Babineaux has been playing with up front. Age is a concern, but the nine-year veteran has enough gas left in the tank to take on blocks in an effort to free up a neighboring pass rusher.
50. Knowshon Moreno, Running Back (Age: 26, Seasons: 5): Moreno was well on his way to being labeled a first round bust before Peyton Manning turned his game around in 2013. The Georgia product went off this past season, racking up career-highs in rushing yards (1,038), total touchdowns (13), receptions (60) and receiving yards (548). That kind of production would generally warrant a significant long-term deal, but after failing to meet expectations during his first four years in the league, most are likely attributing Moreno's breakout to the "Manning Effect." Is a system back who needs the right environment and situation to succeed.
Hit me up on Twitter: @JoeFortenbaugh