August 06, 2010 -
Joe Fortenbaugh
Top five busts of 2010
Late last night I took a break from "researching" the soon-to-be-released Madden 2011 video game for PlayStation 3 (I'll have a review of the game for the NFP on Monday) to take advantage of the MLB package with a little split-screen action that featured the Mariners/Rangers and Dodgers/Padres games.
It turned out to be a colossal waste of time as the Mariners and Dodgers combined for 17 hits and zero total runs, which got me thinking about what total busts the hitters were for each team in both of those games.
I'm sure you see where this is headed.
After the light flashed on in my head, the decision was made. Friday would be the day we talk fantasy busts at the National Football Post. With that being said, here are five guys that won't be making an appearance on my draft board this summer.
For more busts, as well as sleepers, comeback players, rookie analysis and more, click HERE to purchase the 2010 National Football Post Fantasy Draft Guide.
Five guys to avoid this season
LaDainian Tomlinson, RB, New York Jets: New team, same bum legs. It pains us to say this because L.T. is a first-ballot fantasy Hall of Famer, but he no longer has what it takes to get the job done. Second-year back Shonn Greene will handle the majority of the workload for the Jets this season and don't be surprised if rookie dual-threat Joe McKnight (USC) works his way into the backfield rotation for New York as well. Tomlinson's touches will be limited and his yards per attempt average has decreased in each of the past five seasons, hitting a career-low 3.3 in 2009. The name alone will force many fantasy owners to overvalue the 31-year old, so be sure to steer clear of this pitfall on draft day. Aging running backs NEVER bounce back.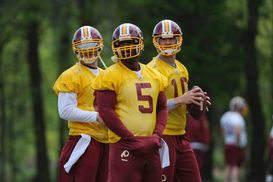 ICONThe talent surrounding McNabb in Washington is a big step down from what the veteran had in Philly.
Donovan McNabb, QB, Washington Redskins: For starters, Donny Mac has only played one full 16-game season in the last six years. Outside of the variety of injuries the Pro Bowl quarterback has suffered, McNabb was traded from the high-powered, pass-happy Philadelphia offense this past offseason to a Redskins team that features a big step down in the wide receiver and offensive line departments. Even if he can somehow manage to stay healthy, the 11-year veteran has a receiving unit that features the aging Santana Moss and the unproven and inexperienced Devin Thomas and Malcolm Kelly. The upside here is very limited.
Wes Welker, WR, New England Patriots: Don't pay any attention to all of the reports you hear out of New England this summer saying Welker looks good during practice and is running at close to 100%. Talk to any former player coming off a torn ACL and he will tell you that it takes at least a year to get even close to full strength. Welker wrecked his knee in Week 17 last year meaning the start of the season will take place just nine months after the Pro Bowl wideout hit the turf in Houston. Keep in mind that the Patriots went out and signed free agent wideout Torry Holt this past offseason as an insurance policy and drafted Ohio wide receiver Taylor Price in the third round, so they obviously know their top target won't be at 100% to open the year. Welker will make some plays in 2010, but don't expect anything close to the 100+ receptions you're used to seeing. Also, be careful of any online drafts you may participate in this summer. I've seen plenty of them with Welker as a top-20 receiver. Not gonna happen.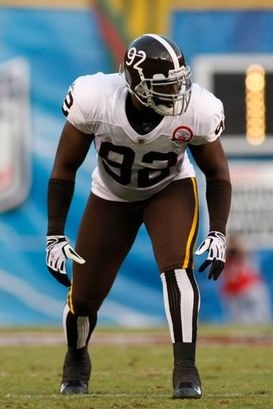 ICONThe loss of Dumervil is a huge blow to the Denver defense.
Denver Broncos, D/ST: The Broncos shocked the fantasy world in 2009 as the defense came out of nowhere to post a top-7 fantasy finish. We're here to tell you to taper your expectations for this unit entering 2010. For starters, Denver parted ways with defensive coordinator Mike Nolan, who just happened to be the architect of the Broncos' defensive turnaround. Smart move. In addition, this unit completely fell apart down the stretch last season, giving up an average of 30.5 points and 393.5 yards per game over their final four contests (0-4). Pro Bowl defensive backs Champ Bailey (32) and Brian Dawkins (36) aren't getting any younger, not to mention the fact that Denver used six of their nine draft picks (including each of their first five) on offensive players. These guys will be overvalued on draft day so be sure to avoid this pitfall. Did we mention that stud DE/OLB Elvis Dumervil (17.0 sacks in 2009) is going to miss at least four months with a torn pectoral muscle?
Santonio Holmes, WR, New York Jets: Never mind the fact that Holmes will miss the first four games of the season due to a violation of the league's substance abuse policy. The key here is that he's the No. 2 receiver on an offense that throws the ball less than any other team in the NFL. The Jets ranked 32nd in the league in pass to run ratio last season (41.1%) and will likely feature a heavy dose of their potent ground attack once again in 2010 as young quarterback Mark Sanchez continues to develop his skill set. New York has a simple formula for winning football games: play solid, aggressive defense and ball control offense. Holmes' limited opportunities this year will take a serious hit on his fantasy bottom line.
Mock it up
The second-annual National Football Post Fantasy Expert's League is set to draft next Thursday at 9:00pm eastern, but I wanted to share some of the results from an industry draft I took part in last night. The good folks at MockDraftCentral.com asked me to participate in a 12-team, 20-round PPR league. Here's how the first four rounds played out:
ROUND 1
1. Jared Smola (Draft Sharks): Chris Johnson, RB, Tennessee Titans
2. Carly Syms (Rotowire): Adrian Peterson, RB, Minnesota Vikings
3. Joe Fortenbaugh (NFP): Maurice Jones-Drew, RB, Jacksonville Jaguars
4. Bryce McRae (KFFL): Ray Rice, RB, Baltimore Ravens
5. Emil Kadlec (Football Diehards): Steven Jackson, RB, St. Louis Rams
6. Nathan Zegura (Fantasy Consultant): Andre Johnson, WR, Houston Texans
7. Herbie Teope (Time Warner Cable): Michael Turner, RB, Atlanta Falcons
8. Jason Sarney (Fantasy Phenoms): Frank Gore, RB, San Francisco 49ers
9. Pete Davidson (Rotobahn): Rashard Mendenhall, RB, Pittsburgh Steelers
10. Chris Cusick (WCOFF): Randy Moss, WR, New England Patriots
11. Dan Roemhild (MDC): Calvin Johnson, WR, Detroit Lions
12. Jam ey Eisenberg (CBS): DeAngelo Williams, RB, Carolina Panthers
Notes: Nine running backs, three wide receivers and NO quarterbacks. Despite the fact that this is a PPR league, I still thought Steven Jackson went a little high for a guy playing on a dreadful offense that rarely finds the end zone.
ROUND 2
13. Eisenberg: Larry Fitzgerald, WR, Arizona Cardinals
14. Roemhild: Brandon Marshall, WR, Miami Dolphins
15. Cusick: Reggie Wayne, WR, Indianpolis Colts
16. Davidson: Jamaal Charles, RB, Kansas City Chiefs
17. Sarney: Ryan Mathews, RB, San Diego Chargers
18. Teope: Miles Austin, WR, Dallas Cowboys
19. Zegura: Ryan Grant, RB, Green Bay Packers
20. Kadlec: DeSean Jackson, WR, Philadelphia Eagles
21. McRae: Roddy White, WR, Atlanta Falcons
22. Fortenbaugh: Cedric Benson, RB, Cincinnati Bengals
23. Syms: Shonn Greene, RB, New York Jets
24. Smola: Greg Jennings, WR, Green Bay Packers
Notes: Still no quarterbacks selected. Interesting to see that some other members of the industry aren't in a hurry to draft a signal-caller. As has been the norm this summer, wideouts fly off the board at the beginning of the second round. Ryan Grant and Greg Jennings are solid value picks at Nos. 19 and 24, respectively.
ROUND 3
25. Smola: Marques Colston, WR, New Orleans Saints
26. Syms: Sidney Rice, WR, Minnesota Vikings
27. Fortenbaugh: Steve Smith, WR, New York Giants
28. McRae: Pierre Thomas, RB, New Orleans Saints
29. Kadlec: Hakeem Nicks, WR, New York Giants
30. Zegura: Steve Smith, WR, Carolina Panthers
31. Teope: Aaron Rodgers, QB, Green Bay Packers
32. Sarney: Anquan Boldin, WR, Baltimore Ravens
33. Davidson: Drew Brees, QB, New Orleans Saints
34. Cusick: Chris Wells, RB, Arizona Cardinals
35. Roemhild: Peyton Manning, QB, Indianapolis Colts
36. Eisenberg: Ronnie Brown, RB, Miami Dolphins
Notes: Rodgers becomes the first quarterback taken at No. 31 overall, which triggers a run on the top fantasy QBs.
ROUND 4
37. Eisenberg: LeSean McCoy, RB, Philadelphia Eagles
38. Roemhild: Antonio Gates, TE, San Diego Chargers
39. Cusick: Jonathan Stewart, RB, Carolina Panthers
40. Davidson: Michael Crabtree, WR, San Francisco 49ers
41. Sarney: Dallas Clark, TE, Indianapolis Colts
42. Teope: Dwayne Bowe, WR, Kansas City Chiefs
43. Zegura: Jahvid Best, RB, Detroit Lions
44. Kadlec: Vernon Davis, TE, San Francisco 49ers
45. McRae: Matt Forte, RB, Chicago Bears
46. Fortenbaugh: Tom Brady, QB, New England Patriots
47. Syms: Tony Romo, QB, Dallas Cowboys
48. Smola: Felix Jones, RB, Dallas Cowboys
Notes: As expected, the tight end run begins in Round 4. I was a little surprised to see Gates get drafted before Dallas Clark in a PPR league. Jahvid Best is a steal at No. 43, as is Jonathan Stewart at No. 39.
My Lineup
QB: Tom Brady
RB: Maurice Jones-Drew
RB: Cedric Benson
Flex: Marion Barber
WR: Steve Smith (NY)
WR: Mike Sims-Walker
WR: Donald Driver
TE: Chris Cooley
D/ST: Pittsburgh Steelers
K: Ryan Longwell
Bench: Montario Hardesty
Bench: Thomas Jones
Bench: Joe McKnight
Bench: Kevin Walter
Bench: Mike Williams (TB)
Bench: Josh Morgan
Bench: Kevin Boss
Bench: New York Giants D/ST
Bench: Washington Redskins D/ST
Anyone think this squad can make a run at a championship?
Hit me up on Twitter: @JoeFortenbaugh