July 21, 2010 -
Joe Fortenbaugh
Top positional battles to watch: Part I
The tricky thing about fantasy football in the month of July and beginning of August is that several important players have yet to establish defined roles within their respective offenses. Evaluating a running back like Michael Bush as a sleeper may sound nice, but that dream could quickly turn into a nightmare if Darren McFadden has a better training camp.
In part I of the NFP's positional battles breakdown, we examine five different offenses fantasy owners should be monitoring when training camp opens next week. As always,we turn to our friends at FantasyFootballCalculator.com for our ADP (Average Draft
Position) statistics.
The 2010 NFP Draft Guide has officially launched! Click HERE to purchase the information that paved the way for a win in the 2009 NFP Expert's League Championship game.
Battleground: Cleveland, Ohio
Position: Running back
Players in the mix: Jerome Harrison (5-9, 205, 5th season) and Montario Hardesty (6-0, 225, rookie)
Frontrunner: Harrison
Better Value: Hardesty
ICONIf Hardesty can win the job, owners are advised to pounce. Even if he doesn't, the rookie rusher will still have a sizeable role in Cleveland.
Analysis: Harrison came on strong down the stretch last season when he carried the ball 106 times for 561 yards and five scores over the Browns' final three games (3-0). Unfortunately, that hot streak wasn't enough to get the seal of approval from new football czar Mike Holmgren. With pressing needs on both sides of the ball, Cleveland selected Hardesty in the second round of this past April's draft and the former Tennessee Volunteer is expected to compete for the job from Day 1.
Harrison's currently valued as a 7th round pick and his biggest advantage is that Hardesty—as of the current moment—is still not under contract. However, the rookie rusher is being targeted in the 9th round and has the size and power to handle the goal line workload in Cleveland this season. The upside and the value lie with Hardesty.
Battleground: Dallas, Texas
Position: Wide receiver
Players in the mix: Roy Williams (6-3, 215, 7th season) and Dez Bryant (6-2, 220, rookie)
Frontrunner: Williams
Better Value: Bryant
Analysis: Williams has been a complete bust since being traded from Detroit to Dallas during the 2008 season, catching just 57 passes in 25 games with the Cowboys. However, Bryant currently isn't under contract and due to the learning curve that comes with adjusting to press coverage at the NFL level, Williams will likely open the year as the No. 2 receiver on the depth chart.
But you have to look at it like this: If the Cowboys had any faith at all in Williams entering 2010, they wouldn't have spent a first round draft pick on Bryant. Williams is currently being targeted in the 12th round while Bryant is going in the 6th, but it's only a matter of time before the six-year veteran finds himself with a very limited role in the offense. In our opinion, Williams isn't worth a draft pick and Bryant should be targeted sometime after the 10th round.
Battleground: Kansas City, Missouri
Position: Running back
Players in the mix: Jamaal Charles (5-11, 199, 3rd season), Thomas Jones (5-10, 212, 11th season), Dexter McCluster (5-9, 172, rookie)
Frontrunner: Charles
Better Value: Charles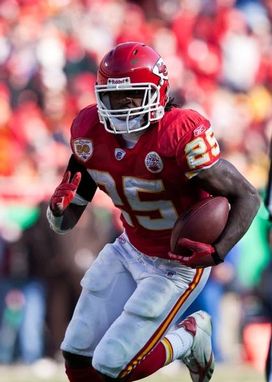 ICONCharles is a stud, but be careful not to overlook Thomas Jones' impact.
Analysis: There's a lot of hype surrounding Charles entering 2010 and for good reason. The guy was an absolute beast down the stretch last year as the second-year back ripped off four 100+ yard rushing games in the Chiefs' final four contests while scoring six touchdowns over the final six games. He's going to be the featured back in Kansas City in 2010.
But we need to advise cautious optimism regarding Charles' draft value this year. The Chiefs went out and signed free agent Pro Bowler Thomas Jones this past offseason, who has rushed for 2,715 yards and 27 touchdowns over the last two years. Yes, he's 31-years old and won't be the featured back, but you don't give a Pro Bowl rusher a two-year, $5 million contract to sit on the bench. Jones is going to handle a portion of the workload and rookie RB/WR Dexter McCluster is sure to steal a few snaps here and there as well. Charles is currently being targeted at the end of the first/beginning of the second round. We feel owners should decrease his value a bit and target him between picks 19-30.
Battleground: St. Louis, Missouri and Charlotte, North Carolina
Position: Quarterback
Players in the mix: A.J. Feeley (6-3, 220, 10th season) vs. Sam Bradford (6-4, 236, rookie) and Matt Moore (6-3, 202, 4th season) vs. Jimmy Clausen (6-3, 222, rookie)
Frontrunner: Feeley and Moore
Better Value: Bradford and Moore
Analysis: Keep in mind that over the last three years, no rookie signal-caller has finished better than 15th (Matt Ryan, 2008) in fantasy scoring among quarterbacks.
Now that we have that out of the way, owners are also advised to note that both Bradford and Clausen are still unsigned, which is never a good sign when it comes to a rookie quarterback. In St. Louis, expect Bradford to take over the offense at some point during the season, rendering Feeley valueless. However, the rookie from Oklahoma has a weak supporting cast and will experience the standard growing pains that Matthew Stafford and Mark Sanchez went through last season, meaning owners are advised to go in a different direction.
The Carolina battle is a bit different. Three-year veteran Matt Moore isn't going up against the top overall pick and is coming off a great end of the year performance in which he led the Panthers to four wins in their final five games. Knowing that head coach John Fox is loyal to his quarterbacks (he left Delhomme in the starting lineup until it literally couldn't get any worse), Moore has a decent shot at running the show for the entire year while Clausen sits and learns.
Bottom line: None of these quarterbacks are worth drafting this season.
Battleground: Buffalo, New York
Position: Running back
Players in the mix: Fred Jackson (6-1, 215, 5th season), C.J. Spiller (5-11, 196, rookie), Marshawn Lynch (5-11, 215, 4th season)
Frontrunner: Jackson
Better Value: Jackson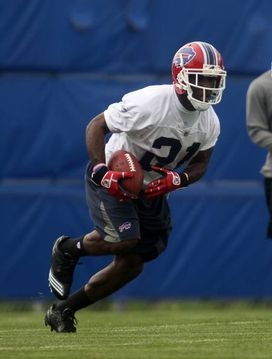 ICONSpiller wasn't drafted i n the top-10 to sit on the bench.
Analysis: Jackson looked like an excellent keeper option this offseason after he took the starting job from Marshawn Lynch and posted a top-16 fantasy finish. He's a dual-threat back that benefits big-time in the passing game when Trent "Captain Check Down" Edwards gets happy feet in the pocket. However, much like we mentioned with Jamaal Charles above, owners are advised to be cautiously optimistic entering 2010.
With problems at the wide receiver, offensive line and defensive line positions, the Bills used a top-ten pick on Clemson standout C.J. Spiller. Nobody drafts a running back in the top-ten with the intention of keeping him on the bench. Spiller will see double-digit touches in each game this season, which is why it is important to monitor his progress during training camp. In addition, Lynch is still on the roster and figures to get some work in the backfield as well.
The good news for Jackson fans is that he's currently being drafted in the 8th round, while Spiller is going one round higher in the 7th. Jackson is going to open the year as the featured back and while the workload will likely be split, he's currently a nice value pick in the 8th round.
See you Friday for Part II.
Hit me up on Twitter: @JoeFortenbaugh